T.I.'s Hymen-gate Controversy Prompts NY Lawmakers To Introduce Legislation That Would Ban 'Virginity Checks' + Rah Digga Defends Tip's Foolery
​
Dec 03 | by _YBF
​ ​ ​ ​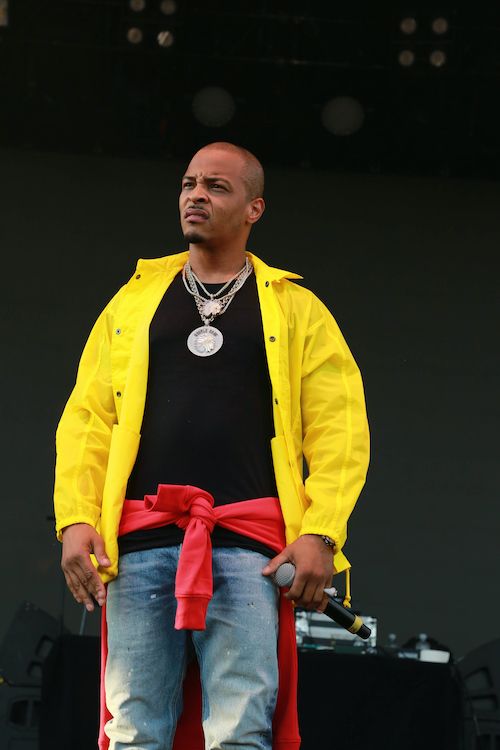 T.I's hymen-gate controversy has sparked New York lawmakers to do something about it. Details inside….
T.I. caused a firestorm of conversation when he revealed he goes with his 18-year-old daughter, Deyjah Harris, to her gynecologist appointment and has the doctor check her hymen to ensure she's still a virgin.
Literally everyone has weighed in on the topic. Tip himself sat down with Jada Pinkett-Smith for a "Red Table Talk" episode where he was showed the error in his ways.
Now, two female New York lawmakers are doing something about it.
A bill was introduced in the New York State Assembly recently that seeks to prohibit doctors/physicians in the state to perform or supervise "virginity examinations." In the memorandum, it's said the purpose of the legislation "is to prevent the performance of hymen examinations on women as a means to ascertain whether a woman is a virgin."
If the bill is passed, any "medical practitioner who does perform or supervise such performance to professional misconduct penalties as well as possible criminal charges."
"These examinations are not only a violation of women's and girls' human rights, but in cases of rape can cause additional pain and mimic the original act of sexual violence, leading to re-experience, re-traumatization and re-victimization," lawmakers continued in the memorandum.

"Many women suffer from adverse short- and long-term physical, psychological and social consequences of this practice. This includes anxiety, depression and post-traumatic stress."
State Sen. Roxanne Persaud (D), who joined forces with Assemblywoman Michaelle Solages (D) on the legislation, said that she was "horrified" by T.I.'s comments in an interview with The New York Post.
"I was horrified to see this was happening," Persaud said. "If a celebrity can impose his power to ensure his 18-year-old daughter gets checked, imagine what can be done in households across New York state?"
"It's misogynistic, it's appalling," a furious Solages told The Post in a phone interview.
We're glad to see lawmakers stepping up to help protect womens' rights and hopefully other state lawmakers will do the same.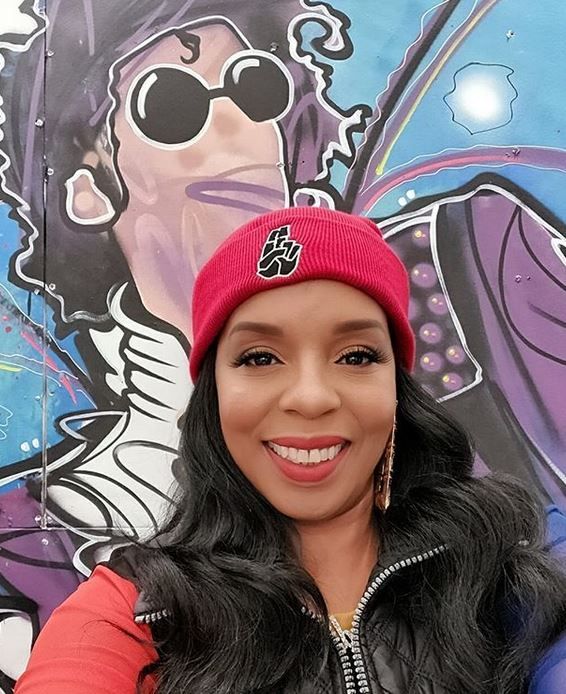 On the flip side, rapper Rah Digga agrees with T.I.'s parenting style, revealing she did "virginity checks" on her daughter as well.

"So on top of it being criminal for parents to discipline their children they're trying to make it criminal to monitor their sex lives?" she tweeted. "FOH!! I STAND WITH @Tip."
Twitter users were outraged by her comments and began lighting up her mentions. Rah said society is basically trying to take parental rights away when it comes to monitoring their sexual activity.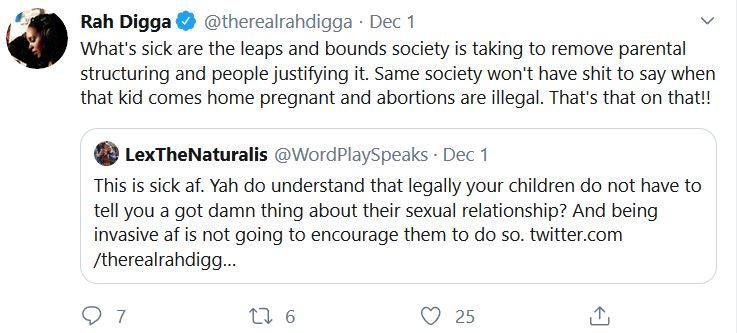 "What's sick are the leaps and bounds society is taking to remove parental structuring and people justifying it," she wrote. "Same society won't have shit to say when that kid comes home pregnant and abortions are illegal. That's that on that!!"
She then revealed how she handled her daughter after finding out she was no longer a virgin via a "virginity check":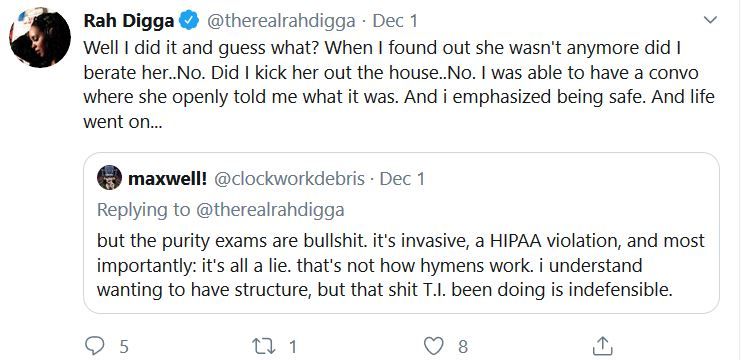 "Well I did it and guess what? When I found out she wasn't anymore did I berate her..No. Did I kick her out the house..No. I was able to have a convo where she openly told me what it was. And i emphasized being safe. And life went on..."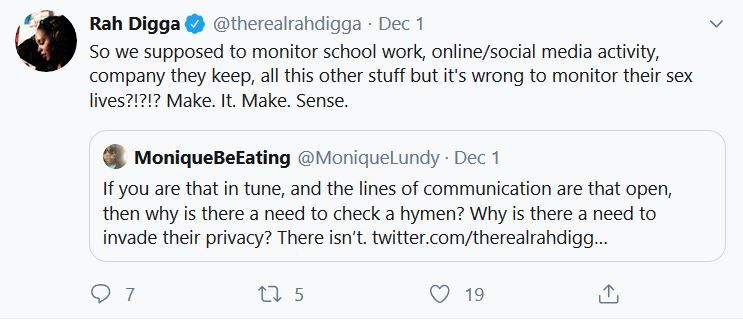 Rah thanked her dad for his parenting style, which "kept her a virgin" until she was 19: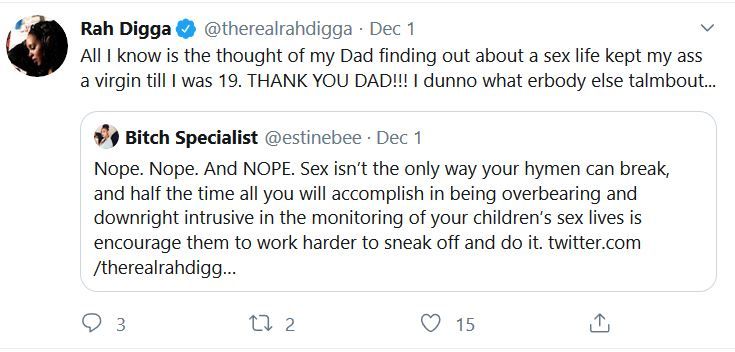 She concluded the convo by sharing a message she received from her daughter:

Internalized misogony is very real. And we see she, too, equates virginity with virtue and worth. The vast majority of people choose the appropriate time for them to lose their virginity without a hymen check. It's called parenting, communiciation, and instilling confidence, self respect and self worth in your children so they feel empowered to make good decisions.
But we guess.....
Thoughts?
Photo: Michael A. Walker Jr./Shutterstock.com
​ ​
​ ​ ​