'Christian Genius Billionaire' Kanye West Dons Head-To-Toe Chrome To Debut His 'Mary' Opera In Miami
​
Dec 09 | by _YBF
​ ​ ​ ​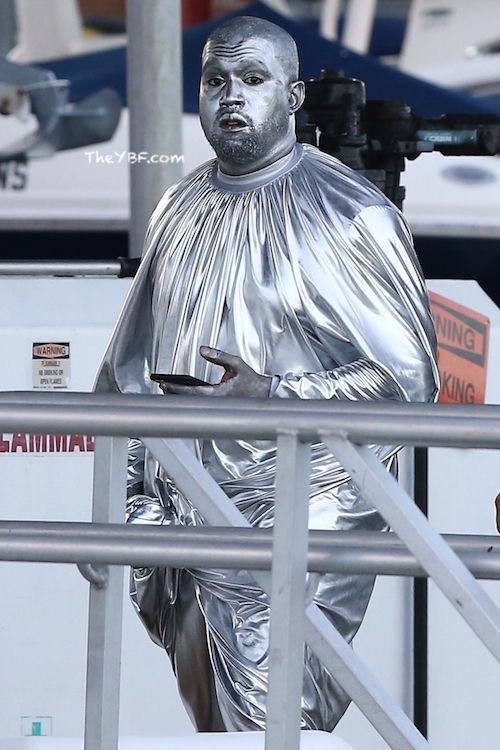 Kanye West – who recently said he's changing his name to Christian Genius Billionaire Kanye West – popped up in Miami covered in head-to-toe chrome paint to debut his "Mary" opera. More inside…
Kanye West was on his self-proclaimed billionaire genius steez over the weekend.
The Jesus Is King rapper – who recently teased he was changing his name to Christian Genius Billionaire Kanye West – debuted a new look during the 2019 Art Basel festivities in Miami. He painted his whole body in metallic silver paint for his opera production "Mary," directed by Vanessa Beercroft, who was also involved in the rapper's "Nebuchadnezzar" opera last month.
https://t.co/vMQGJvr1YU pic.twitter.com/DcZHgEW1VG

— ye (@kanyewest) December 6, 2019
It's reported Silver Ye showed up to the stage an hour late before he performed music from his "Sunday Service" event with his choir, who were also drenched in chrome paint for the show. The performance took place on a barge at Miami Marine Stadium to close out Miami Beach's Art Basel.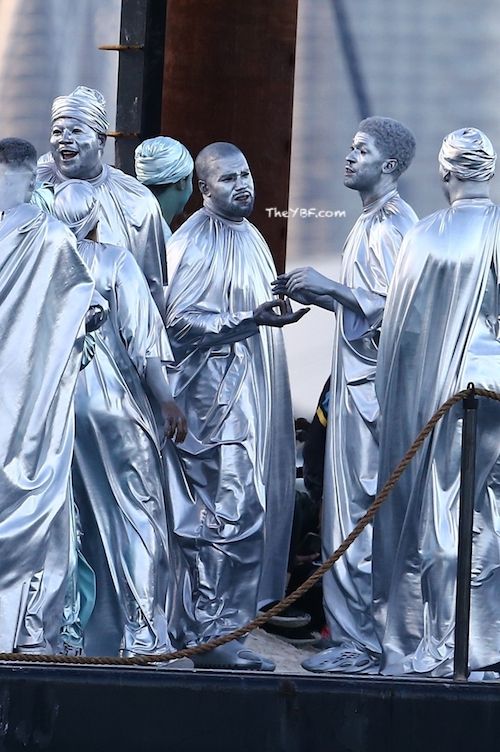 I'm really not understanding Kanye west any more. Una sure say this guy never craze? pic.twitter.com/x35TRG4QH4

— Uncle Emeka (@yankeeplug_) December 9, 2019
"Mary represents an innovative interpretation of West's own music, gospel standards, and traditional opera alike," read a press release for the event. The opera's format was described as "a new medium through which to express [West's] commitment to faith and his ever-expanding musical and visual palette."
Ye and his choir performed some of his classics, including "Can't Tell Me Nothing," "I Thought About Killing You," "Power," "Love Lockdown" and "Devil in a New Dress." The opera also included Christmas tracks, which included "O Holy Night," "Drummer Boy" and "Gloria in Excelsis Deo."
Peep clips from the performance below:
Well this was what Kanye West Dressing was meant for.
Dont judge from one side of the picture.#KanyeWest pic.twitter.com/4mq8rYkUhM

— RudiElorme (@RudiElorme) December 9, 2019
Kanye West painted his entire body silver for his 'Mary' opera performance in Miami: https://t.co/NSxE8cG2nMpic.twitter.com/nyIXcrmnUY

— Complex (@Complex) December 9, 2019
As expected, Twitter had some...reactions...to Silver Ye:
Kanye West aka The Silver Surfer pic.twitter.com/3JlF0BcIdH

— Daily Loud (@DailyLoud) December 9, 2019
I just can't keep up with Fashion these days

Twitter let's decide?

Retweet for Silver Surfer Kanye West

Like for Golden kid Ceelo Green pic.twitter.com/7WNRodSece

— 21 (@ThankYouKayode) December 9, 2019
#kanyewest spotted with silver spray paint and in a silver rubber suit #streetjuicetv pic.twitter.com/pqHt0hL0uH

— streetjuicetv (@streetjuicetv2) December 9, 2019
Silver Surfer, Silver Surfer in the flesh#KanyeWest pic.twitter.com/zYlEz1qwE7

— Dan (@VegetariDan) December 9, 2019
This just in: Kanye West has reportedly retired from making music to become the Silver Spooner pic.twitter.com/i5i8vw7GSm

— LegendsWillNeverDie (@LegendsllLiveOn) December 9, 2019
On an ordinary Sunday Service, @kanyewest is seen walking through a crowd of Disciples, with virgin Mary holding baby Jesus, and yes they are silver... #KanyeWestSundayService #Kanye pic.twitter.com/fA6SYrtEoA

— Your Trusted Sauce (@BySafeway) December 9, 2019
We're sure he'll have some "deep" reason why we all needed this "genius artistry". And something tells us it'll be ties to his umpteen hundred acres of land he's buying up in the square states and his cult following of sheeple...
Photos: Backgrid
​ ​
​ ​ ​