J.R. Smith's Wife Jewel Breaks Down In Tears & Prays For J.R. & His Alleged Mistress Candice Patton
​
Dec 17 | by Natasha
​ ​ ​ ​
Just days after NBA baller J.R. Smith was accused of cheating with "The Flash" actress Candice Patton, J.R.'s wife Shirley "Jewel" Smith is praying for her husband and Candice - whom she said is broken as she's seeking to be with a married man.
Chile, it's a must watch.
UPDATE #2: J.R. has hopped on Instagram to respond to his wife Jewel Smith:
"IG ain't a place for relationships!! But God told me to tell y'all I've been separated for months. He doesn't understand why his child failed to mention that...#thatisall," he wrote on IG Stories.
---------------------------------------------
UPDATE: J.R. has now deleted everything on his Instagram posted after 2014. The couple married in 2016.
-----------------------------------
Jewel Smith is speaking out via the word of God as her husband J.R. parlays around town with a young Hollywood actress. Jewel name checks both her husband and "The Flash" star Candice Patton - who's been seen in multiple videos and pics acting quite suspiciously with J.R. - and says she's praying for them.
As for why she posted this almost 10 minute prayer asking God to help guide and protect her husband and his alleged mistress, she says she prayed about what to do and Jesus told her to pray about it and post about it. So here we are.
Jewel starts off saying people have been sending her "what's going on," and she says it's just a hurdle to jump over. By "it" we don't know if she means cheating or something else. But, she did reveal she's "hurt" and "it's unfortunate."
She asks God to lift her husband up and carry his angels around him, go to him - wherever he is - and shake him up, and give him the strength he needs to carry on to get through to another day. She asks God to fix and heal him, because he knows not what he does. She asks that God builds him up to be the husband and father he needs to be, and asks that her children be protected through all of this.
While breaking down into tears asking for J.R. to be healed from his hurt and pain, Jewel asks God to mend Candice because she is hurting too "for her to go out and seek a married man."
She continued:
"I pray for J.R. and I pray for Candice - in the mighty name of Jesus - Please forgive them Lord because they don't know the path of destriction that is before them Father God for coming against your daughter!"
The emotional outpouring continued as Jewel says "we're all suffering" and asks for forgiveness of sins.
LeBron James' wife Savannah James, who Jewel and J.R. were close to during their time together on the Cavaliers, showed her support. She commented "Amen. I love you sis." on Jewel's post.
While Jewel was getting her prayer on in the car and sharing it to IG TV, J.R. had a bit of a prayer of his own he posted minutes later. He said no weapon formed against him shall prosper. Interestingly, Jewel said the same thing during her prayer as well.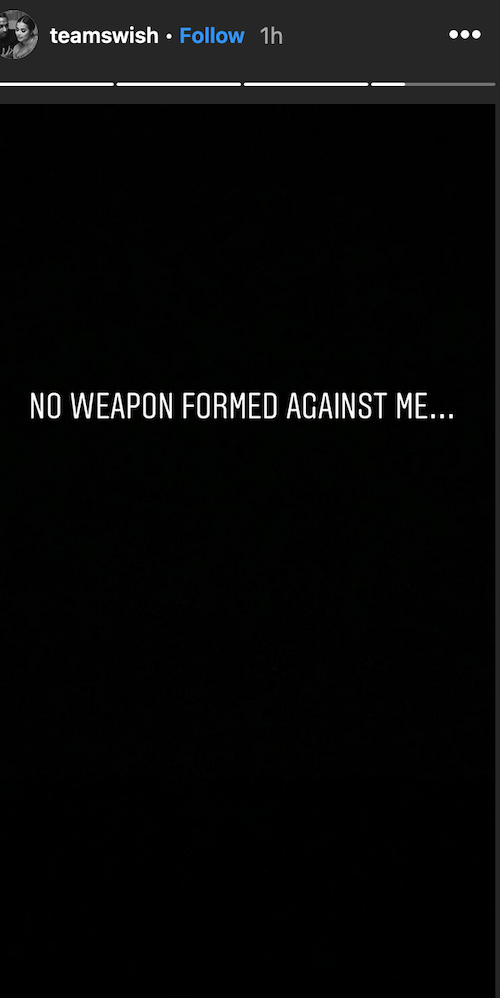 We would think they would communicate directly if everything was all good.
Back in September, Jewel was singing his praises as the most amazing husband:
She also still has up their pics together:
They were off an on since 2007 - with a baby and a few relationships in between on his part. She's a better one than us...
We sincerely hope Jewel does not equate her worth to how much toxicity she can withstand from a man and how hard she can pray for a toxic man. And we hope she does whatever is best for her emotional state.
Photo: Jewel's IG
​ ​
​ ​ ​