Here's How Kobe Bryant's Grammy Tribute With Alicia Keys & Boyz II Men Came About + Ratings Took A Dip, But Lizzo & Lil Nas X's Sales Surged
​
Jan 28 | by _YBF
​ ​ ​ ​
With just hours before the show, Grammy executive producer Ken Ehrlich shares how the Kobe Bryant tribute by Alicia Keys and Boyz II Men came about. Also, ratings for the awards show dipped a bit this year, but artists' sales surged following the show. Get it all inside…
Following her second consecutive year hosting the Grammy Awards, Alicia Keys stepped for a family dinner with her husband Swizz Beatz and her son Genesis in Beverly Hills (above) Sunday night. The 15-time Grammy winner rocked a look similar to one of her on-stage looks during the ceremony: a crop top and jeans. For dinner, she wore a Versace crop top paired with blue ripped jeans, a pink cropped blazer and black boots.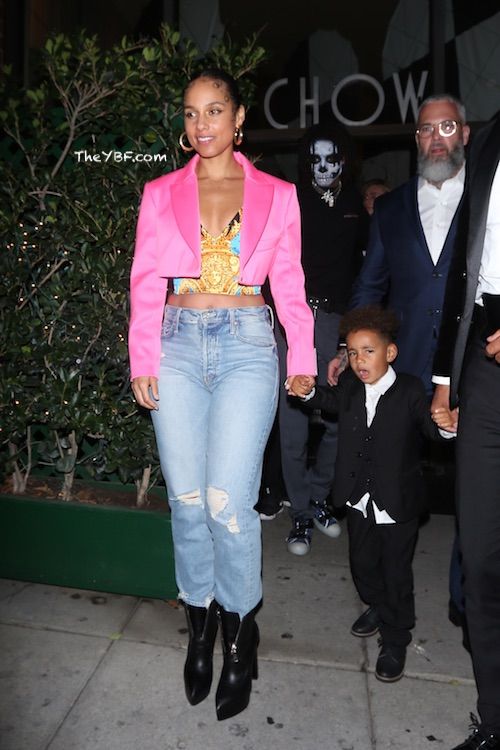 Little Genesis looked cute in his black-and-white 'fit.
For the opening of the Grammys, host Alicia Keys and Boyz II Men paid tribute to the NBA icon Kobe Bryant with an a capella rendition of Boyz II Men's classic "It's So Hard To Say Goodbye." The tribute came hours after it was confirmed the 41-year-old retired NBA player and his 13-year-old daughter Gianna Bryant died in a helicopter crash.
Grammy Awards executive producer Ken Ehrlich, who's stepping down from his role after 40 years, shares how he and his team came up with the tribute with just hours before show time.
Ken tells Billboard he found out about Kobe's death between 10AM and 11AM PST while they were in rehearsals. Someone walked up to him and put a phone in his face with the TMZ article that Kobe had been killed in a helicopter crash.
There wasn't even a second thought that they would do SOMETHING to pay tribute to Kobe, especially since the Grammys were held inside "his house," the Staples Center.
"We were at Staples, we were at his house," he says. "We're sitting there looking up at [his] two [retired] jerseys that are on the wall there. So there was no way we could not do it. And, secondarily, he [wasn't] necessarily that close to a lot of musicians, but everybody looked up to him. You couldn't go anywhere without seeing number 24."
Here's how the tribute was executed:
Billboard: How quickly did the idea to incorporate Boyz II Men into Alicia's intro come together? They were there to perform with Tyler, the Creator. At that late point you have to work with what you've got, you can't bring someone else in, right?

KEN: No. That we couldn't have done. Alicia was on her way to the stage. It was probably noon, maybe 12:30 p.m. I took her aside and said I have some terrible news, but I have to tell you that you need to keep your focus on what we're doing here and let us come to you with some thoughts. She was obviously visibly shaken by [the news]. Then we went on with the dress [rehearsal]. We started coming up with a plan and it was basically [Grammy show executives] David Wild, Ben Winston, Garry Hood, who's my lead stage manager, and myself, and we went into her dressing room. Alicia and I primarily were thinking about songs and we went a little gospel. I never said it, but I was thinking about Boyz II Men. I left and about five minutes later I got a call from one of her people saying, "Hey, can we find Boyz II Men to do "It's So Hard To Say Goodbye to Yesterday." We found them and they went into her dressing room. It was about 15 minutes before showtime. They spent probably 10 minutes working it out and then it was there.

Billboard: Bryant's jersey or image was also in the Lil Nas X, Nipsey Hussle and Aerosmith performances, in addition to Lizzo's opening shout out.

KEN: I made a few calls and then there were others who had already decided they wanted to do something. I did have a conversation with Lee Zeidman, who runs Staples, and he said, "Whatever you need—jerseys, equipment." I think we did get a couple and a couple of the [performers] had them already.
This wasn't the first time Ken had to quickly amend the Grammys hours before the show started. In 2012, musical icon Whitney Houston died the night before the show, so they had to quickly make changes to honor her legacy.
Viewership for this year's awards show hit a 12-year low, raking in 18.7 million viewers who watched it live. But, it wasn't a huge slip in ratings compared to last year. The ratings dip was 6% less in total viewers compared to last year's telecast, which drew a 5.6 rating and 19.9 million viewers. In 2019, the show had seen an improvement over the previous year. However, the 2020 Grammys is not the lowest-rated in Grammys history. The least-watched Grammys was in 2006, with 17 million viewers.
The reason for the decline? More people are simply streaming these days. On the flip side, the Grammys was the highest-rated and most-watched telecast on all of television Sunday night. According to CNN, CBS noted a record number of views via its streaming service, CBS All Access, surpassing last year by more than 30%.
While TV ratings took a drip, the sales for the artists who performed – like Grammy winners Lizzo & Lil Nas X - surged.
According to Billboard, Lizzo's "Truth Hurts" went up 107% to 3,000; up from 1,000. Lil Nas X's "Old Town Road" surged 217%, as it sold 4,000 downloads the day of the show (up from 1,000 on Jan. 25th). Grammy winner DJ Khaled's "Higher," featuring Nipsey Hussle and John Legend went up 9,044% to 1,000; up from a negligible total. Alicia Keys' "Underdog" went up 787% to 3,000; up from a negligible sum.
Everyone's sales went up! Collectively, sales of the tunes that were performed on the show grew by 266% on January 26th, as compared to the previous day.
Congrats again to all the YBF winners!
Photos: Backgrid/Getty
​ ​
​ ​ ​