Niecy Nash Opens Up About Her Divorce, Breaking Generational Curses To Be Happy & Not Staying In A Marriage Just For Validation
​
Feb 09 | by _YBF
​ ​ ​ ​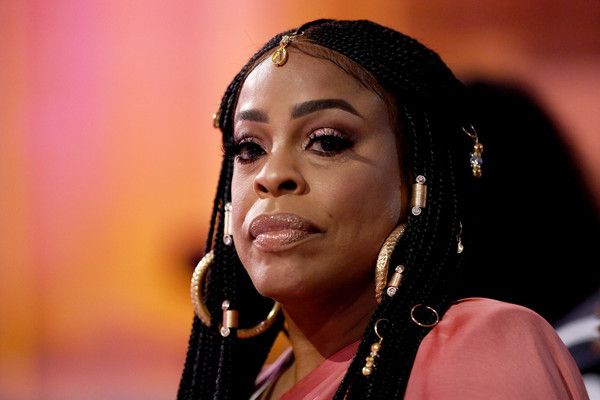 Niecy Nash is a single woman and these days and it's for the better. The "Claws" actress explains why she and her husband of eight years, Jay Tucker, called it quits and how she broke a generational curse to find happiness. More inside…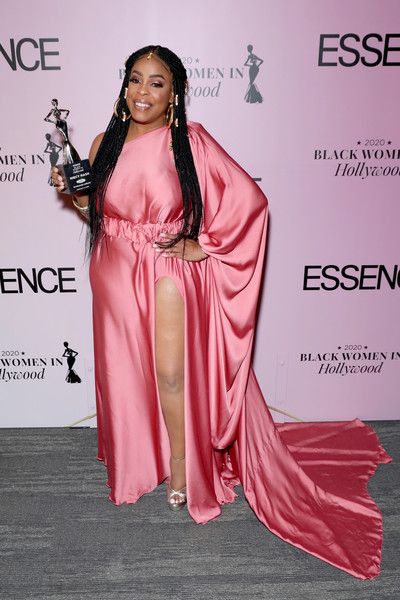 Niecy Nash was honored with the Vanguard Award at Essence's 13th annual Black Women in Hollywood luncheon ahead of the 92nd Academy Awards held at the Beverly Wilshire Hotel to celebrate all the fabulousness black women have contributed to Hollywood.
The "Claws" actress delivered an emotional acceptance speech where she opened up about why she and her husband of eight years, Jay Tucker, ultimately called it quits. The former couple shocked everyone when they announced their uncoupling in October 2019 on Instagram, writing:
"We believe in the beauty of truth. Always have. Our truth is that in this season of our lives, we are better friends than partners in marriage," said the pair in the statement on Niecey's Instagram account.

"Our union was such a gorgeous ride. And as we go our separate ways now, we feel fortunate for the love we share — present tense," they continued. "Thank you all out there for your support of us as a couple over the last eight years," they wrote. "We are grateful. Niecy Nash + Jay Tucker."
Niecy opened her speech by telling the star-studded audience she wanted to serve up her truth. She then talked about her first failed marriage to a pastor and the trials and tribulations she went through with that marriage. Letting her guard completely down, she also revealed how her family reacted to the news of her becoming a single mother, which shocked her because they encouraged her to stay despite not being happy.
"There was a huge myth that I inherited from the women in my family which is, 'You are nothing without a man. Get one, keep one, no matter what — blind, cripple, crazy, married or lazy — get one, baby girl, because they will validate you!'," the 49-year-old actress shared.

"When I owned we were better friends than life partners, my family was quick to say, 'But you all look so good together.'" And, 'Well, if the man ain't beating you, what you leaving for?' The one that made me laugh the most was an ode to him being attractive. [They said,] 'Well, you never had to put a sack on his head to sleep with him.'"

"And I replied, 'What about my happiness?' The untethering from my family's beliefs, the internet's expectations and my marriage ending caused me so much pain."
Whew. A whole sermon.
However, she used that pain to get her life in order.
"Pain is putting things in necessary order. You've got to acknowledge how you feel. Trust that it is so much easier to walk in your shoes than it is run towards a lie. You've got to own the part you play. I encourage you to walk in your truth, live your trauma and live your best damn life," she continued.
The mom-of-three got the courage to eliminate everything from her life that wasn't making her happy, and she's better for it.
"I am the most grateful because I now know myself much better than before. I let my daughters watch me walk through the whole thing. Because I want them to get up every single day and choose themselves," she said, fighting back tears.
Choosing herself led to her finding happiness and breaking a generational curse that she fought with internally.
"I realize I did right when my daughter said to me, 'I am so proud of you, and I want to be just like you when I grow up.' [My] generational curse is broken!"
During her speech, the "When They See Us" actress suffered a wardrobe malfunction with her pink Michael Costello gown, but thankfully, director Ava DuVernay (who presented her with the award) was right behind her. When boss duty turns into girlfriend duty.
"I just want to be transparent right now. I was so happy to be up here and have this day, and then my peace was so disturbed: My belt broke, my sticky bra is not sticky no more, something happened to my shoe," she said. "I'm just going to say, if this whole dress falls apart, you're welcome."
Ha! That's what friends are for.
Peep a clip from her speech below:
.@NiecyNash's testimony is one that we could all learn from. #BlackWomenInHollywood https://t.co/VovJvGeI0T pic.twitter.com/7yfmWQyBdt

— ESSENCE (@Essence) February 8, 2020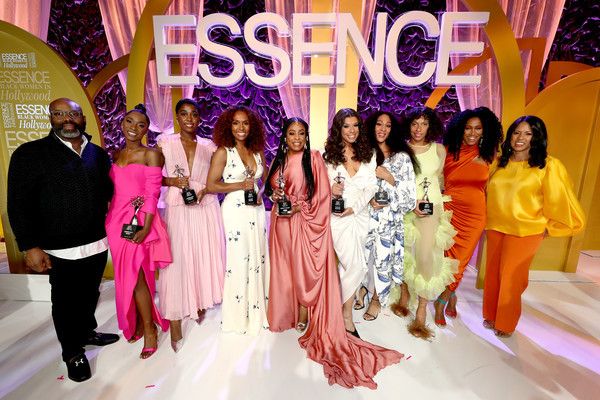 The EMMY nominated actress snapped it up with Essence Ventures Founder & Chairman Richelieu Dennis, honoree Angelica Ross ("POSE" actress), honoree Lashana Lynch (007 actress), honoree Janet Mock ("POSE" executive producer), honoree Hailie Sahar ("POSE" actress), honoree Mj Rodriguez ("POSE" star), honoree Melina Matsoukas (Beyonce's "Lemonade" and Queen & Slim director), Essence Chief Content & Creative Officer Moana Luu, and Essence CEO Michelle Ebanks onstage.
After delivering her moving speech, "The Kamiyah Mobley Story" actress mixed and mingled with her Hollywood friends, including Lena Waithe, AvaDuVernay, Issa Rae, Janelle Monae and Cynthia Erivo: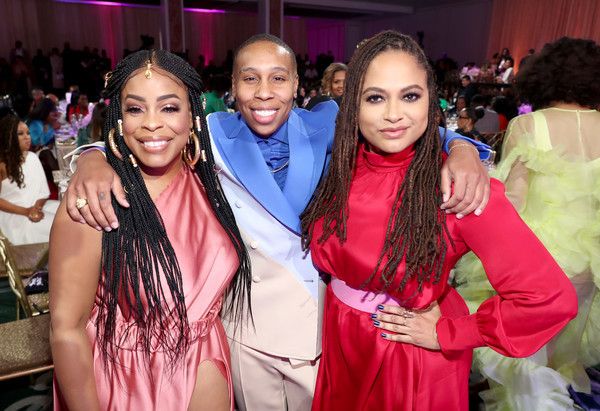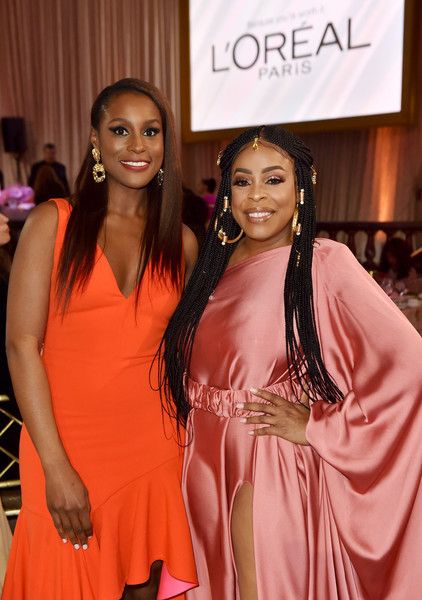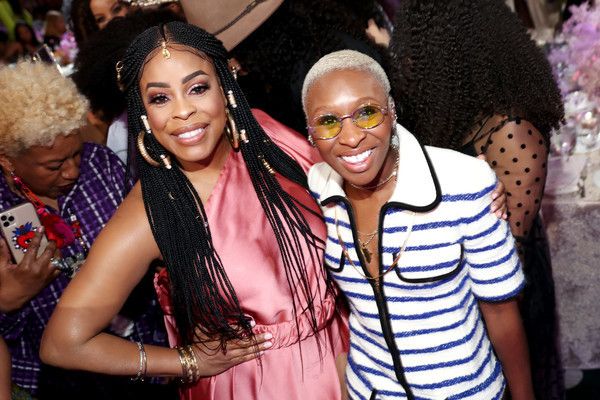 After the luncheon, Niecy cut up with her soul sisters:
Congrats, Niecy Nash!
So, what's next for her? She's currently filming scenes for the upcoming FX series, "Mrs. America," starring opposite Uzo Aduba and Jay Ellis, and the final season of "Claws" is in prodcution.
BONUS: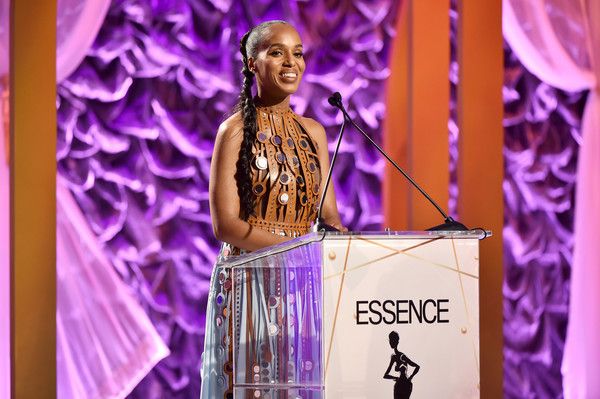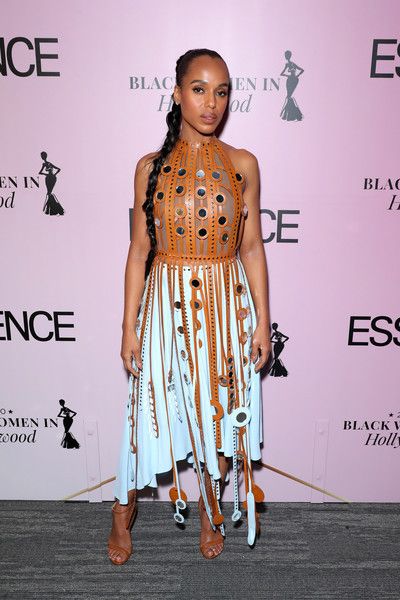 Also, Kerry Washington paid tribute to the late Hollywood icon Diahann Carroll.
Photos: Getty
​ ​
​ ​ ​