Cardi B's Pregnant Bestie Star Brim Charged In Massive NYC Gang Roundup, Accused Of Being 'Godmother' Of 5-9 Brims
​
Feb 19 | by _YBF
​ ​ ​ ​
Cardi B's bestie, Star Brim, is gearing up to give birth in the next few days. However, she was just hit with several charges in a massive indictment of 5-9 Brims, which is a Bloods gang. Deets inside...
What should be one of the happiest moments of her life has turned into a total nightmare.
Cardi B's pregnant BFF Star Brim (real name Yonette Respass) is set to give birth in a few days. However, she has just been charged with racketeering and slashing a person, which is a part of a massive indictment of 5-9 Brims members, a violent Bloods street gang. Sadly, she hasn't even been home for a full year since being released from prison in March 2019 for wire fraud.
Law enforcement has labeled Star as one of the highest-ranking female members of the 5-9 Brims, also known as the "Godmother." Ironically, Star is the godmother to Cardi & Offset's daughter, Kulture Cephus.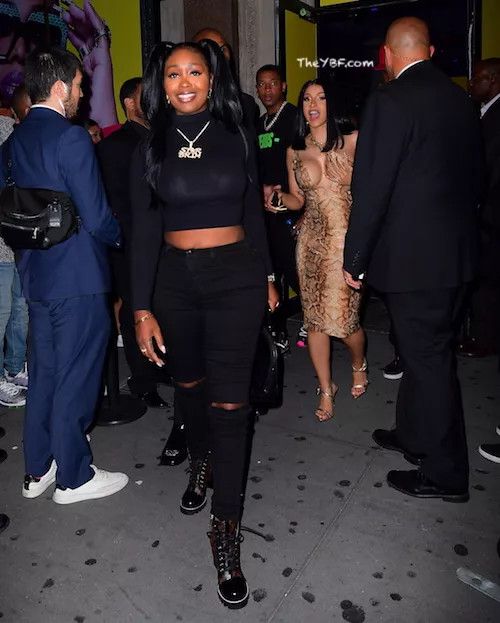 Star is 1 of 18 defendants reportedly named in an indictment of gang members in the Southern District of New York.
And it doesn't end there…
In addition to those charges, Star and 10 other 5-9 Brims have also been charged in an indictment by the Eastern District of New York in Brooklyn. The indictment claims the 5-9 Brims were beefing with rival gang "Real Ryte." They claim some of the defendants either participated in or conspired in the murder of rival members. Additional charges include racketeering, conspiracy, narcotics, fraud and firearms charges.
But get this…
Remember the drama with Cardi B and the two sisters/bartenders (Jade & Baddi Gi) that were allegedly physically assaulted in a Queens strip club in August 2018? Well, it appears Cardi's bestie Star was also allegedly involved. NBC New York reports:
According to the EDNY indictment, members of the 5-9 Brims violently beat a bartender at the Angels night club in Flushing, Queens, after the woman apparently disrespected another member of the gang. Respass, from behind bars, ordered other members to "pop that bottle" on the bartender, saying "I want hands put on them. I don't even want no talking."

Later that same night, three of the defendants are accused of going to the bar where they lured the bartender away from the bar, held her hair while beating her in the face and throwing a bottle at her. One of the members allegedly recorded the attack on cellphone, and it was sent to the member on whose behalf Respass ordered the attack.
Some of the 5-9 Brims who were indicted have already been arrested. As of now, Star has not since she is expected to give birth in a few days. It's reported her attorney is in discussions with prosecutors in regard to a time and date for Star to turn herself in.
Damn.
As you know, the "Bodak Yellow" rapper was indicted on felony charges stemming from a strip club brawl in Queens.
Below are more deets from the SDNY indictment:
Prosecutors from the SDNY say they arrested Street Lineup Godfather Willie Evans, or "Mills," in the Bronx borough of New York at 6 a.m. Tuesday. He is facing two murder charges as well as racketeering, firearms and conspiracy charges. They also arrested a number of the 5-9 Brims borough leaders, or "High 020s," Tuesday morning, including Queens High 020 Albert Shoulders, aka "Bundy," and Bronx High 020 Jamarr Simmons, aka "Show Off."

The 18 gang members named in the SDNY indictment also face two murder and five attempted murder charges, in addition to narcotics and firearms offenses.
Before Star was released from prison last year, the "Press" rapper put up an IG post detailing how her homie was getting her life back on track:
This post certainly didn't age well IF the charges brought against Star Brim hold any weight.
Also, Cardi's bodyguard Jeffrey Bush - who allegedly served as "muscle" for Cardi during he alleged strip club brawl - was arrested on drug charges last August. He was arrested in his Brooklyn home for allegedly selling more that $12,000 worth of crack. He has pleaded not guilty to all charges. Hmm....
Around the time Cardi's bodyguard was arrested, Star sat down for a candid interview on "Brilliant Idiots" where she talked about her gang affiliation:
Photo: Getty/Splash
​ ​
​ ​ ​