Boosie Rants About Being Denied Entry At Planet Fitness Over Transphobic Comments + Boosie's Son's Hateful Message About D. Wade's Daughter Zaya
​
Feb 21 | by _YBF
​ ​ ​ ​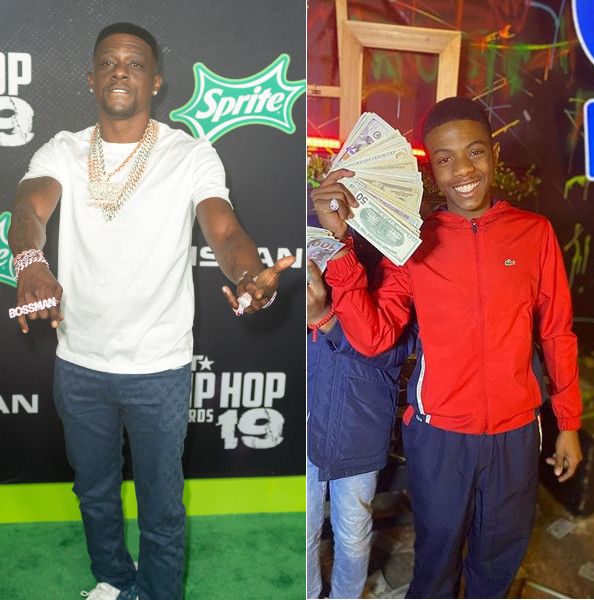 Boosie hopped on social media to unleash an expletive rant about how he was denied entry into Planet Fitness over his transphobic commentary about Dwyane Wade's daughter, Zaya Wade. Boosie's 16-year-old son, Tootie Raw, has also spoken out about Zaya with hateful speech. More inside…
Boosie is feeling the repercussions of that transphobic rant he posted about Dwyane Wade's daughter, Zaya Wade, a few days ago.
Yesterday, the "Wipe Me Down" rapper went to a Planet Fitness gym in Georgia to get a workout in, but he was denied entry. The reason? He claims they told him he was not welcome due to the transphobic comments he made about retired NBA player Dwyane Wade's daughter, Zaya Wade, following interviews D. Wade did to reveal Zaya (born Zion Wade) preferred to use "she" and "her" pronouns.
The Baton Rouge native took to Instagram to call for a boycott on the gym after a manager told him he did not like his remarks about Zaya and refused him entry inside.
"MANAGER WHO WAS GAY REFUSED TO LET ME N PLANET FITNESS BECAUSE OF MY PAST ACTIONS ON SOCIAL MEDIA ABOUT GENDER ETC. DO NOT SUPPORT PLANET FITNESS," he wrote in the caption of a video he recorded right after he was denied entry."
Boosie then went on to call the company racist, accused them of having roaches and said the water in their showers don't get hot.
"THEy Racist ,THEY HAVE ROACHES , N THEY SHOWER WATER DONT GET HOT ‼️GET OUT YA FEELINGS LIL BITCH #roachfitness #roachfitness #roachfitness #roachfitness #roachfitness THET GOT ROACHES ‼️BITCH U WANT A GAY CHILD BUT DONT NOBODY WANT TO HAVE A BABY FOR YO SISSY ASS NOW U MAD ‼️," he wrote.
Check it (WARNING: NSFW):
And the apple doesn't fall far from the tree. Boosie's 16-year-old son, Tootie Raw, wrote up a hateful message aimed at Zaya Wade.
"F*ck Dwayne and his son. Idc [I don't care] he gay my pops said what he said stop sending me that. I bet you won't say it to our face," he wrote in on IG Stories post.
It gets worse.
"I know this chick that will do sum thangs to dwade son that will make that boy back st8 [laughing emojis]", he continued.
This is disgusting. This just shows how hate is spread from one generation to the next. We're still not sure why Boosie, his son, and a few other rappers are all riled up about the way D. Wade chooses to raise his child.
EXTRAS:
1. Former Cleveland Browns starting offensive tackle Greg Robinson and free agent wide receiver Quan Bray, were arrested at the Sierra Blanca border checkpoint near the United States and Mexico border this week. They were reportedly in possession of 157 pounds of marijuana that was inside several duffle bags in the vehicle they were driving. STORY
Photo: Jamie Lamor Thompson/Shutterstock.com/Tootie's IG
​ ​
​ ​ ​