ICYMI: Wendy Williams Claims She Doesn't Have A Boyfriend, But That Doesn't Mean She's Not Dating
​
Feb 27 | by _YBF
​ ​ ​ ​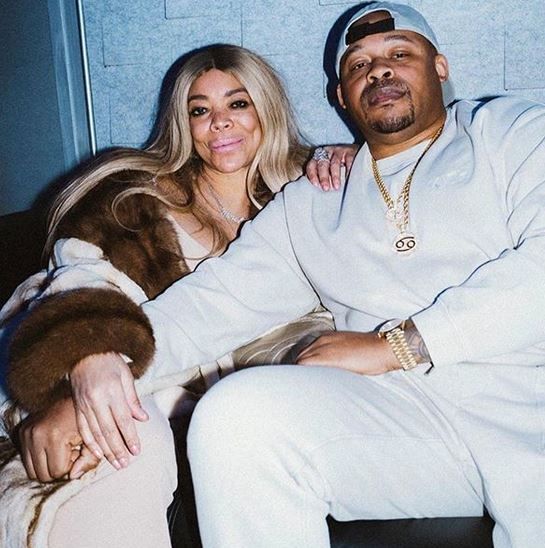 Wendy Williams wants y'all to know she's not dating jeweler William "Big Will" Selby, despite posting up flicks of them all hugged up in the studio. More inside…
Wendy Williams wants y'all to know jeweler William "Big Will" Selby is NOT her man. Go figure.
People wouldn't have come to those conclusions if she wasn't busy posting up flicks of herself and Big Will all cuddled up on a couch in a music studio, out to dinner and more. She literally posted up several pics from their date night on her social media, alluding to Big Will being her man, only to go on television and slam rumors that she's dating Big Will. Hmph. We knew she was going to do this.
During her Hot Topics segment, she talked about how Will is her "friend" and nothing more. OK girl! He posted a clip from her segment below:
"I had an interesting weekend," Wendy said during her show. "It was all innocent to me but apparently it caused waves everywhere else. All I'm doing is being Wendy."
"So I met this young man that I really like. Not in that way, I was setting you up with dramatic effect. I was only at the studio for 35 minutes. I was with my friend, who is also my jeweler, Will. But and whatever, here is the big [scoop]. Will is my friend, he happens to be a jeweler," she explained. "I'm one of his probably low-paying clients. I'm not buying jewelry all the time."
Mmhmm...
As for their color coordinated 'fits? She claims they just so happened to be wearing the same color. Oh.
"No, we did not plan to dress alike. A lot of you all said we looked like a couple. No, we're not a couple," she revealed. "I got on a beige negligee and threw on that [coat]. It was cold out. And then we get in the studio and I put it on my 'gram."
Oh, she also said the reason they were all cuddled up was because "it was freezing in the studio" and they were simply trying to keep warm. Yeah, OK.
Peep the clip below at the 14-minute mark:
The 55-year-old daytime talk show host - who recently finalized her divorce from Kevin Hunter Sr. - and the celeb jeweler had a fun-filled date night last weekend. They were spotted in the streets of NYC as they made their way inside Aroma Trattoria in NYC for a romantic dinner. After dinner, they hit the club with rapper Blac Papi where she performed a quick twerk.
Before their date night, they also hit up the Spotify x Cash Money premiere of mini-documentary "New Cash Order" at Lightbox in NYC, so they seemingly enjoy each other's company. Maybe he isn't her official boyfriend, but that doesn't mean she isn't dating him. Get your life, Wendy!
Photos: Splash/Wendy's IG
​ ​
​ ​ ​