The Way Sterling K. Brown Loves Every Inch Of His Wife Will Make You Reevaluate The Men In Your Life (Exclusive)
​
Feb 28 | by _YBF
​ ​ ​ ​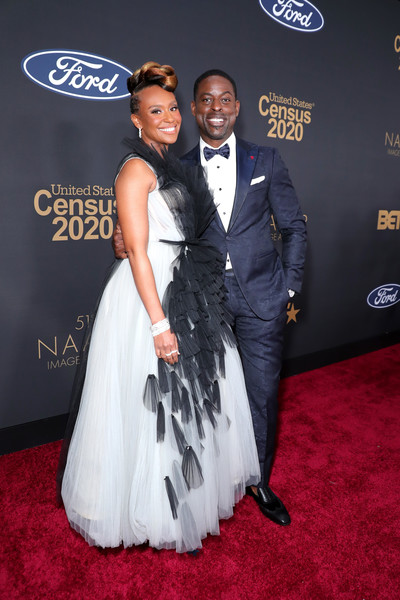 When a black man truly loves everything about his black wife, it's something beautiful to see. Find out what Sterling K. Brown told us about loving his wife's naturalness inside…
Sterling K. Brown loves his black wife. And he loves every inch of her being that us side-eying the men in our lives.
While the world tells women they need to have straight hair to be considered beautiful (by society's standards), the "This Is Us" star loves his wife, Ryan Michelle Bathe, most in her natural state. In fact, he stans out for his real-life wife's natural hair and his on-screen wife, Susan Kelechi Watson, rocking her natural tresses as well.
We sat down with Sterling recently to talk about it all.
"Natural hair – my wife and Sue [Susan Kelechi Watson] both, the way that they rock their hair on the carpet or on the show, it's such a huge thing," the two-time EMMY winning actor told YBF's LA correspondent Shannan Johnson.
And it's not just white people who have this skewed perception of beauty. Our own family members have been brainwashed with the notion that straight hair equals beauty.
"My wife went to a wedding in Atlanta for one of her family members, and her aunt was like 'Can you please straighten your hair for the wedding? I just I want you to be your prettiest,'" he said as he put his head down.
The "Waves" actor said that mentality is so ingrained in people that they don't even realize how hurtful and detrimental comments like that can be. Luckily, Ryan has a husband like Sterling because he STANS out for his black queen and doesn't miss an opportunity to let her know it.
Also, the 43-year-old actor has a deep love for the black community as whole, specifically black women.
"My four years at Stanford. That community sort of fostered and nurtured the dude you see here today. There are so many wonderful sisters that I love, appreciate and adore. And I just don't want to ever send a message to my community that I don't think that you are beautiful."
Gotta love it.
Check it:
The next episode of "This Is Us" airs March 3rd at 9pm EST on NBC.
Photos: Getty
​ ​
​ ​ ​