Wendy Williams Says Nicki Minaj RUINED Her Brand Marrying 'A Sex Offender' + Kenneth Petty Registers As Sex Offender In CA, Nicki's Reportedly 'Standing By' Him
​
Mar 10 | by _YBF
​ ​ ​ ​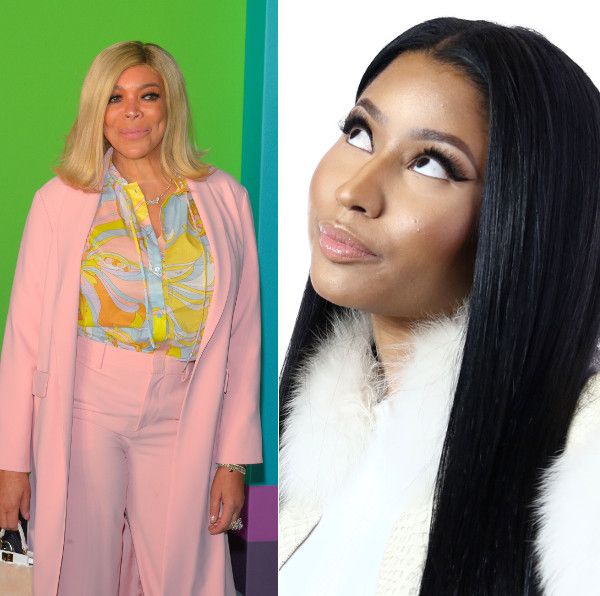 Wendy Williams has reignited her feud with Nicki Minaj after making comments about her "sex offender" husband Kenneth Petty. Meanwhile, Mr. Petty has officially registered as a sex offender in California following his arrest and sources claims Mrs. Petty is "standing by" her man. Deets inside…
Wendy Williams changed up the format on today's show to squeeze in some burning Hot Topics she was dying to talk about. Towards the end of her daytime talk show, she started going IN on rapper Nicki Minaj and her husband Kenneth "Zoo" Petty…. again. You'll recall, Wendy has commented on their relationship in the past which caused Nicki to blast her on Queen Radio.
The veteran daytime talk show host said the QUEEN rapper has ruined her brand by marrying a man who was previously charged with rape and manslaughter.
"Apparently, the way the show is going today, we did not have enough time to get to Nicki Minaj's brother," she said.
Later, Wendy clarified that she meant Nicki's HUSBAND.
"But let me tell you something, Nicki…that's going to be my first story tomorrow and I'm going to lead with this: you should have never married him."
And she wasn't done there…
"Because now you've ruined everything about what your brand could be again," she continued. "You're never going to stand a chance when you're with a man who pulls a knife at rape point. A molester. A registered sex offender who wasn't even registered. You're never going to stand a chance with John Q. Public because there's only one thing worse than touching children and pulling knives and that's murder. By the way, he did go to jail for manslaughter."
Wendy was running out of time, so she quickly concluded:
"Oh, I think I just did the story. No, get to digging. There's more on it. Everybody get to digging. Get to digging."
Chile…
Check it below:
Here she go again y'all coming for the Queen #NickiMinaj #wendywilliams pic.twitter.com/O77esYdqvT

— SweetTea (@Tea_Sugar411) March 10, 2020
By the way, Nicki's brother, Jelani Maraj, was sentenced to 25 years for sexually abusing his 11-year-old stepdaughter and is currently in prison.
Wendy's public scolding comes days after Nicki's husband Kenneth Petty was arrested and booked after turning himself in to U.S. Marshals on an indictment for failing to register as a sex offender. Mr. Petty moved to Cali with his rapper wife in July 2019, but according to court documents, he failed to register as a sex offender after the move, which is a requirement. In 1995, he was convicted of first-degree attempted rape.
Kenneth ended up registering as a sex offender in California days after his arrest last week. According to The Blast, Kenneth is now in California's database of sexual offenders. Also, a new mug shot was uploaded:
In November 2019, he was pulled in Beverly Hills for a traffic violation. The cops then realized he was a registered sex offender in New York, but failed to register in Cali.
After the L.A. County D.A. charged him for failing to register, the feds stepped in and reportedly hit with a federal indictment. He was then taken back into custody and faced another judge. He pleaded not guilty and was released on a $20,000 bond. Prosecutors wanted to place him on house arrest, but the court granted him the option of being tracked by an ankle monitor. He also had to surrender his passport and was ordered to stay away from drugs and alcohol. If he's convicted, he faces up to 10 years in prison.
And get this...
Sources tell HollywoodLife the "YIKES" rapper plans to stick by her husband throughout this ordeal.
"Kenneth's arrest is embarrassing but it is not a relationship killer whatsoever. She has known Kenneth forever and knows the person he is and is in love with him and she wants this to go away as quickly as possible," the source claims. "She will likely address it in some way during a future Queen Radio but again she would rather have this not to have happened but it is not going to be something that will alter her relationship with him negatively."
Another source told the site something similar:
"Nicki knows Kenneth made a mistake but it doesn't change the person he is and it doesn't change anything about their relationship or her love for him. She's known Kenneth almost her entire life and knows that people make mistakes, but that doesn't mean she's going to leave him for it," the source reveals. "Nicki is standing by her man and she just hopes he learns from this. She hopes something like this doesn't happen again but if it does, they'll deal with it. It doesn't change anything."
Get ready for a Nicki rant about Wendy in 5...4...3...2...
Photos: JStone/Ron Adar/Shutterstock.com/LAPD
​ ​
​ ​ ​