2020 GLOW UP: Judge Faith Says 'I Do' To Kenny Lattimore After Nabbing 'Divorce Court' Gig
​
Mar 11 | by _YBF
​ ​ ​ ​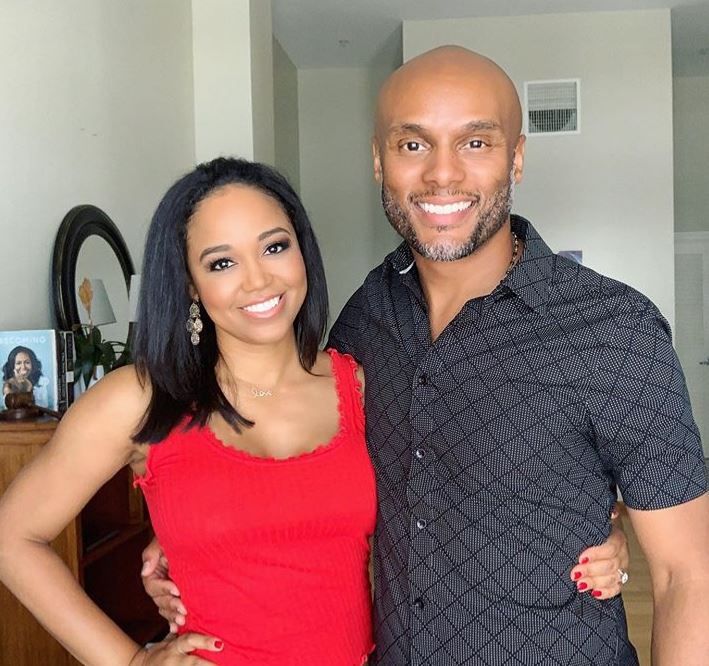 2020 is looking bright for Judge Faith Jenkins. She recently tied the knot to singer Kenny Lattimore and she was also named the new host of "Divorce Court." Everything inside…
Just married!
Judge Faith Jenkins and singer Kenny Lattimore have tied the knot.
The happy couple said their "I Dos" before 275 family and friends at First Congregational Church in downtown Los Angeles last weekend. And their guest-list was star-studded as ever.
Preacher/Hollywood producer DeVon Franklin (husband of actress Meagan Good) officiated the ceremony and Stevie Wonder serenaded Judge Faith with his classic track "You And I" as she made her way down the aisle. Other celebs included rapper MC Lyte, actress Sheryl Lee Ralph, "Grey's Anatomy" star James Pickens Jr., and author Malcolm Gladwell.
Honored to officiate your wedding Divorce Court's Judge Faith Jenkins Marries Kenny Lattimore in Romantic Ceremony https://t.co/PccFRLyxGu

— DeVon Franklin (@DeVonFranklin) March 9, 2020
Judge Jenkins told US Weekly she met Kenny on a blind date though her friend/music producer Aaron Lindsey. She was looking for someone to help her record some Christmas music and Aaron suggested Kenny. However, it wasn't love at first sight or anything.
"The first time we met was for lunch and we talked for two hours," Faith told the publication. "I don't know that there was a real spark at first but it was a genuinely interesting conversation. Kenny actually thought I wasn't that interested because I didn't per se flirt with him. It was lunch! I was just looking for good conversation and to enjoy my turkey club. The flirting would come later! Which it did."
It didn't take long for the butterflies though.
"Kenny was different from anyone I've ever met from the very beginning. I've known his music since college so I didn't know what to expect when meeting someone who has been such an established artist for so long," she shared. "But he showed a graciousness and humility that endeared me to him right away. I see him consistently treat every person he encounters like they are VIPs in his world and exudes a kindness that makes me believe in the best in others."
Faith & Kenny announced their engagement in September 2019. Five months later, they jumped the broom! During that time, the couple participated in pre-marriage counseling to make sure they were ready to make such a big commitment.
"For the most part, once the ring is on you've really made the decision about marriage and the counseling is almost an afterthought. For us, we wanted counseling to be at the forefront so we could decide if our core values were as aligned as we thought they were," she explained.
Congrats to the couple!
As for Judge Faith's career glow up....
Judge Faith Jenkins is the new host on "Divorce Court" as Judge Lynn Toler's successor.
Judge Lynn hopped on Twitter to pass the torch to Judge Faith after the news broke:
New things! pic.twitter.com/dRkJuwwgst

— Judge Lynn Toler (@RealJudgeLynn) March 5, 2020
"There was a lot of consternation and people got cranky because people don't like new things," she said in a Twitter video. "But I'm saying give her a chance, because she's really good at what she does. She's going to be different, she's going to be good. She is good looking, she is smart, she is capable, and I think she will take 'Divorce Court' to another level."
Judge Faith can't wait to take over "Divorce Court," gushing to Deadline:
"My legal expertise combined with my personal life experience – including years of dating in the world of social media and technology – provides me a unique perspective that will inform my empathy and judgment for many of the issues couples raise on the show."
FUN FACT: "Divorce Court" is the longest-running television court show, debuting in 1957.
Faith has an impressive resume, including, working as an attorney in New York for fourteen years where most of her time was spent in family court on custody, child support, child visitation, and divorce proceedings. Over the years, she has provided legal commentary for CNN, MSNBC and FOX News.
Judge Faith also hosted her own nationally syndicated show from 2014 to 2018. Now, she's back!
Be on the look out for the new Mrs. on "Divorce Court" starting July 2020.
Photo: Faith's IG
​ ​
​ ​ ​