Keri Hilson Believes Dangerous Levels Of 5G Is Causing Coronavirus, Uses Africa As Evidence + Italy, France & Spain Are Under Coronavirus Lockdown
​
Mar 16 | by _YBF
​ ​ ​ ​
The Coronavirus is what everyone is talking about, but folks should be careful and research for themselves the information they take it. Singer Keri Hilson has been tweeting up a storm with claims that 5G waves is what's causing the wild spread of the Coronavirus. She even used Africa as an example. Peep her tweets, plus deets on Italy, France, and Spain being on a total lockdown inside....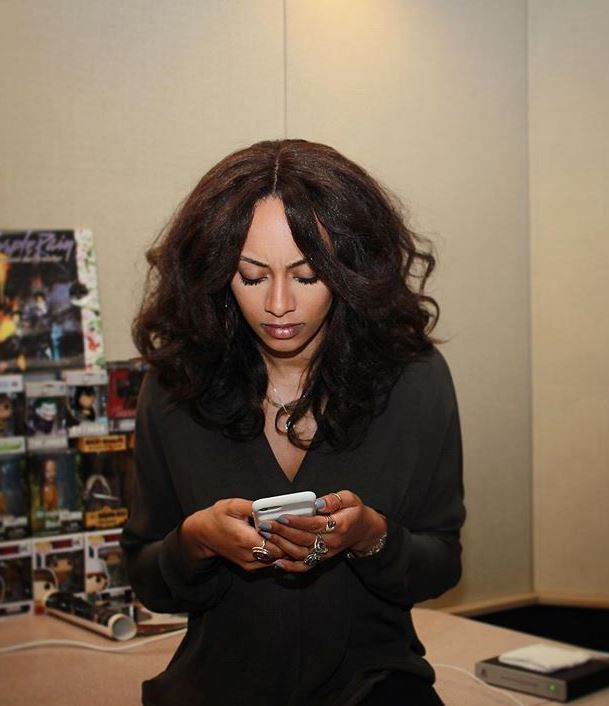 There's so much information being shared about the Coronavirus, at this point, it's hard to decipher what's fact and what's totally not true. People have been sharing their own opinions about the contagious virus, sharing conspiracy theories about the pandemic. Keri Hilson is one of them.
It seems the singer-songwriter has become a conspiracy theorist, sharing information on social media about the Coronavirus outbreak. According to Miss Keri Baby, the Coronavirus outbreak is due to dangerous levels of 5G technology.
She claims the lack of 5G networks in Africa is "the reason why the Coronoavirus isn't spreading as fast in Africa." In her tweets, she said Americans were warned about the effects of 5G, but we didn't listen. Now, she claims the 5G networks and its radiation is increasing the rate in affected countries.
"People have been trying to warn us about 5G for YEARS. Petitions, organizations, studies...what we're going thru is the affects of radiation," she tweeted. "5G launched in CHINA. Nov 1, 2019. People dropped dead. See attached & go to my IG stories for more. TURN OFF 5G by disabling LTE!!!"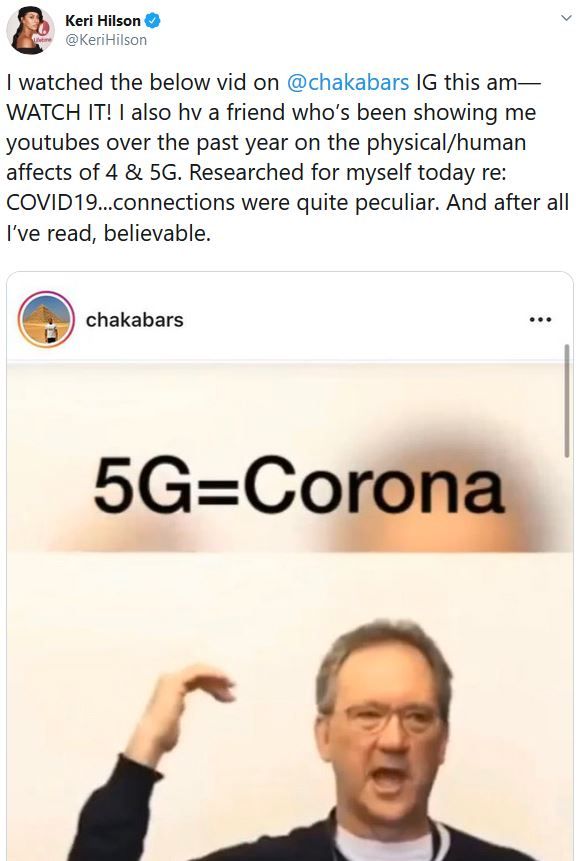 Here's the video she posted in the last tweet:
Then, she referenced Africa not having being affected like the rest of the world:

"Why do you think the virus is not happening in Africa like that? Not a 5G region. There may be a few bases there, but not as prevalent as other countries. It has nothing to do w/ melanin (for those theories)...," she wrote.
There's a rumor going around that Trump will evoke what is called the Stafford Act. The president will allegedly order a two-week mandatory quarantine for the nation. Keri said she's preparing for the possible lockdown: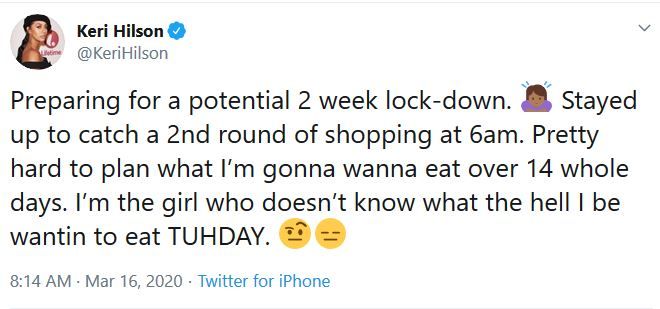 Hmm...what are your thoughts on Keri's Coronavirus theories?
In other Coronavirus news....
#italylockdown Ponte Sisto 9:30AM melancholy interludes at each end of bridge #coronavirusitalia scenes from Red Zone pic.twitter.com/UaT0iqdxdy

— Sylvia Poggioli (@spoggioli1) March 15, 2020
Tens of millions of people have been adjusting to a new way of life as governments in France, Spain, the Netherlands and more join Italy in a government-ordered quarantine. The Coronavirus has been spreading rapidly in Europe, so they're trying to get a handle on it. Italy reportedly remains the second most-heavily affected country in the world after China, where the virus was first documented. It's reported Italy recorded 368 more Coronavirus-related deaths Sunday. Sheesh.
It's basically been a ghost town in countries and folks are coming up with ways to make the most of it:
Rome at noon:riverside thruway Lungotevere dei Tebaldi, normally a chaotic, screeching rumble of cars, buses and motorcycles. Only sound today was early sign of Spring, a few chirping birds pic.twitter.com/CyhHYu9qzM

— Sylvia Poggioli (@spoggioli1) March 12, 2020
When you can't go out with friends during the #italylockdown, you can always find a way to make it work. pic.twitter.com/TDc18svnfb

— Junno Arocho Esteves (@arochoju) March 14, 2020
Central Lyon - our main shopping street. Clothes shops are normally shut on a Sunday in France but this is very quiet. Day one of the new measures shutting restaurants, cafes, cinemas etc. #francelockdown pic.twitter.com/kTHyhsLn6A

— Rosie Wright (@rosiewright99) March 15, 2020
How did it come ro this?
Two weeks ago Italy had the same number Coronavirus cases as the UK today.#italylockdown pic.twitter.com/3ajQMH9SjD

— Rea (@ReaCola) March 10, 2020
Folks in Spain are coming up with creative ways to make life semi-normal:
In #Seville #Spain even during #COVID2019 #SpainLockDown they're not accepting #coronavirus #quarantine as an excuse to not #exercise .This #fitnessinstructor hosts a workout from a rooftop & people join in from home. #CoronaVirusUpdates #COVID19Vancouver #COVIDCanada #pandemic pic.twitter.com/68awcB2vh6

— Lisa Verzosa (@LisaVerzosa) March 15, 2020
According to NBC News, Spain enacted a partial lockdown Saturday night as the country tries to stem the outbreak. People are only allowed to leave their homes to go to work, the pharmacy or a hospital.
It's unclear what's next for the United States, but we'd rather be safe than sorry. Everyone should prepare to at least be home for two weeks IF the government does decide to shut everything down. And please, stay home.
EXTRAS:
1. Idris Elba has tested positive for the Coronavirus.
2. The Federal Reserve cut rates to zero, but it hasn't helped none. STORY
Photos: Keri's IG
​ ​
​ ​ ​