NBA Likely Won't Return Until June, Probably Won't Allow Fans In Arenas + D. Wade Bashes Son's Coach On National Television
​
Mar 17 | by _YBF
​ ​ ​ ​
The NBA may possibly resume the season in a few months, however, there probably won't be in fans in the stands. Get the latest on the NBA's return, plus find out why Dwyane Wade is shading his son Zaire Wade's basketball coach on national television inside…
The Coronavirus has literally shut down everything in the United States, leaving citizens wondering when will life as they knew it will go back to normal.
The NBA was hit hard by COVID-19 when it was confirmed several Utah Jazz players – Rudy Gobert & Donovan Mitchell – had contracted the virus. The league immediately shut down shop and basketball was taken away in an instant.
Now, the league's owners and execs are sharing possible details about when the b'ball action will return. Sources tell ESPN the NBA could possibly return mid-to-late June as a "best-case scenario." However, it's likely there won't be any fans in the stands cheering their fave team on, according to ESPN insider Adrian Wojnarowski.
"Our world has changed since Wednesday's [board of governors] call," one team president told ESPN. "The reality isn't lost on anyone right now."
The sports site reports:
NBA owners are awaiting the league's financial projections on lost revenues, which are expected to be shared with them soon, sources said. J.B. Lockhart, the NBA's chief financial officer, has been leading the effort to deliver owners what all expect to be challenging financial projections on a short-term future that is thick with uncertainty and volatility.

The NBA likely will provide projections on three primary scenarios: the financial costs of shutting down the season, restarting with no fans in the arena, or playing playoff games with fans. Those losses will be reflected in next season's salary cap and the players' share of basketball-related income.

For now, there's a working plan that games would return without fans, and teams have been told to search out arena dates well into August for the playoffs, sources said. Teams have been directed to give the league office potential dates at smaller nearby game venues, including team practice facilities, that could spare the use of empty, cavernous arenas and possibly provide backdrops to unique television viewing lines.
Yesterday, Trump laid out new guidelines to fight off the virus, recommending no crowds over 10 people for at least 15 days.
RealGM Wire Tap has the deets on the NBA continuing the season without fans:
"The league, more than gate receipts ultimately, it's getting the games on television," Wojnarowski said of the NBA. "Whether it's the regional networks and then the national deals that Turner, ESPN… Getting games in the postseason on TV and to that end, knowing that it is 'likely', 'possible', 'certain', wherever you want to fall on it, that if the games resume, they will 'probably' do so without fans in the arena, at least initially.

"The league is open to not having these games in arenas, whether it's a Staples Center or Barclays in Brooklyn or Oklahoma City. Wherever traditional arenas their teams play in. They're looking at the practice facilities or the G League facilities where you wouldn't have the backdrop of a cavernous empty arena on television. And it would be an environment where the TV sight-lines might be better. They can do some creative things in that way."
Jazz baller Rudy Gobert recently said he wishes he had taken the virus "more seriously" after testing positive for the virus. He also said he's been feeling a "little better every single day."
"I wish I would have taken this thing more seriously and I hope everyone else will do so because we can do it together," Rudy said in a video posted to the NBA's Twitter account:
A message from @rudygobert27 pic.twitter.com/eKV6asutGN

— NBA (@NBA) March 15, 2020
Glad he's recovering.
Pistons forward Christian Wood has reportedly tested positive for the coronavirus, per @ShamsCharania pic.twitter.com/1ykFEVmdWE

— Bleacher Report (@BleacherReport) March 15, 2020
Over the weekend, a third NBA player was confirmed to have tested positive for the Coronavirus. Detroit Pistons player Christian Wood has also tested for Coronavirus. As of now, he's reportedly not showing any symptoms.
Sending prayers up for him as well.
In other basketball news...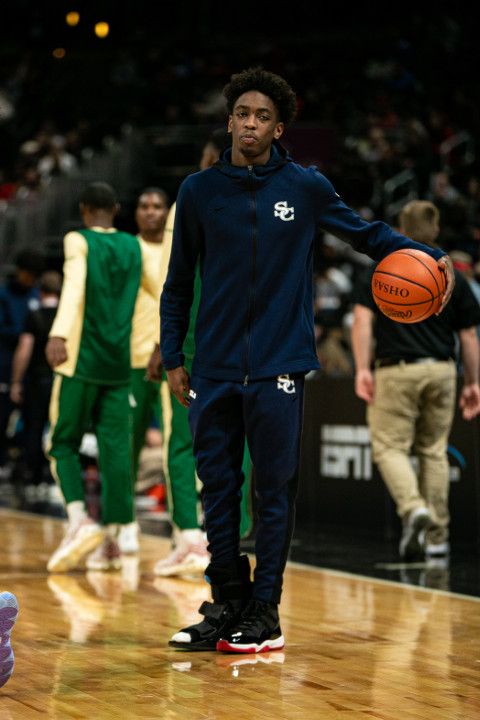 Retired NBA baller Dwyane Wade doesn't play when it comes to his son, Zaire Wade's basketball career. And he has no problem letting it be known.
The former Miami Heat baller appeared on "Inside the NBA" last week and let the world know he would NOT be attending his son's high school basketball championship game. The reason? Well, the coach refused to let Zaire play. In the game before the title game, Zaire – a top recruit in the 2020 class – scored a shot that led the team to the championship.
Sierra Canyon was down 10 with 2 minutes left and came back for the win‼️ They're back in the state championship @SCanyonSports pic.twitter.com/IqSOf8t1vu

— SLAM HS Hoops (@SLAM_HS) March 11, 2020
After showing a clip of his son playing on the show, he was asked if he would be attending his son's title game.
"I will not be there," Wade responded. "My son ain't playing and I don't want to do nothing to the coach, so I won't be there. I'll be rooting for the kids," he added.
Co-hosts Shaquille O'Neal and Candace Parker were caught off guard with his response.
"Yikes, on national television," Candace responded.
Peep the clip below:
Dwyane Wade was asked if he will be attending Sierra Canyon's state championship game.

"I will not be there. My son ain't playing and I don't want to do nothing to the coach. I will be rooting for the kids." pic.twitter.com/RYcANAW693

— Ballislife.com (@Ballislife) March 11, 2020
D. Wade didn't explain why his son's Sierra Canyon coach wouldn't allow him to play during the championship game. However, ESPN reported that it's a challenge for the coach to get playing time on a team filled with talented players.
Eventually, it didn't even matter since the title game ended up being canceled due to the Coronavirus.
EXTRAS:
Famed NFL QB Tom Brady says he's leaving the New England Patriots, shocking the sports world.
Photos: Getty/1022 Project/Shutterstock.com
​ ​
​ ​ ​