Amazon Halts Shipments Of Nonessential Products, Workers Sound The Alarm On Unsanitary Work Conditions Amid Coronavirus Pandemic
​
Mar 19 | by _YBF
​ ​ ​ ​
Amazon made a huge announcement! They're suspending shipments of all nonessential products in response to the Coronavrius pandemic. Also, Amazon workers are sounding the alarm on the unsanitary work conditions they're being forced to work in. More inside…
All those random items sitting in your Amazon cart will be sitting there for a while now.
Yesterday, Amazon told sellers and vendors the company will be suspending shipments of all nonessential products to its warehouses in response to the increase in orders amid the Coronavirus pandemic.
The muti-billion dolar corporation will now only accept shipments of "household staples, medical supplies, and other high-demand products" to its warehouse until April 5th to deal with the high demand of those products amid the coronavirus crisis. Folks have flocked to the website to stock up since local grocery stores are running out of items due to the influx of sales.
Right now, Amazon is prioritizing categories according to the following: baby products; health and household (including personal-care appliances); beauty and personal care; grocery; industrial and scientific; pet supplies.
So what does that mean for sellers?
Business Insider reports:
That means sellers who use Amazon's storage and delivery network for a fixed fee, through a program called Fulfillment by Amazon, will no longer be able to ship nonessential products to Amazon. The same restrictions apply to vendors who wholesale their products to Amazon, who then resells them at a markup.

It doesn't affect last-mile shipments of those products to consumer.
Amazon said vendors will see "reduced purchase orders" as it "temporarily paused" orders for all nonessential products until April 5th. Delivery windows for existing orders have been extended which will give vendors more time to deliver those products to Amazon.
People who run marketplaces for nonessentials are feeling it. Their sales have dropped dramatically.
"We understand this is a change to your business, and we did not take this decision lightly," Amazon wrote in an email to sellers and vendors. "We appreciate your understanding as we prioritize the above products for our customers."
Amazon also said it planned to hire 100,000 warehouse and delivery workers to help manage the increase in sales. But, should folks even take the job?
Warehouse workers in New York and Chicago told The Washington Post that Amazon isn't taking enough precautions as orders pile up, forcing them to work in unsanitary conditions. Workers claim their co-workers were only sent home if they had coughs.
Twitter is sounding off about it:
Amazon doesn't have to provide paid sick leave. They are hiring 100k workers so they can burn through them as they get sick (as a result of unsanitary policies in their warehouses), and just hire more. Labor is disposable to them. This is hideously transparent.

— z (@vanishes_x) March 17, 2020
Amazon wants to hire more workers to fill it's unsanitary warehouses? WTF https://t.co/fXVQCQbKqX

— Kinkajou51, I am sick of this shit! (@Kinkajou5123) March 18, 2020
Please please choose indie. Amazon is forcing their workers to work in unsanitary conditions en masse while the owners of our beloved community centers send us home. Shop consciously! https://t.co/rJNj9tHukw

— cristina maria (@moonandpeach) March 18, 2020
Workers at several Fiat Chrysler Automobiles NV factories are complaining about unsanitary work conditions as well. So, they did something about it. After learning that a worker at the FCA Kokomo Transmission Plant in the United States was diagnosed with COVID-19, some workers walked out, however operations have resumed...at least, for now.
The Detroit Press reports:
Paint shop operations resumed at Fiat Chrysler Automobiles NV's Warren Truck Assembly Plant early Monday afternoon after 17 employees stopped working that morning. There were no confirmed cases of COVID-19 at the plant that produces the previous-generation Ram pickups, the company said.

But Gov. Gretchen Whitmer has directed gyms, theaters, dine-in restaurants and schools to close to curb exposure, and many employers, including Detroit's three automakers, are letting employees work from home if they can. President Donald Trump issued new guidelines at the White House telling Americans to congregate in groups of 10 or less.

"You have 1,500 to 2,000 people touching the same product," Kristin Dziczek, vice president of industry, labor and economics at the Center for Automotive Research in Ann Arbor said of workers on the assembly lines. "They're in close proximity. They wear gloves, protective gloves, but the level of contagiousness of this virus is high. It will spread differently in the manufacturing industry than in an office. I will not be surprised to see production interruptions."
One Chrysler worker took to Facebook to share more details: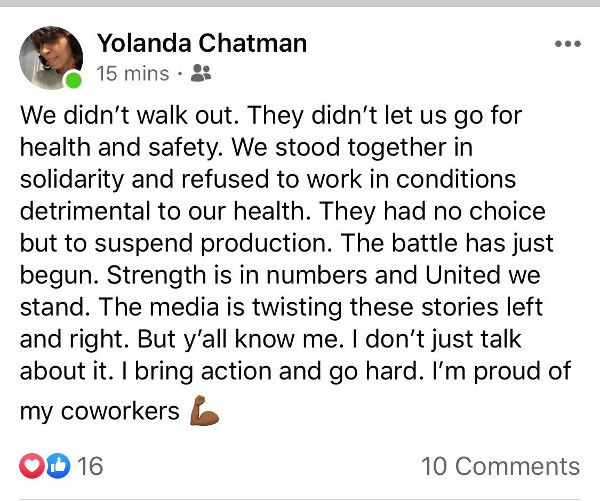 The state of Michigan has closed schools and universities, along with banning gatherings of more than 50 people. However, the order exempts factories and offices.
UPDATE:
The Detroit Three automakers (Ford, General Motors, FCA) have agreed to UAW demands to shut down all North American plants in response to the Coronavirus pandemic, according to the Detroit Free Press. During the shutdown, union members will get paid similar to the compensation plan for when they are on leave.
Prayers up for our warehouse workers!
Photos: Mike Mareen/Shutterstock.com
​ ​
​ ​ ​