We'll Get Through This! The Wilsons, Trevor Noah, Al Roker, NBA Players Do Their Part In Coronavirus Fight + Free Digital Workouts & Food Delivery, Churches Stream Services
​
Mar 19 | by _YBF
​ ​ ​ ​
Celebs are stepping up to do their part in the Coronavirus fight. See how they're lending a helping hand, plus how companies are also trying to make life easier. More inside…
Amid the ongoing Coronavirus (COVID-19) pandemic, The Wilsons are doing their part to help out.
Singer Ciara and Seattle Seahawks quarterback Russell Wilson are donating one million meals to the local Seattle community via Food Lifeline, which is a non-profit that provides food to food banks in Western Washington. No surprise here. The Wilsons are always giving back.
"The world needs us ALL," Russell captioned a video of himself and CiCi making the announcement. "Unprecedented times. @Ciara & I are supporting our community in Seattle by donating 1 million meals with Seattle @FoodLifeLine https://bit.ly/38VdUuB Rally & support your local food bank @FeedingAmerica Let's all keep the Faith during this difficult time," he continued.
Check it:
The world needs us ALL. Unprecedented times. @Ciara & I are supporting our community in Seattle by donating 1 million meals with Seattle @FoodLifeLine https://t.co/TMUkkwjDV6 Rally & support your local food bank @FeedingAmerica
Let's all keep the Faith during this difficult time pic.twitter.com/i2oJnQoOgb

— Russell Wilson (@DangeRussWilson) March 18, 2020
The pregnant singer also shared the video on her social media accounts:
As of the time of this post, Washington state has a reported total of 1,012 Coronavirus cases. Gov. Jay Inslee signed an emergency declaration shutting down bars, restricting restaurants to takeout and limiting gatherings to less than 50 people yesterday. Six more fatalities were announced yesterday bringing the death toll to 54 for the state.
As Italy remains on lockdown amid the Coronavirus pandemic, people are coming up with creative ways to stay entertained. Videos have gone viral of Italians convening on their balconies and singing popular hits:
Oh to be in quarantine from my balcony in Italy singing LORDE pic.twitter.com/GYxZsuuJI8

— ☆nab☆ (@9naby99) March 15, 2020
Let Us All RISE UP. everywhere around the world!! #irise pic.twitter.com/NJv93kWnWs

— Madonna (@Madonna) March 15, 2020
You cannot break the human spirit. We are one in this. https://t.co/XOa0rTVNwB

— KATY PERRY (@katyperry) March 14, 2020
Well, "Daily Show" host Trevor Noah tried to recreate that vibe in NYC and he found out quickly it wasn't going to work:
Nothing can break the human spirit. Except that guy. That kinda hurt. Will try again tomorrow. #AwholeNewSong pic.twitter.com/KNtvadzXDw

— Trevor Noah (@Trevornoah) March 17, 2020
"TODAY" show co-anchors Al Roker and Deborah Roberts have self-quarantined themselves after a colleague on the 3rd hour of the show tested positive for Coronavirus. They don't have any symptoms, but they're obeying the advice that has been given to the masses to help from possibly spreading the virus:
Feeling fine. Don't worry about us. Thinking about our colleagues and all those who are really suffering. And God Bless the health care providers and #FirstResponders helping https://t.co/dmfXg1Ves1

— Al Roker (@alroker) March 16, 2020
Out for a quick breath of fresh air with Nick @debrobertsabc and back inside. One our @3rdhourtoday producers tested positive for #covid_19 so we're #selfisolating for #15days No symptoms. Thoughts and prayers for those suffering, #healthcareprofessionals and #firstresponders pic.twitter.com/rfvVOmsKkG

— Al Roker (@alroker) March 16, 2020
Our crack #techsupport team at @nbcnews #fieldtransmission has my tech outfitted so I will be broadcasting from the Roker/Roberts #kitchen tomorrow am on @todayshow and @3rdhourtoday pic.twitter.com/rONrLDb4RX

— Al Roker (@alroker) March 16, 2020
Celebs have offered to host virtual concerts amid coronavirus quarantines/restrictions. Singer John Legend along with artists like artists like Coldplay's Chris Martin, Katharine McPhee, Keith Urban and more are streaming performances to fans live and for free from their own homes.
"My friend Chris Martin did a lovely little concert from home today," he said. "See you soon. We'll try to get through this together!"
NBA players have been stepping up to help hourly workers who are no longer being paid since the NBA has been suspended. While it's possible the league could return in June, there are still people who will go months without money if it weren't for the b'ball players stepping up.
Utah Jazz player Rudy Gobert - who was the first NBA player to test positive for the Coronavirus - is donating $500,000 to support both the employee relief fund at Vivint Smart Home Arena and COVID-19 related social services relief in Utah, Oklahoma City and within the French health care system.
With schools being out, Golden State Warriors baller Steph Curry and his wife Ayesha Curry are helping to provide one million meals to Oakland students who depend on school breakfast and lunch can't attend school due to coronavirus closures. Also, the Warriors' owners, players and coaches will contribute $1 million to disaster relief fund for Chase Center employees.
New Orleans Pelicans Zion Williamson has pledged to cover the salaries for all of the Smoothie King Center workers for the next 30 days. Nice!
It's bigger than basketball! And during this tough time I want to help the people that make my life, my family's lives and my teammates lives easier. Me and my family pledge to donate $100,000 to the Fiserv Forum staff. We can get through this together!

— Giannis Antetokounmpo (@Giannis_An34) March 13, 2020
Milwaukee Bucks Giannis Antetokounmpo plans to donate $100,000 dollars to the staff at the Fiserv Forum arena.
Cleveland Cavaliers player Kevin Love is committing to donating $100,000 to the support staff that had a sudden life shift due to the suspension of the NBA season
back at you. just following suit https://t.co/eQHrdodond

— Blake Griffin (@blakegriffin23) March 13, 2020
Detroit Pistons forward Blake Griffin is 100,000 to staff of Little Caesars Arena.
With gyms across the nation being closed, fitness fanatic Angela Simmons and her trainer offered a free workout session:
Planet Fitness is offering free at-home workouts on Facebook Live:
Uber Eats has axed the delivery charges in support of local restaurants: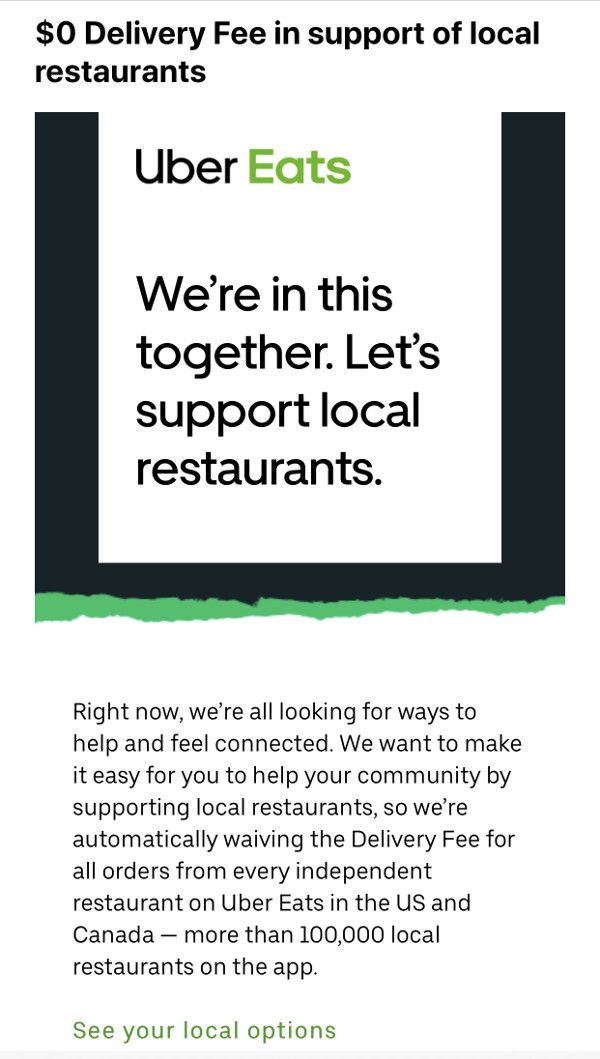 Meanwhile, many churches are relying on streaming to continue to deliver the word. There's always a few who decide to not take heed and think Jesus simply won't allow anything to happen to them despite them using their free will problematically (looking at you, Pastor Tony Spell of Louisiana).
But for the most part, we salute the pastors and church leaders who are continuing services responsibly.
Listen, we got this. Everyone should adhere to the guidelines that have been laid out to help slow down the outbreak so things can get back to normal faster. It's not just about your own personal health, but the health of our loved ones and strangers whose immune systems put them more at risk. Stay safe everyone!
Photo: Pacific Coast News

​ ​
​ ​ ​