#WheresDrFauci: Dr. Anthony Fauci Is The Savior We Need & Folks Are Raising Hell Every Time He's Missing From Press Briefings
​
Mar 23 | by _YBF
​ ​ ​ ​
Thank goodness we have Dr. Anthony Fauci to shoot down the lies Trump spew about the Coronavirus pandemic on a daily. When he's not present, folks notice and begin raising hell on social media. More inside…
What would we do with Dr. Anthony Fauci?!
Listen, Trump has literally been saying the first foolish or exaggerated thing that comes to his mind during these Coronavirus press briefings and thankfully, we have Dr. Anthony Fauci - the director of the National Institute of Allergy and Infectious Diseases - stepping in to give Americans the REAL facts. In fact, when Dr. Fauci isn't present during a press briefing, the #WheresDrFauci hashtag starts trending on Twitter because people have realized he's the man with facts about the Coronavirus outbreak.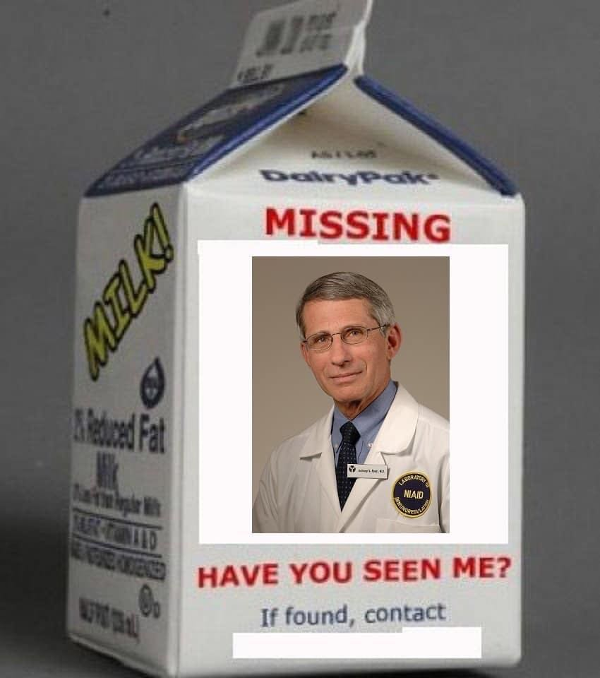 In a recent interview with The New York Times, Dr. Fauci basically said he's going to give the facts – straight talk, no chaser – no matter how Trump may feel about it.
"I've been telling the president things he doesn't want to hear. I have publicly had to say something different with what he states. It's a risky business. But that's my style. ... I say it the way it is, and if he's gonna get pissed off, he's gonna get pissed off. Thankfully, he is not. Interestingly."
Very interesting since we all know how Trump loves to praise himself on how "good" he's handling the outbreak.
"I don't want to embarrass him," Fauci continued. "I don't want to act like a tough guy, like I stood up to the president. I just want to get the facts out. And instead of saying, 'You're wrong,' all you need to do is continually talk about what the data are and what the evidence is."
A "you're wrong" wouldn't hurt.
Last week, Trump was raving about an anti-malaria drug that had not been approved by the FDA for treating the Coronavirus, something he continues to do on Twitter. Dr. Fauci had to step in again to share the proven facts.
"I'm not totally sure what the president was referring to," Fauci told reporters. "But I believe he was referring to a report that used both hydroxychloroquine and azithromycin together to have some possibility of being an effect. Many of the things out there are what I have called 'anecdotal reports.'"
As we all know, Trump was quick to call the Coronavirus a "hoax," comparing it to the seasonal flu as he tried to downplay the virus. Now, Dr. Fauci said Trump "absolutely" understands the threat of the Coronavirus. Hmph.
When Dr. Fauci goes missing, like yesterday, folks sound off on Twitter looking for him: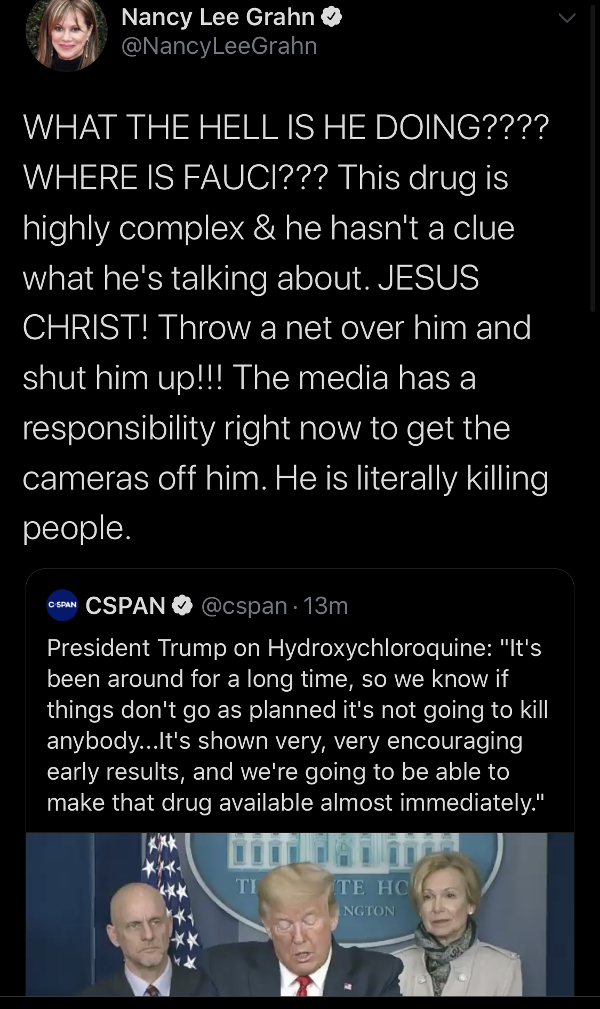 Dr. Fauci isn't there? Okay. Back to Diners, Drive-Ins and Dives. CLICK! #WheresDrFauci

— Keith Humphrey (@Keith_Humphrey) March 22, 2020
#WheresDrFauci Has Trump muzzled him?

— Staying Home Sierra (@Sierra0505) March 19, 2020
Watching Trump's press conference and I only have one question.#wheresdrfauci

— Asa Allen (@sanc6284) March 22, 2020
OANN, Trump's gonna treat you really nicely you lucky girl! What a hack. This chick is a WH plant, not a real reporter. We're dying here and Trump is in lala land bc he's not smart enough to grasp how bad this situation is. #Amendment25 and #WheresDrFauci https://t.co/iPQzb6mPiy

— Guilty As Charged (@mooielouie) March 19, 2020
#WheresDrFauci #WheresDrFauci #WheresDrFauci@bryanbehar hashtag it https://t.co/Abm7mZOGtT

— R.C. Masters (@QCwordlady) March 19, 2020
#WheresDrFauci we need the scientific updates from him! Plus the use of #Chloroquine in treating this virus is not a new discovery. It's been on the news in other countries for weeks now. Thanks for catching up though

— VaBS (@2ndglorystop) March 19, 2020
Protect Dr. Fauci at all costs.
By the way, he's been popping up in other places to educate the masses. Most recently, he did a Facebook Live interview with Mark Zuckerberg.
Photo: Getty
​ ​
​ ​ ​