TIGER KING SPECIAL: Everyone Pretty Much Hates Joe Exotic + The Conspiracy Theory That's Crazy AF, But Possible?
​
Apr 14 | by _YBF
​ ​ ​ ​
Netflix's "Tiger King" docu-series quickly became a global sensation. So, the streaming giant filmed a follow-up special to chat with everyone who appeared in the series – minus Joe Exotic and Carole Baskin. Find out his former employees and competitors feel about him now, how their lives have changed, plus what Shaq said about his appearance inside….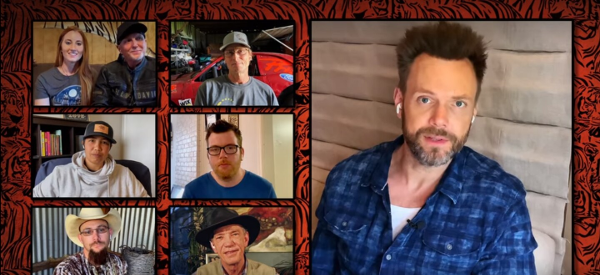 Whew chile. The caucasity of it all.
If you have been on social media within the last month you've definitely seen more than enough "Tiger King" memes. And if you haven't watched the docu-series, then you're likely not understanding what the fuss is about.
Well, the seven-episode docu-series is insane and disturbing, and it gets even more deranged in each episode. The true crime documentary follows the life of zookeeper Joe Exotic (real name Joseph Maldonado-Passage) and the bizarre underworld of big cat breeding. Joe - who once owned the G.W. Zoo in Oklahoma - is currently sitting bars after he was found guilty of a murder-for-hire plot against his rival, Carole Baskin. He's serving a 22-year prison sentence.
The show's popularity prompted Netflix to give "Tiger King" fans another episode. The new episode is titled "The Tiger King and I," and it was basically a 40-minute reunion special hosted by Joel McHale...virtually. He interviewed a few of the people who appeared in the docu-series, including Jeff and Lauren Lowe (current owners of G.W. Zoo), Erik Cowie (head zookeeper at G.W. Zoo), John Reinke (former manager at G.W. Zoo), Kelci "Saff" Saffery (former animal keeper at G.W. Zoo), Joshua Dial (Joe's ex-campaign manager), John Finlay (Joe's ex-husband), and Rick Kirkham (ex-producer of Joe Exotic TV).
In a nutshell, most of them don't like Joe anymore. Many of his old friends and former co-workers said they regret not doing anything to stop Joe from mistreating the animals back then, especially the tigers that were killed for no reason. Most of them feel like he got what he deserved: prison time.
"He's going to die in there, so good riddance," head zoo keeper Erik Cowie said.

"They were not sick. They were beautiful, healthy tigers that he called over to the fence and he shot them in the head because he needed the cage space," he said. "So Joe goes out and makes the cage space by killing five beautiful, healthy tigers," current G.W. Zoo owner Jeff Lowe said.
On the flip side, there's one person who still has Joe's back. Kelci "Saff" Staffery – the former animal keeper who lost an arm after a tiger attacked and returned to work DAYS later – said the documentary excluded things about Joe Exotic that showed how loyal he was to the people around him.
"I think justice was served, but I still don't want to see that man die in prison," Saff said.
Several members of the cast said they weren't happy with the way they were portrayed on the show – one of them being Joe's ex-husband, John Finlay. He said the series made him look like a "drugged-out hillbilly" when, in fact, he had been clean for almost five years at the time they were filming.
Jeff Lowe also didn't like how the series made it look like he stole the zoo from Joe Exotic.
Obviously, Carole Baskin and her new husband Howard Baskin didn't appear in the new episode. After the series debuted, she and her new husband criticized how they were depicted.
Also..
Hear me out: Carol's 1st husband is "Jeff Lowe" -con artist. He & Allan kill Don. Carol pays them money she inherits. Yrs later Jeff frames Joe for Carol, both get off, cover up yrs of coercing, they take down all the Tiger Kings & build the world's biggest attraction by Winstar. pic.twitter.com/nZkatT9H7X

— Haley Herzog (@HalesHerz) April 5, 2020
PLOT TWIST!
A fan of the show brought up a conspiracy theory that's blowing people's minds. They suggest Jeff Lowe (who's the owner of Joe's zoo) is Carole Baskin's FIRST abusive husband that went "missing." They suggest Carole paid off Jeff in a bid to bring Joe down.
"Carol's 1st husband is 'Jeff Lowe' -con artist. He & Allan kill Don. Carol pays them money she inherits. Yrs later Jeff frames Joe for Carol, both get off, cover up yrs of coercing, they take down all the Tiger Kings & build the world's biggest attraction by Winstar," the fan tweeted.
Wow. Continue reading below:
My final thoughts pic.twitter.com/wfz9qFbddZ

— Haley Herzog (@HalesHerz) April 5, 2020
OH. MY. GOOD. GOD. #CaroleBaskinDidIt #TigerKing #PlotTwist #DefinitelyTooGoodToFactCheck pic.twitter.com/wYJprZtJI0

— Jeremy Heer, CFA, CAIA (@MonocleMan1) April 14, 2020
It's fucking crazy pic.twitter.com/exfvsu5pav

— sergeant sarcasm (@IloraBean) April 6, 2020
Crazier things have happened.
Also...
Former NBA baller Shaquille O'Neal made a cameo in the first episode of "Tiger King," causing him to receive backlash from people for supporting someone who was endangering animals.
During an episode of "The Steam Room" with the "Inside the NBA" co-anchors, Shaq set the record straight about his visit to Joe's zoo since Charles Barkley wouldn't let him live it down.
"So on the way there, on the highway, I saw a sign that said tigers. That was the first time I went. I went, said hi, gave him some money to give me a couple white tigers," Shaq said.

"Then I think we went to Oklahoma City one more time so I only saw Joe once," he continued. "The second time I went, they was like, 'Hey man, they don't think you should come back, a lot of stuff is going on.' And I never went back."

"There's a lot of stuttering going on right there!," Charles joked.
The former Lakers baller also denied ever having possessed any of Joe's big cats.
"I want people to understand when I say I own tigers, I always go to these zoos. And I make donations. And then they'll say: 'Okay, these are your tigers', but the tigers never come into my possession," he explained.
He said he sponsored two tigers at Joe's zoo - a great white tiger named Prince and a regular Bengal tiger named Chuckie.
There you have it.
Photo: Netflix
​ ​
​ ​ ​