#420 Blew In & Out: Snopp Dogg Did A Live DJ Set For 'The Chronic' + Jaleel White Got LIT + Wiz Khalifa Dropped A New Album, Of Course
​
Apr 21 | by _YBF
​ ​ ​ ​
Yesterday was the day for Stoners to celebrate their favorite pastime and that's exactly what they did. More inside…
Every year when 4/20 rolls around, there are a few celebs that we know will be turning up to celebrate. One of them being rapper Snoop Dogg.
Uncle Snoop always enjoys the holiday that celebrates his most prized possession: marijuana. And the west coast rapper was booked and busy for the day: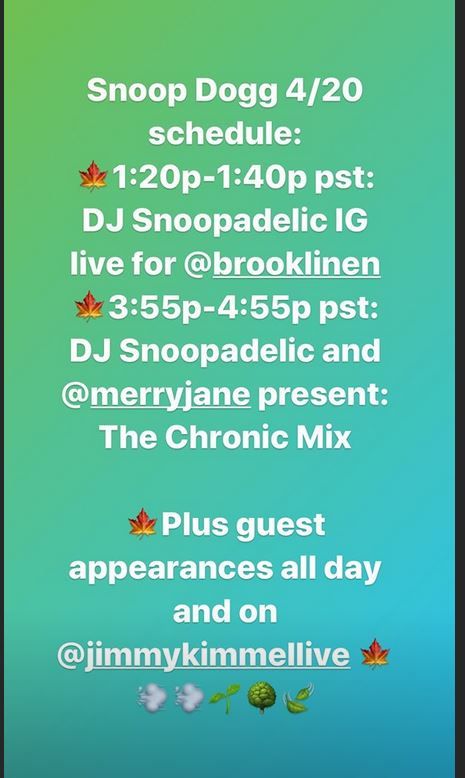 For his live DJ set, Tha Doggfather teamed up with MERRY JANE to host a "smoke-in" scheduled at 4:20pm PST (obvi) to pay tribute to digital release of Dr. Dre's classic debut album, The Chronic. It's an album that helped put both Dr. Dre and Snoop on the map. The iconic musical offering was made available for streaming across all platforms for the first time yesterday.
The Chronic brought us classics like "Nuthin' But a 'G' Thang," "Let Me Ride," "Lil' Ghetto Boy" and more, which introduced us all to rap royalty, including Snoop, Daz Dillinger, Kurupt, Nate Dogg, Warren G, Lady of Rage, D.O.C, RBX, and others.
Also...
"Family Matters" alum Jaleel White is a Mary Jane lover, so he made sure to participate in the 4/20 festivities.
Looks like he enjoyed himself.
And rapper Wiz Khalifa - a huge Mary Jane connoisseur - dropped a new album titled, The Saga Of Wiz Khalifa, on 4/20 because it's only right:
Here's a clip of "Y U Mad" Ft. Megan Thee Stallion & Ty Dolla $ign below:
Hope everyone who participated in 4/20 enjoyed themselves, responsibly!
Photo: Snoop's IG
​ ​
​ ​ ​