So Apparently The Patriots Drafted A Kicker With A White Supremacist Tattoo (That He Says He'll Remove) - But, Colin Kaepernick.
​
Apr 28 | by _YBF
​ ​ ​ ​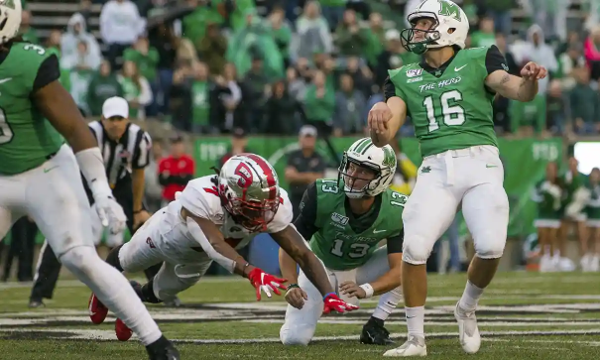 The New England Patriots drafted a new kicker - Justin Rohrwasser – who has a tattoo that resembles that depicts the symbol of a rightwing militia. Now, he's saying he'll have it removed. Meanwhile, Colin Kaepernick still doesn't have an NFL job. More inside…
The NFL and their ever-changing rules are something else.
New England Patriots kicker Justin Rohrwasser has a tattoo that's causing controversy. The organization drafted Justin in the fifth-round of last week's NFL virtual draft. It didn't take long for social media users to realize he has a tattoo on his arm that depicts the symbol of a rightwing militia group – the Three Percenters.
The group advocates gun ownership rights and resistance to the U.S. federal government's involvement in local affairs. Three Percenters have also been accused of advocating against immigrants, refugees and minorities. By the way, the group was front and center during the white supremacist Unite the Right rally in Charlottesville in 2018.
When folks noticed the tat, it didn't take long for people to ring the alarm about it on social media:
DISCOURSE! I DEMAND IT! pic.twitter.com/x2ONruBNWO

— Justis Mosqueda (Day 49) (@JuMosq) April 25, 2020
Justin Rohrwasser had the Three Percenters tattoo as early as 2015, which was still seven years after the Three Percenters' formation. The symbol didn't just "change" in recent years. pic.twitter.com/oFh0iqFWHn

— Andrew Joseph (@AndyJ0seph) April 25, 2020
For those scoring at home, a white supremacist found a job in the NFL, but Colin Kaepernick isn't welcome.

— Jemele Hill (@jemelehill) April 26, 2020
The NFL... pic.twitter.com/XMX3Wb5WKX

— Resist Programming (@RzstProgramming) April 26, 2020
At first, the 23-year-old announced he would get the tattoo covered. Then, he changed it up and said it would have it completely removed from his body. Hmph.
"As soon as I saw what it was linked to on Saturday, it was exactly that time I knew I had to get it totally taken off my body," he said. "I said [I would] cover it up, but I want to get it removed from my body. It's shameful that I had it on there ignorantly."
Here's what he initially said about the tattoo during a conference call with reporters, according to ESPN:
"I got that tattoo when I was a teenager and I have a lot of family in the military. I thought it stood for a military-support symbol at the time," he explained. "Obviously, it's evolved into something that I do not want to represent. When I look back on it, I should have done way more research before I put any mark or symbol like that on my body, and it's not something I ever want to represent. It will be covered."
It's reported Justin has had the tattoo since late 2015 - when he would have been about 19-years-old. One could argue the league nor the Patriots knew about the tattoo before signing him, but that's far fetched. The NFL does an extensive background check and they bombard potential players with tons of questions when scouting new players.
Hmph.
Meanwhile, former 49ers QB Colin Kaepernick was blackballed after he took a knee during the National Anthem (several times) to protest police brutality and systemic oppression against people of color. Chile. Typical.
EXTRAS:
1. The Carolina Panthers agreed to terms with 17 undrafted free agents that rounded out the 2020 Draft Class. STORY
Photo: AP/Twitter
​ ​
​ ​ ​