Katie Couric Gets Backlash For Saying Denzel Washington Made Her Feel 'Uncomfortable,' But Here's What Actually Happened
​
May 01 | by _YBF
​ ​ ​ ​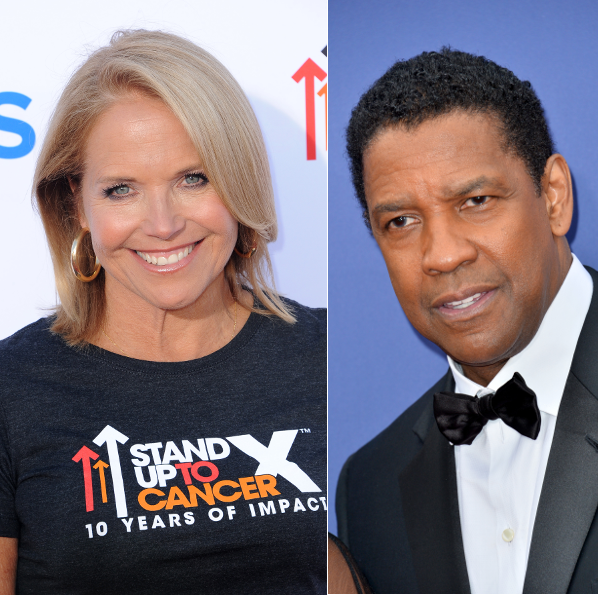 Twitter had to gather Katie Couric after she made claims Denzel Washington made her feel "uncomfortable" and "shaken" following an interview years ago. The receipts from that interview were pulled and here's what REALLY happened inside….
Denzel Washington slander? That's what we're not going to do Katie Couric.
Twitter users have been fired up on the social media platform after the 63-year-old journalist said Denzel Washington made her feel "uncomfortable" and "shaken" following a NBC "Dateline" interview years ago. At the time, Denzel was on the promo trail with his Manchurian Candidate co-star Meryl Streep and director Jonathan Demme.
While recounting the 2004 interview on the "Everything Iconic With Danny Pellegrino" podcast, Katie said her exchange with the 65-year-old Hollywood actor made her feel "uncomfortable," "shaken" and she couldn't understand why he "jumped all over" her during their exchange.
The film featured political themes, so Katie asked Denzel about the significance of actors speaking out on political issues.
So here's how it went down (via CNN):
"Denzel -- are you -- do you feel -- you know some people say Hollywood folks should stick to acting," Couric asked.

"I don't know what Hollywood folks are, first of all," Washington responded. "Hollywood is a town that has some stars on the sidewalk. I don't know anybody from there."

He added, "I'm not a Hollywood folk. I don't know who they are."

Couric tried to reframe the question a few times, including asking him, "Are you an actor who would rather not..." but Washington cut her off.

"No, I'm not that either," he said. "I'm a human being. My job is acting."
Below is the transcript:
This is the exchange (from 2004) that Katie Couric now claims "made her uncomfortable", where Denzel Washington "went after" her.

She seemed perfectly capable of handling the back and forth, as any journalist should.

Wonder why she was so "shaken"https://t.co/F3prC5Ql05 pic.twitter.com/e2u8TgzX4E

— chris evans (@notcapnamerica) April 29, 2020
The Oscar winning actor said nothing out of pocket here, yet, she felt a way.
"I don't think I said anything wrong," she said. "I don't know what happened."
She said she believes Denzel "totally misconstrued a question I asked and kind of jumped all over me."
"I love him, I admire him so much," Katie added. "He's one of my favorite actors, but I remember walking out and feeling really kind of shaken that he had kind of gone after me in a way that was completely, weirdly uncalled for."
Twitter then commenced the dragging:
Just so we're clear...

Katie Couric referred to Denzel Washington as "Holywood folk."

Denzel Washington responded " I'm not a Hollywood folk. I don't know who they are. I'm a human being. My job is acting."

Couric: He "jumped all over me."https://t.co/GvvPN7pz0y

— Shanita Hubbard (@msshanitarenee) April 29, 2020
Yet she was silent about Matt Lauder? These Karens stay acting as if black men are the big bad wolves.

— Black People if you can stay home (@stenna15) April 29, 2020
Right? She worked side by side with that POS and claimed she had no clue for years. But this incident made her "uncomfortable" pic.twitter.com/wCNY5tH30b

— Jess The Owlbear Tamer (@jesstervonNap) April 29, 2020
He knew exactly what she meant, she's offended that he had the audacity to call her on it, so she blew the dog whistle for white women, "I felt Uncomfortable".

— ah ha (@AhCtyguryl) April 29, 2020
I guess there is no expiration date on white woman tears.

— chris evans (@notcapnamerica) April 29, 2020
"Uncomfortable" meaning she tried to come for him and he checked her before she could even finish because this wasn't his first rodeo and "not today white woman".

— (@NIACHIRIE) April 29, 2020
Katie Couric had the time to bring up being "shaken" because Denzel corrected her leading questions in an interview 16 years ago. Did working with Matt Lauer shake her? pic.twitter.com/izZiqMajlO

— Jamey_Giddens (@Jamey_Giddens) April 30, 2020
R. Kelly threw a whole set around and Gayle aint flinch but Denzel corrects some bullshit and Katie Couric is "shaken" pic.twitter.com/t5YTSOK9s4

— El Noche Búho (@blvckransum) April 29, 2020
The journalist assumed he was having a bad day that day, but that wasn't him having a bad day. YOU felt that way because of the way he responded to your question – which wasn't in the least bit rude. You see, Denzel doesn't have time for crazy questions, so he checked Katie. Nothing more, nothing less. TV personality Bevy Smith made note of this:
Yes but I also knew he didn't like idiotic questions & I was TRAINED before I went in (Alec ), he's a serious actor & you have to approach him very respectfully! I bet she was too familiar out the gate, Denzel AINT impressed by a "Katie" lol! https://t.co/TzaVCvyeak

— bevysmith (@bevysmith) April 29, 2020
He sort of did the same thing to Jamie Foxx in this interview below (at the 3:30-minute mark):
Bye, Katie!
Photo: Tinseltown/Featureflash Photo Agency/Shutterstock.com
​ ​
​ ​ ​