Lovie Simone Spills Tea On Her Lead Character In 'The Craft' Reboot, Talks Working With 50 Cent On 'Power Book III: Raising Kanan'
​
May 12 | by _YBF
​ ​ ​ ​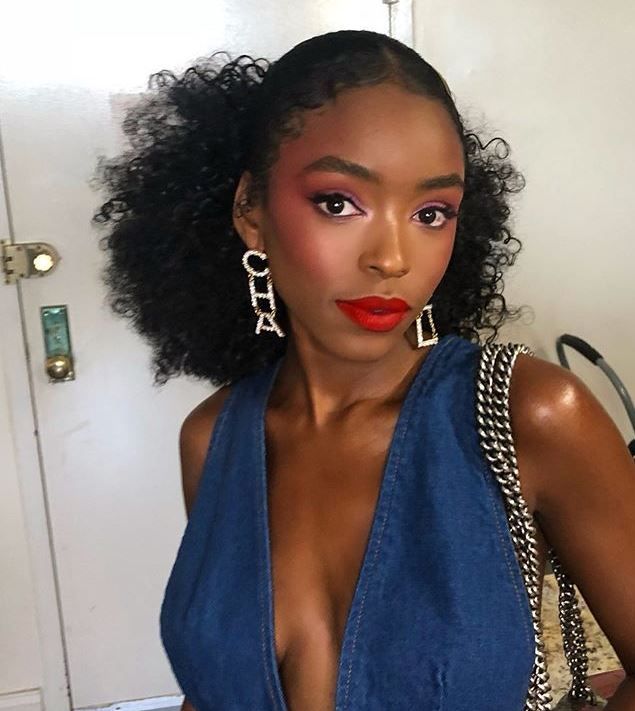 "Greenleaf" star Lovie Simone drops a few deets on her lead character in the upcoming The Craft reboot. And let's just say, we'll be seeing her A LOT. Also, Lovie drops tidbits about working with 50 Cent in the upcoming "Power Book III: Raising Kanan." Everything inside…
It was recently announced the final season of "Greenleaf" is coming this June. Which means, we won't be seeing all of faves on the small screen after this summer. However, that doesn't mean that's the last of star Lovie Simone (who plays cutie Zora on the show).
The NYC native is on quarantine like the rest of us, doing her part to help flatten the COVID-19 curve. The 21-year-old recently hopped online to chop it up with Deadline for a new episode of their "New Hollywood" podcast where she talked about her new projects and more.
Yes, she's in the house cooking and baking like the rest of us. However, she made sure the podcast hosts knew she had already perfected her banana pudding skills before everyone started flexing their skills during lockdown.
Yes, she can make some bomb banana pudding, but she can act her butt off as well. She stars in Tayarisha Poe's Sundance Film Festival favorite, Selah and the Spades (think Heathers meets Cruel Intentions meets "Euphoria"). Lovie said after reading what the project was about, she HAD to be in the mix.
"Reading what the project was about, I was just like WOW!," she said about the film. Lovie revealed she auditioned for two different parts in the film because she just knew she "wanted to be a part of that world."
Lovie shared what it was like watching the movie for the first time with an audience (during Sundance).
"It was very weird," she said about seeing the movie the first time with an audience. "It was a fun, humbling, like weird experience," she continued.
The YBF chick has a few new projects coming down the pipeline following the final season of OWN's "Greenleaf." She recently landed a lead role in the upcoming The Craft reboot. No, it's not a sequel, according to Lovie, so prepare yourself for new energy.
"It's a different film. It's just like…coated in the Craft-like energy," she spilled. "It's like a modern-day version of 'Craft.'"
She said after she auditioned for the part, it made her delve into the original film, but before the audition, she hadn't watched.
Lovie revealed she plays a witch named Tabby and explains how she got her superpowers.
"My character's name is Tabby. I play one one of the witches. My witch background comes from my family. She's crazy," she shared. The film was shot in Toronto. She said she can't WAIT for everyone to see it because she's uber excited about the project.
Before the Coronavirus pandemic put us all on quarantine, she said she was busy shooting scenes for the upcoming "Power" spin-off, "Power Book III: Raising Kanan."
"Before quarantine started, I was filming Power Book 3: Raising Kanana," she revealed. "So, I was working on that."
When asked what was it like working with "Power" creator/stat 50 Cent, she said actually being around changed her perception.
"It's really cool [working with 50 Cent]," she shared. "He scared a little bit [at first], I'm not going to lie," she explained.
Once she got to the table read, she said there were tons of laughs and fun times and she loved it. However, she will not be borrowing money from the rapper-turned-TV producer/creator.
"I would never take a loan," she joked.
Ha!
Lovie has the drama thing on lock. Now, she wants to get into action.
"Yes, I would love to be a superhero," she shared.
Lovie said she would love act in an action movie where she can do her own stunts. She would love to train for a crazy, athletic role and shared she wants to get her feet wet in all genres. Not mad at all.
Take a listen to her full interview here.
We can't wait to see how much this YBF Chick grows in the business. She's def one we're keepinh our eye on.
Photo: Lovie Simone's IG
​ ​
​ ​ ​