EMT Breonna Taylor's Family SUES Louisville Metro Police Department After Cops Kill Her During 'Botched Raid' + Mom DEMANDS Answers!
​
May 15 | by _YBF
​ ​ ​ ​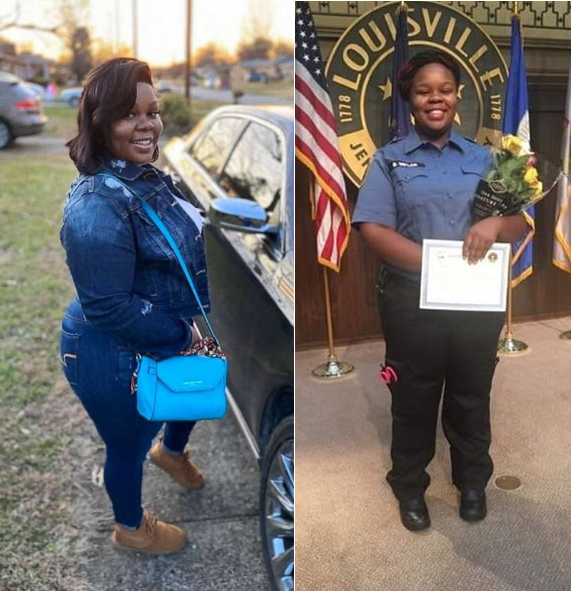 Breonna Taylor – a 26-year-old black EMT – was shot and killed in her home by police who raided the wrong residence. Her boyfriend – Kenneth Walker – has been charged with attempted murder because he fired at police who entered their residence WITHOUT announcing themselves.
Now, Breonna's family is suing the police department. Details inside…
A family is suing the Louisville Metro Police Department after officers took the life of an innocent woman.
Breonna Taylor – a 26-year-old EMT – was shot and killed in her own bed by three undercover police officers who raided her home to catch a suspect who was ALREADY in custody. Police shot up the WRONG address, killing Breonna after she was hit with 8 bullets. The Kentucky cops "blindly fired" off more than 25 shots in their apartment after Breonna's boyfriend, Kenneth Walker, fired at them first. But here's why…
On March 13th around 1AM police ran up in Breonna and Kenneth's apartment "without knocking and without announcing themselves as police officers." Initially, police – who were dressed in plain clothes - said they announced themselves when they entered the home. Then, they backtracked and said they had a "knock and announce" search warrant for Breonna's apartment.
Page Six reports:
The officers "then proceeded to spray gunfire into the residence with a total disregard for the value of human life," according to the lawsuit. "Shots were blindly fired by the officers," the suit says, with bullets piercing a neighboring home where a pregnant woman and her 5-year-old child were sleeping.
Kenneth Walker is a licensed gun owner and only fired his weapon because he thought he and his girlfriend were in imminent danger. The police never announced themselves, so he thought someone came in to harm them. In fact, Breonna and Kenneth called the police soon as they were awakened by who they thought were intruders. Neither Breonna nor Kenneth had a criminal history of drugs or violence and they were law abiding citizens. Kenneth worked at the Post Office and Breonna was an EMT who was working to become a nurse.
Kenneth was arrested and charged with first degree assault and attempted murder of a police officer. One of the officers was shot in the leg.
The police weren't even supposed to be at Breonna and Kenneth's apartment. Police had a search warrant for two men: Adrian Orlandes Walker and Jamarcus Cordell Glover. Police said they said they observed one of the men transporting packages suspected to be drugs from the address. Kenneth Walker was NOT named in the search warrant. The suspect police were looking for "had already been apprehended" earlier that morning in his own home, the suit said.
Now, Breonna's family has filed a lawsuit accusing the officers of wrongful death, excessive force and gross negligence. LMPD officers Myles Cosgrove and Brett Hankinson and Sgt. Jonathan Mattingly have been named as defendants. They are currently on administrative leave. Of course.
The suit seeks compensatory and punitive damages, as well as legal fees through a jury trial.
Breonna's mother, Tamika Palmer, and her attorney Benjamin Crump (who worked on high-profile shootings like Trayvon Martin and Michael Brown) sat down for an interview with "The View" to share details about how Breonna was murdered in her own home by police. Check it below:
"The case deserves national attention because the police executed an innocent woman," Ben Crump told the Courier Journal.
"Had the police followed their own policies and procedures, Breonna Taylor would be alive today. She wouldn't be a trending hashtag."
Dallas attorney Amber Webb Booker breaks things down perfectly: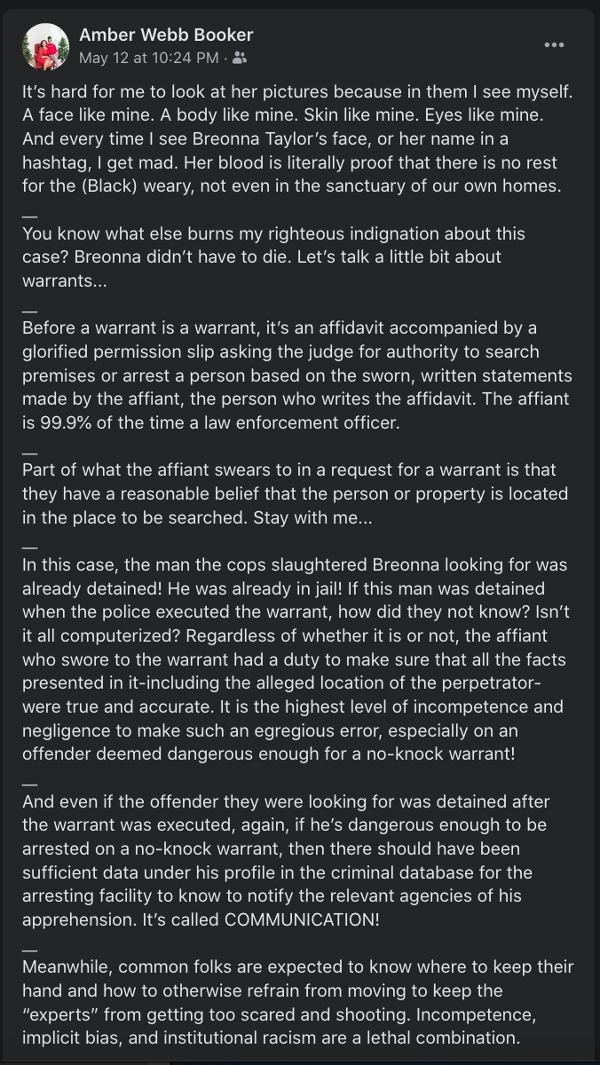 Another example where you can do EVERYTHING right and STILL get killed and jailed in America, far more likely to happen if you are black. So tragic and unecessary. We're praying Breonna's family and Kenneth get justice because, for lack of better terms, this is bullsh*t!
Photos: Breonna's Family
​ ​
​ ​ ​