An Anonymous 'I'm Sorry' Note Was Left At Ahmaud Arbery's Memorial Site, But It Reportedly Has No Connection To The Case + Ahmaud's Alleged Mugshot Circulating
​
May 16 | by _YBF
​ ​ ​ ​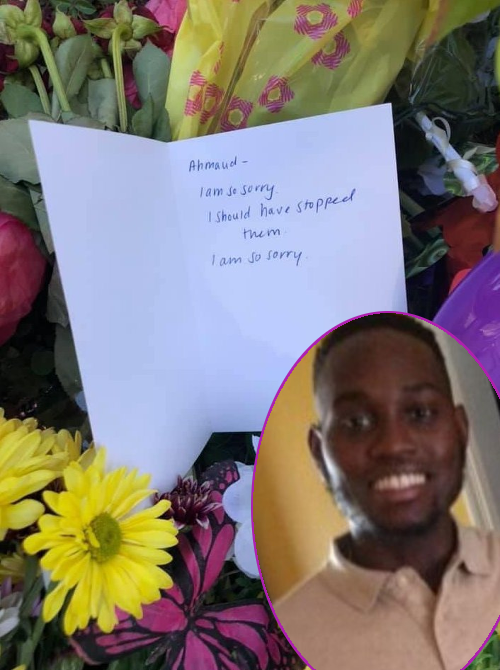 An anonymous letter was left at Ahmaud Arbery's memorial site saying, "I'm sorry," but police say it has no connection to the case. Also, some (white) people have dug up a mugshot that they claim is Ahmaud Arbery. Details inside…
Someone left an anonymous note at the makeshift memorial site where Ahmaud Arbery was gunned down in cold blood by two white men (a father and son) who thought he was a robbery suspect.
Someone left a note at the memorial that reads:
"I am so sorry. I should have stopped them. I am so sorry," the person wrote on the letter left at the memorial.
When Ahmaud's family found out about the letter, they hoped it would provide helpful details for the authorities. However, the Georgia Bureau of Investigation announced that the note was misleading.
"The GBI has identified the individual that wrote this note. The individual is not connected to the Ahmaud Arbery murder investigation in any way," the agency said in a statement posted on Twitter. No arrests will be made, officials told ABC News.

"This person was expressing their condolences for Arbery's death," GBI said in a statement. "We've received numerous tips and inquiries related to this and wanted to be sure to update the public. This investigation remains active and ongoing."
So, there's that.
Ahmaud Arbery was a thug.

Here's another picture of that "innocent black jogger". It's not a prom photo but a mugshot.

"He died doing what he loved," someone was quoted as saying. If they meant running away from the scene of a crime, they were about right. pic.twitter.com/O7msJ4VUmi

— Mahound's Paradise (@MahoundParadise) May 9, 2020
Also, social media has been active covering the Ahmaud Arbery case. Now, some (white) people are looking for anything to make Ahmaud look bad. There's a mugshot circulating of a man named Ahmaud Marquez Avery from a few years ago and some people believe it's Ahmaud Arbery. Some believe authorities misspelled his name while others believe the media are misspelling his name now so his alleged criminal past will not be brought up. Sighs.
Here's what went down before Ahmaud Marquez Avery was reportedly arrested in December 2013:

At about 7:20 p.m. Tuesday, Glynn County Schools Resource Officer Jody Vicent noticed a man with a handgun tucked in the waistband of his pants attempting to enter the basketball game between Brunswick High School and Glynn Academy at the Brunswick High School gym.

The man, identified by Schools Police Chief Rod Ellis as 19-year-old Ahmaud Marquez Avery, ran when Vicent tried to stop him, said Ellis, who was on alert in his police vehicle in a parking lot because of a nearby chase involving Brunswick police.

Ellis said he drove alongside Avery with his gun pointed at him as Avery ran along a sidewalk in front of the school. After being ordered to stop several times, Ellis said Avery ran between buildings to the back of the school, where two officers cornered him and arrested him.

"Once he was handcuffed, the offender confirmed by exculpatory statement that he was indeed armed, but he had dropped the weapon in his attempt to escape," Ellis said.

An intense search, joined by Glynn County police, Brunswick police and College of Coastal Georgia police, found a .380 caliber semi-automatic pistol under a folding sandwich board-style sign in front of the gym, Ellis said. In the course of the chase, a school resource officer fell and fractured his hand.

Ellis said the gym was placed on lockdown immediately after Vicent spotted the gun, meaning no one was allowed into or out of the building.

Avery is charged with two felonies, possession of a weapon on school property and obstruction of an officer with violence, and a high and aggravated misdemeanor of obstruction of a public school. Ellis said other charges may be pending.
It's unclear if the the mugshot is of Ahmaud Arbery - the 25-year-old who was slained by two white men while jogging. IF the mugshot is his, it still doesn't mean he should have died the way he did.
Photo: Ahmaud's Family
​ ​
​ ​ ​