THE YBF PODCAST: LisaRaye Spills Why 'Player's Club' & 'All Of Us' Reboots Could Still Happen, Why JLo's 'Hustlers' Performance Wasn't 'Oscar Worthy' & Making Money Moves
​
May 22 | by _YBF
​ ​ ​ ​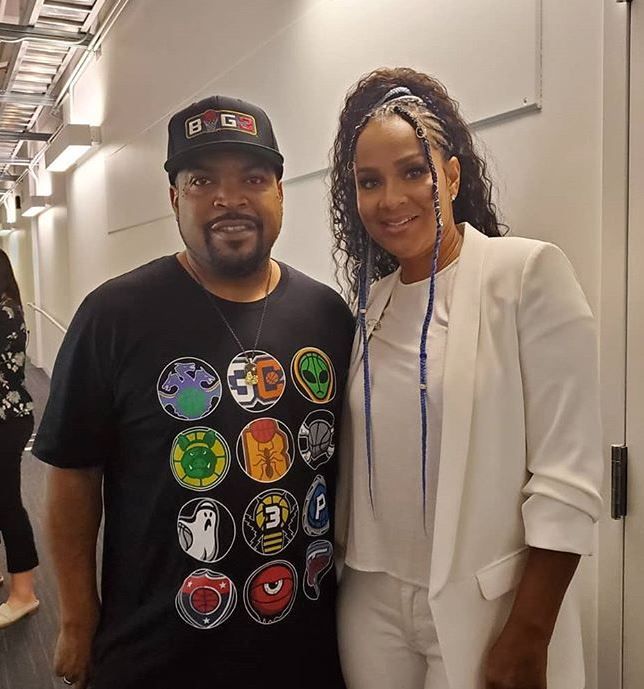 In the era of reboots, LisaRaye McCoy reveals why a Player's Club and "All Of Us" reboot could still happen, her thoughts on Jennifer Lopez's alleged "Oscar worthy" HUSTLERS performance and how she's keeping those checks coming in. Everything she dished on The YBF Podcast inside….
A Player's Club reboot!? Possibly.
LisaRaye McCoy chopped it up with The YBF's Natasha Eubanks on a recent episode of The YBF Podcast where she dishes on whether a Player's Club reboot would ever see the light of day. And it looks promising, that is, if the stars align to make it happen. The 1998 film was written and directed by Ice Cube and it was also the west coast rapper-turned-actor/producer's directorial debut.
Last year, we got a stripper movie starring one of our faves Jennifer Lopez called HUSTLERS. However, it didn't quite quench our thirst like Player's Club did many moons ago. When LisaRaye caught wind of the movie, she def felt a way about it.
"When Jennifer Lopez did that movie [HUSTLERS] and said 'I'm playing Diamond' and I was thinking, 'Yeah, you playing because I am Diamond. Forever Diamond.' I felt a little like why wouldn't you get the iconic woman who bought stripping BACK to everybody."
"And then I saw Ice Cube last year, she continued. "I pulled him to the side and I said, 'I think it's time for a second Player's Club.' He said, 'Oh yeah, let's talk about it.' And then that's when the Jennifer Lopez movie came out. So then I felt like, do we still want ours to be – still have that urban twist or make it bigger? More universal? So, let's just say that that's going to be discussed."
Listen, we love a good stripper-with-a-heart flick, but HUSTLERS just wasn't it. But nothing about it was Oscar worthy despite the odd buzz created around it.
"What tripped me out is that they were actually talking about an Oscar for that role and I was like, 'Are you kidding me?!'," she said.
No hate, but LisaRaye (who is also a huge J.Lo fan) didn't think JLo's performance was Oscar worthy – like most of us. Jenny didn't get the nomination, but not everyone was surprised by it.
"And I felt like, is the Oscar going down? Or just looking for somebody? Or whatever. Did they say that or did they just put that out there? I still haven't seen the movie, but what I did see…and again, not hating because I love me some JLo, honey. Love her, everything about her, but yeah that wasn't an Oscar."
That truth serum. We love a good JLo movie (and we've seen ALL of them because we stan), but, yeah.
So, what about an "All Of Us" reboot? The world knows LisaRaye can't stand her former co-star Duane Martin and wouldn't spit on him if he was on fire. You'll recall, she accused Duane of breaking up her marriage to her ex-husband, Michael Misick. However, if the money is right, LisaRaye said she'll put her differences aside for a reboot.
"My mama used to always say 'never say never' because that money might be real right for me to take that on, to suppress what I really feel, which by the way I think the world knows how I feel now. If that was to even happen, HE would have to come to me and say, 'Sis, I was supposed to do this a long time ago. Let's have a conversation. Let's sit down," she said.
LisaRaye and Duane haven't talked since she spoke out about how she was treated by her former friend. She said he knows how she feels, and he knows what he did. If he comes to her with a sincere apology, then she may be here for a reconciliation.
She talked about what it was like working with the iconic Debbie Allen on "All of Us" as a newbie in the acting game and how the themes of the show are still relevant today.
"It was fun, it was funny, it was real, and it was honest. It was taken from Will [Smith] & Jada's life a little bit, so I don't think it would be a bad idea [for a reboot]."
If those coins aren't right, LisaRaye will still be good as she has been diversifying her assests. After releasing her own PZI denim line, she recently released her own mattress line, Sleep Black mattress from her very own collection, LR HomeStyles. The living legend is making money moves in several different avenues while raking in the coins.
Take a listen below and get all of the deets LisaRaye spilled about her quarantine life and more!
Check out LisaRaye on "A House Divided" which airs Thursdays on UMC (watch for free now!)!
Subscribe to The YBF Podcast on any platform you get your podcasts!
Photo: LisaRaye's IG
​ ​
​ ​ ​