Very Tense Protests Break Out, Police Tear Gas People In Minnesota After Four Cops Are Fired For The Death Of George Floyd
​
May 27 | by _YBF
​ ​ ​ ​
There's growing outrage in Minneapolis, Minnesota as protestors clash with police in the streets over the death of unarmed black man, George Floyd. His murder was caught on video and the four officers involved have been fired. But, that's definitely not justice. More inside…
It feels like 2014 all over again when Staten Island Police murdered Eric Garner, placing him in a choke hold while pushing his face into the sidewalk as he screamed "I can't breathe."
Almost six years later, here we are again with the same scenario.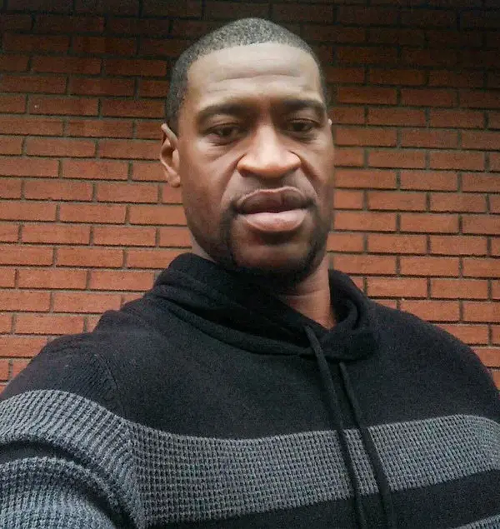 A video has gone viral of a Minneapolis police officer pressing his knee into the neck of a man as he yelled "I can't breathe!" at the foot of a squad car
Sadly, the black man in the video – George Floyd – was pronounced dead. George Floyd died at the hospital after he was detained by officers. In the video, he repeatedly tells the four officers (3 white, 1 Asian) who were present that he could not breathe before he became unresponsive.
"My stomach hurts. My neck hurts. Everything hurts. … (I need) water or something," George said in the video. "Please. Please. I can't breathe, officer. … I cannot breathe. I cannot breathe."
The officer pushed his knee into George's neck for NINE MINUTES. And he kept it there until the ambulance arrived.
WARNING! Below is disturbing video of George being murdered by police.
Forgery is NOT a crime punishable by death. This is not only #POLICEBRUTALITY, it is MURDER! First Eric Garner, now this. We must put an end to the senseless killing of our Black men! #BlackLivesMatter pic.twitter.com/oIgyohfDLL

— Benjamin Crump, Esq. (@AttorneyCrump) May 26, 2020
You can watch the full video here.
Surveillance video shows George was NOT resisting when they first arrested him:
Security cameras captured moments before the murder of #GeorgeFloyd. He was clearly NOT RESISTING arrest... So WHY did Minneapolis Police officers use excessive force that ultimately resulted in his death?! WE DEMAND ANSWERS. #JusticeForFloyd #SayHisName pic.twitter.com/4yGxvTY2Ln

— Benjamin Crump, Esq. (@AttorneyCrump) May 27, 2020
Below is an extended clip:
Again, being black in AmeriKKKa can be death sentence. It's reported the officers were responding to a "forgery in progress. Officers were advised that the suspect was sitting on top of a blue car and appeared to be under the influence," the statement said.
"Two officers arrived and located the suspect, a male believed to be in his 40s, in his car. He was ordered to step from his car."
"After he got out, he physically resisted officers. Officers were able to get the suspect into handcuffs and noted he appeared to be suffering medical distress. Officers called for an ambulance," according to the statement.

"At no time were weapons of any type used by anyone involved in this incident. … Body worn cameras were on and activated during this incident."
Mayor Jacob Frey issed a statement via Facebook: "Being black in America should not be a death sentence. For five minutes, we watched a white officer press his knee into a black man's neck. Five minutes."
Read his full statement below:
The family has hired famed attorney Ben Crump (who represented Trayvon Martin's family) and he announced the four officers involved in George's murder have been fired. He also shared that the officer had his knee on George's neck for nine minutes, not five.
Help us get #JusticeForFloyd!! https://t.co/NFdUN36iDJ

— Benjamin Crump, Esq. (@AttorneyCrump) May 26, 2020
Now, people want the officers charged!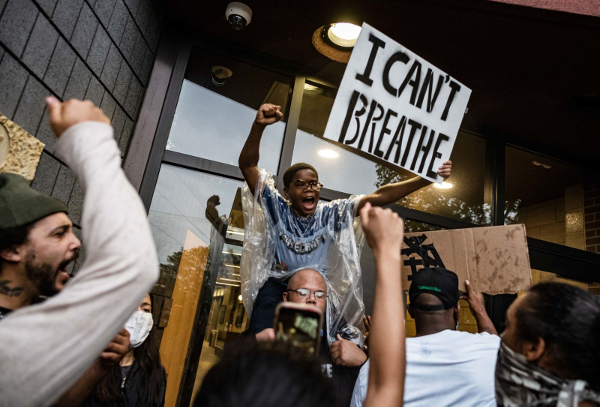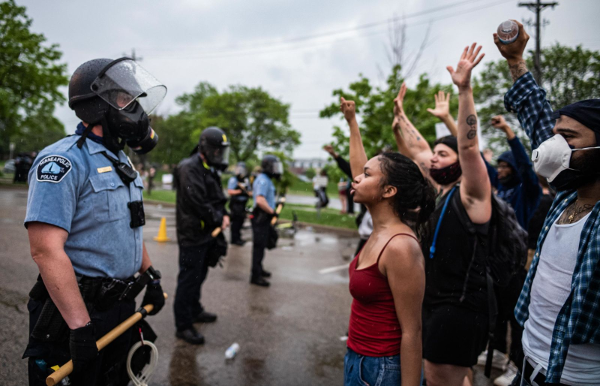 Hours after it was announced the four police officers were fired, hundreds of protesters (many wearing masks) filled the streets in reaction to George Floyd's murder. Police used tear gas and percussion grenades to break up the protests that were happening at the intersection where George Floyd was murdered. Protesters vandalized police vehicles and targeted the precinct house where the four officers had been assigned.
The local news media reported that two people had been shot near the protest, but a Police Department spokesman, John Elder, said one person had been shot "away" from the protest and described the person's injuries as not life-threatening. It was not immediately clear who did the shooting, he said.
Peep clips from yesterday's protests below:
I got hit w rubber bullet right after taking video of this mayhem scene. I was across the street from the precinct pic.twitter.com/qz1KHNADtQ

— Andy Mannix (@AndrewMannix) May 27, 2020
Protests in Minneapolis over racially motivated murder of #GeorgeFloyd #BlackLivesMatter #ICantBreath pic.twitter.com/PuS7ML8JC5

— Cem Harper (@akpsizbiturkiye) May 27, 2020
America is embarrassing. People can protest a pandemic for a haircut but not the unlawful death of a black man. "Land of the Free" is a joke. #JusticeForFloyd #JusticeForGeorgeFloyd pic.twitter.com/pShQijhvIK

— Sarah (@sarahmog00) May 27, 2020
THESE are protests that matter. not protests about trivial matters such as not being able to go anywhere bc of a LITERAL virus. pic.twitter.com/G29gOoWsSK

— Timaroni_macaroni (@T1nyt1minabox) May 27, 2020
So armed white men can invade the state's capitol to demand their state be reopened amid the Coronavirus pandemic and nothing happens. People protest the murder of an unarmed black man and get attacked. Make it make sense.
EXTRAS:
1. Kenneth Walker - the man who was accused of shooting a police officer when they unlawfully invaded his home - been released from custody. He was the boyfriend of the EMT worker - Breonna Taylor - who police killed during a botched raid. STORY
Photos: Offices of Ben Crump Law/Carlos Gonzalez/Richard Tsong-Taatarii/Star Tribune/AP
​ ​
​ ​ ​