George Floyd's Brother Calls For Peaceful Protests + Not All Businesses Are Mad Their Businesses Have Been Wrecked, Some Are Applauding The Protesters
​
Jun 02 | by _YBF
​ ​ ​ ​
George Floyd's younger brother – Terrence Floyd - served up a powerful plea for peace in the name of his brother. Watch his powerful speech, plus how some businesses are supporting the protests inside...
Terrence Floyd – George Floyd's younger brother – made his first trip to Minneapolis from Brooklyn, New York for the time since his brother was killed by a white police officer. He visited the spot where his brother died after a police officer kneeled on his neck for nearly 9-minutes.
In a powerful plea for peace, Terrence called for peaceful protests in the name of his brother because he says he wouldn't want it any other way.
"If I'm not over here wildin' out. If I'm not over here messing up my community, then what are y'all doing? Y'all doing nothing because that's not going to bring my brother back at all," he yelled in a megaphone before a slew of protesters. "My family is a peaceful family. My family is God-fearing. Let's stop thinking our voices don't matter and VOTE!"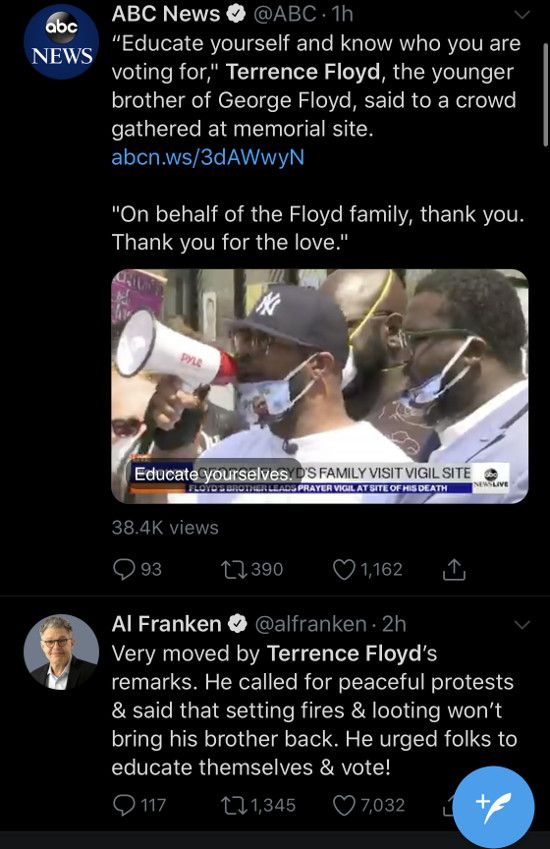 "Do this peacefully, please! … I know he would not want y'all doing this. WHAT'S HIS NAME?!," he yelled and the crowd responded, "George Floyd!"
With supporters gathered around, Terrence sat down at the memorial and prayed as it stayed silent for about five minutes.
Peep the clip below:
Terrence, along with his minister Kevin McCall, also spoke to "Good Morning America" about the protests and how he's coping with his brother's death:
Despite the medical examiner claiming George Floyd's death was due to a previous heart condition and heart attack caused by force and asphyxiation, an independent autopsy confirms cause of death was simply due to asphyxiation sustained from pressure. Small but important differences that will come into play during the trial.
Also...
Some business owners who have been affected by the violent protests are speaking up. Some of them aren't mad their businesses were targeted and said they back the protesters demanding justice for the killing of George Floyd. Peep the posts above and below:
"I'm a black business owner," Mr. Rugs wrote on Instagram. "But I understand we at (war). So it's gonna be innocent casualties. Business/Buildings can be replaced human life can't. So sometimes affirmative action is needed for our voices to be heard. #JUSTICEFORGEORGEFLOYD," he wrote.
Busboys and Poets restaurant is standing in solidarity with the protests:
We had a window broken @busboysandpoets last night. No one was hurt. We understand the rage and we stand in complete and unequivocal solidarity with the protests. #BlackLivesMatter #protests2020 #TrumpResignNow #Revolution2020

— Andy Shallal (@andyshallal) June 1, 2020
We believe that Black Lives Matter because when black lives matter, then and only then will all lives matter. #BlackLivesMatter #protests2020 #TrumpResignNow #Revolution2020 pic.twitter.com/WEjeZKj154

— Busboys and Poets (@busboysandpoets) June 1, 2020
Major companies like Netflix, Amazon Prime Video, YouTube and more have also spoken out to show support for the #BlackLivesMatter movement amid the protests.
Former police officer Derek Chauvin has been charged with third-degree murder and second-degree manslaughter in the death of the George, which has lead to days of protests across the nation.
Derek Chauvin new mugshot pic.twitter.com/v7fCvjyX0e

— FromFireFell (@FromFireFell) May 31, 2020
Recently, Derek Chauvin was transferred to a maximum-security prison in Minnesota.
The NY Daily News reports:
Chauvin was moved to the Oak Park Heights prison, the lone Level Five maximum-security prison in the state, Department of Corrections Commissioner Paul Schnell said at a press conference Sunday night. He said such a transfer is "not uncommon" among high-profile inmates, and that the move was made partly out of anticipation that more people could be booked Sunday night at the Hennepin County Jail, where Chauvin had been in custody.

Schnell did not disclose during the news conference when the transfer occurred, but Minneapolis news station KMPS-TV reports Chauvin was released to state officials shortly before 9 p.m. Sunday and then taken to Oak Park Heights.

Chauvin's time at the Hennepin County Jail was brief. The former Minneapolis police officer, who was initially booked at Ramsey County Jail, was transferred to Hennepin on Sunday afternoon, before being moved to Oak Park Heights hours later.
We're sure he's being "protected" by the correctional officers....
Photo: AP Photo/Richard Vogel
​ ​
​ ​ ​