PLOT TWIST: After David Adefeso Files Restraining Order, Tamar Braxton Alleges He Threatened To Kill Her In A 'Murder-Suicide'
​
Sep 08 | by _YBF
​ ​ ​ ​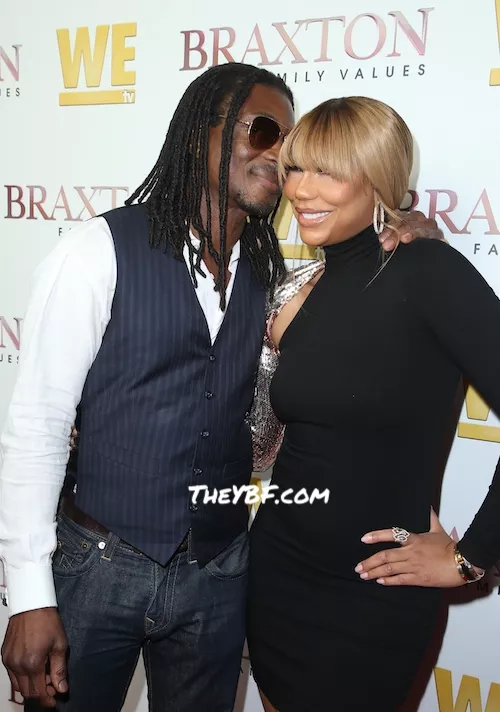 Tamar Braxton is telling her side of the story after news broke that her boyfriend David Adefeso filed a restraining order against her, alleging domestic violence. More inside…
Something terrible happened between Tamar Braxton and her boyfriend of two-years, David Adefeso.
Earlier today, news broke that Tamar's boyfriend filed a restraining order against the R&B songbird. The details of what happened to make him file a restraining order have yet to be determined. It was just reported he filed the paperwork to "prevent domestic violence."
Now, Tay Tay is telling her side of the story.
According to the "Braxton Family Values" star, she claims HE was the aggressor during a recent domestic violence incident where he allegedly threatened to kill her in a "murder-suicide." Lordt!
Sources tell The Blast, Tamar & David got into a "heated altercation" while driving as they were headed to check Tamar into a mental health facility for treatment. Sources allege the Bluebird of Happiness singer questioned David about a recent IG video he put up that featured her 7-year-old son, Logan Herbert, whom the singer shares with her ex-husband Vincent Herbert.
Here's the post in question:
"A day at the beach," David captioned. "Sometimes mom needs a day off to herself to do whatever moms do whenever they have a day off to themselves! So me, Beans and Bonus Grandma aka Sonic-Mom hit Zuma Beach to have some fun"
During their argument, it's alleged the singer told the Nigerian businessman that he was "around for the wrong reasons and could not be trusted." Sounds like her family got into her head since they put out stories how they have been giving him the side-eye. They complained Tamar changed after she got into a relationship with him, saying her mood swings tend to align with how he's feeling. They also say "he's very involved in her business decisions."
Then, ish hit the fan. Sources close to Tay Tay claim David "grabbed her hard" on her arms and caused bruising. The reality star claims she only grabbed him AFTER he grabbed her first. The site says there are pictures of her injuries, but they haven't been released as of yet.
Whatever happened was enough for David to file a restraining order against the singer. And it's likely safe to say these two are dunzo…for now at least.
The news comes about six weeks after the "Braxton Family Values" star reportedly threatened to kill herself. You'll recall, David was the one who called 9-1-1 once he found Tamar unresponsive. During the call, David is heard saying, "She's been drinking and she's on medication for depression." He also vented his frustration with the WEtv network.
It's alleged she wrote a suicide note before allegedly ingesting pills to end her life. In the note, the reality star described the network's leaders as "cruel white slave masters" who were "destroying a great Black family" in the name of show ratings in the note.
Following the suicide attempt, Tamar posted a message on IG to thank everyone for their prayers.
Hopefully, Tamar can get the help she needs to get her life back on track for the sake of her son!
By the way, the season premiere of Tamar's "Get Ya Life" is THIS Thursday at 9/8c on WEtv. Will you be watching?
Photo: Backgrid
​ ​
​ ​ ​