Colin Kaepernick Calls Out The NFL For Blackballing Eric Reid & Propaganda + Eric Reid & Dolphins Players SLAM NFL For PR Stunts!
​
Sep 14 | by _YBF
​ ​ ​ ​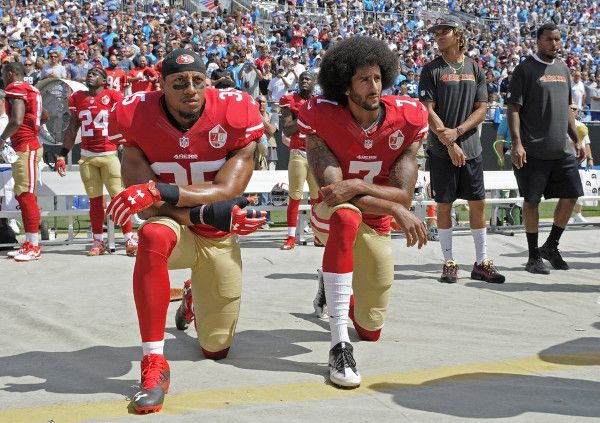 Colin Kaepernick and Eric Reid are calling a spade a spade! Both players SLAM the NFL over their social justice campaign, which they both have dubbed PR stunts. Yeah, we noticed it too. More inside…
Four years ago, Colin Kaepernick took a knee to launch a silent protest against police brutality and social injustice. Now, the NFL is super "pro-black" and pretending as if they care. However, Kaepernick and his former San Francisco 49ers teammate/safety Eric Reid see RIGHT through it. Like most of us.
When the NFL made its return last Thursday, the league made sure to kick things off with their social justice campaign. Thursday's opener featured the reigning Super Bowl champs the Kansas City Chiefs against the Houston Texans.
At the beginning of the game, the Texans decided to stay inside their locker room inside Arrowhead Stadium while the Chiefs were the field warming up for the opening performances.
The game kicked off with an Alicia Keys performance of the Black National Anthem, "Lift Ev'ry Voice and Sing," that will be featured before every NFL game in Week 1. In the pre-recorded video, a montage of pictures played in the background and Kaepernick was featured. The audacity!
Chloe x Halle performed the Star-Spangled Banner in a pre-recorded video, rocking Breonna Taylor & George Floyd t-shirts. The Texans stayed inside the locker room for both performances. Before the kickoff, both the Chiefs and the Texans lined up and linked arms to hold a moment of silence in dedication to "the ongoing fight for equality." You could hear some of the fans in the stands (yes, they had people watching the game from inside the stadium) start to boo during the moment of silence.
Watch it below:
A moment of silence dedicated to the ongoing fight for equality in our country. #ItTakesAllOfUs pic.twitter.com/srC0SlnWdh

— NFL (@NFL) September 11, 2020
During Sunday's games, the Buffalo Bills and the New York Jets remained inside their locker rooms during the playing of "Lift Ev'ry Voice and Sing."
All of that's nice and all, but WE.WANT.CHANGE. Yes, the Alicia Keys x NFL $1 billion endowment fund created to support Black businesses and help communities affected by the Coronavirus pandemic and recent protests is a step forward – IF these black businesses and communities ever actually RECEIVE these alleged funds. But, that's still not enough.
For starters, Kaepernick – who is a free agent - STILL doesn't have a job in the NFL. The NFL admitted it was wrong and now claims to support Kap, yet, he still hasn't nabbed a spot in the league. You'll recall, Colin filed a complaint of collusion and ended up settling with the league.
It seems the NFL is still blackballing Kap's former 49ers teammate Eric Reid, who also filed a complaint of collusion and settled with the league.
Right now Reid is a free agent and he shouldn't be. Back in March, ESPN ranked the NFL's top free agents and Reid came in at the #7 spot. No mention of Kaepernick on the list.
While Reid was ranked at #7, he still has not been picked up even though the first six free agents before him have been signed. That means Reid is at the top of the list. Deadspin has a full breakdown of why Reid should be in the league that you can read here.
Kaepernick took to his Twitter account during Sunday's games to BLAST the NFL for "propaganda" and to question why Reid has yet to be signed to a team: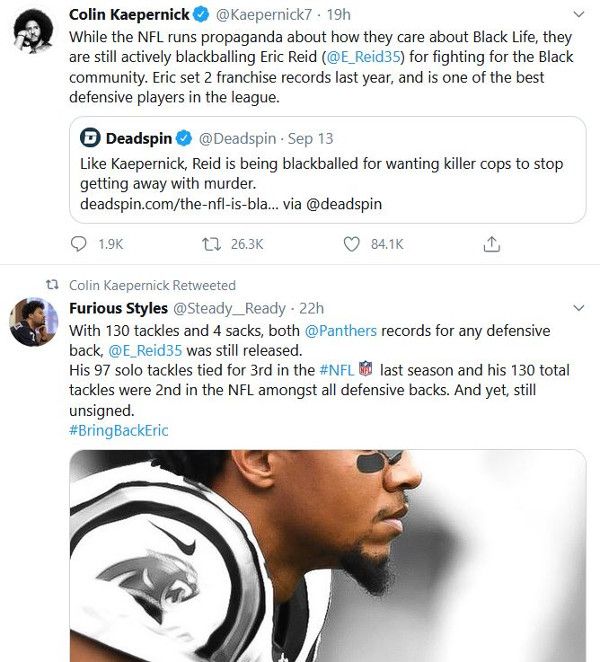 "While the NFL runs propaganda about how they care about Black Life, they are still actively blackballing Eric Reid (@E_Reid35) for fighting for the Black community," he tweeted. "Eric set 2 franchise records last year, and is one of the best defensive players in the league."
Today, Reid hopped on Twitter call out the league for doing its "half-hearted best" with the PR stunts. He also pointed out how hypocritical it was of NFL Commissioner Roger Goodell to use a picture of Colin in its social justice campaign.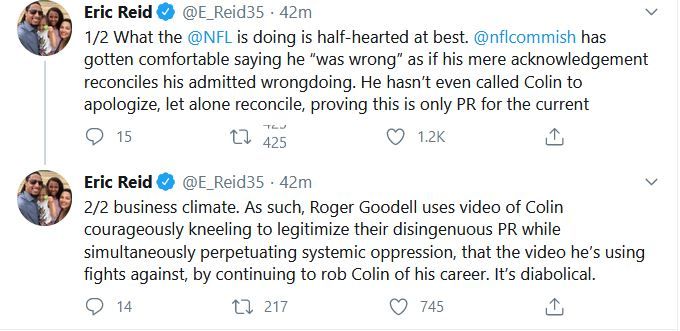 "What the @NFL is doing is half-hearted at best. @nflcommish has gotten comfortable saying he 'was wrong' as if his mere acknowledgement reconciles his admitted wrongdoing. He hasn't even called Colin to apologize, let alone reconcile, proving this is only PR for the current business climate. As such, Roger Goodell uses video of Colin courageously kneeling to legitimize their disingenuous PR while simultaneously perpetuating systemic oppression, that the video he's using fights against, by continuing to rob Colin of his career. It's diabolical."
Where is the lie?
Reid was released by the Carolina Panthers in March.
It's been a pleasure Carolina! I enjoyed my time and the support I received from the fans, media, teammates, and staff there will be remembered. Looking forward to furthering my career in another city!

— Eric Reid (@E_Reid35) March 18, 2020
In June, the NFL apologized for "not listening" to players about racism, but has Roger Goodell called up Colin personally to apologize? Nope.
Many of the Dolphins players posted a powerful video as well, challenging the purpose of the Black National Anthem being sung:
"If my father was a solider, but the cops killed my brother, do I stand for one but kneel for the other?"

Damn good question. Playing the black national anthem before NFL games is nothing more than an empty symbolic gesture.

Thank you Miami Dolphins! pic.twitter.com/xN048J4G1N

— Stephanie Clay (@_StephanieClay) September 10, 2020
"Black Lives Matter" and "End Racism" are written in the NFL end zones, yet these two black lives are being discriminated against for the very thing the NFL claims they're all about. Make it make sense….
BONUS:
Here's how Patriots quarterback Cam Newton rolled up to his first official game of the season.
And Tennessee Titans running back Derrick Henry rocked a suit honoring victims of racial injustice.
Photos: AP Photo/Mike McCarn
​ ​
​ ​ ​