UPDATE: Louisville Reportedly Reaches Multi-Million Dollar Settlement With Breonna Taylor's Family, Settlement Includes List Of Police Reforms
​
Sep 15 | by _YBF
​ ​ ​ ​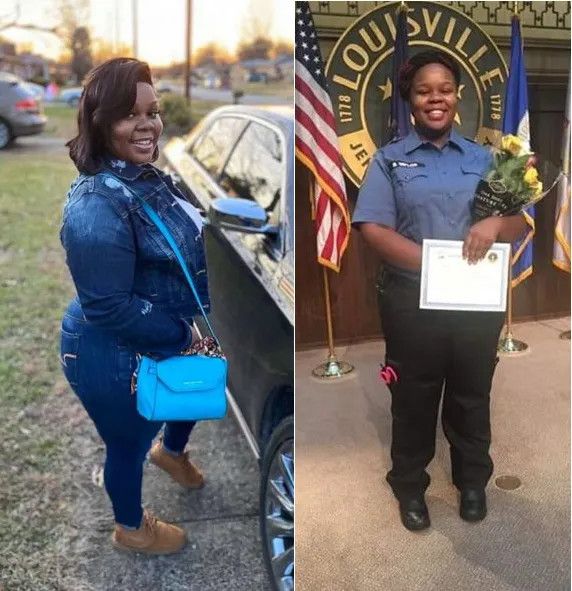 The city of Louisville, Kentucky has reportedly reached a multi-million dollar settlement with Breonna Taylor's family. And it's reported the settlement includes a list of police reforms. Oh, and the police officers who killed her six months STILL have not been charged. More inside…
Six months after 26-year-old EMT Breonna Taylor was killed in her home while she was sleeping during a "no knock" drug raid, the city of Louisville, Kentucky has reached a settlement with her family.
In April, Breonna's mother, Tamika Palmer filed a lawsuit against the city and the three Louisville Metro Police Department officers, accusing them of wrongfully causing her daughter's death.
A source close to the case tells NBC News that the agreement is in the millions of dollars. Not only that, it reportedly includes a list of police reforms that will address police officer's accountability and the execution of search warrants. And THIS is very important. Not only did the family demand money, they also pushed for reform. Breonna's family and the mayor of Lousiville, Greg Fischer, are expected to discuss the settlement today at 2pm EST via news conference.
The Courier-Journal reports:
An amended complaint filed about two months later additionally claimed Taylor's death was the result of Louisville police's effort to clear out a block for gentrification, and the newly formed Place-Based Investigations unit consisted of "rogue police" who violated "all levels of policy, protocol and policing standards."

City officials vehemently denied the accusations that gentrification played any role in the narcotics investigation.
The three officers – who were dressed in plain clothes during the raid – have NOT been charged and remain free. Detective Brett Hankison – the officer who blindly shot 10 or more rounds into the apartment – was fired in June. However, we all know that doesn't mean much since officers can apply for jobs in other districts following a firing. Twenty-two shots were let off by police officers, eight of them struck Breonna and killed her on March 13th. The other two officers remain on administrative reassignment.
The FBI opened an investigation into the case. A Jefferson County, Kentucky grand jury is currently considering whether to bring criminal charges in the case.
Also, Kentucky Attorney General Daniel Cameron (R) – the first Black person to nab the title – was made special prosecutor in the case earlier this year. Folks have been waiting for a timeline on when he plans to announce a charging decision, but he has been dragging his feet.
"My office is continually asked about a timeline regarding the investigation into the death of Ms. Breonna Taylor. An investigation, if done properly, cannot follow a specific timeline," he said last week.
Earlier this month, Breonna's boyfriend – Kenneth Walker - held a press conference to announce his lawsuit against the Louisville Metro Police Department.
"The charges brought against me were meant to silence me and cover up Breonna's murder," he said. "For her, and those that I love, I can no longer remain silent. For her and those that I love, I can no longer remain silent," he said.
The 28-year-old is seeking unspecified monetary damages from the city and the police department for assault, battery, false arrest and imprisonment, malicious prosecution, abuse of process and negligence stemming from the night Breonna was killed.
Kenneth's attorney wants an immediate judgement for Kenneth's immunity under Kentucky's "stand your ground" law, which prevents officials from prosecuting anyone who acts in self-defense. The civil complaint was filed in the Jefferson County District Court.
#JUSTICEFORBREONNATAYLOR!
Photos: Breonna's Family
​ ​
​ ​ ​