Vanessa Bryant Checks L.A. Sheriff For Challenging LeBron James To Double Reward Money After Deputy Shooting
​
Sep 16 | by _YBF
​ ​ ​ ​
Vanessa Bryant had to check Los Angeles County Sheriff Alex Villanueva after he challenged LeBron James to double reward money to find an alleged gunman that injured two deputies. Find out what she said inside…
Vanessa Bryant – Kobe Bryant's widow – is weighing in after Los Angeles County Sheriff Alex Villanueva challenged LeBron James to double reward money to search for a gunman who reportedly injured two police officers.
Villanueva spoke with KABC radio where he suggested the Los Angeles Lakers baller should "step" and match the $175,000 reward that's being offered to help find a shooter that still at large after he/she allegedly shot two officers.
"I want to make a challenge," Villanueva said to host John Phillips. "This challenge is to LeBron James. I want you to match that and double that reward. Because I know you care about law enforcement, you expressed a very, very interesting statement about your perspective on race relations and officer-involved shootings and the impact it has on the African American community. And I appreciate that.
Did he question Kentucky Attorney General Daniel Cameron (R) about why the officers who killed EMT Breonna Taylor in her sleep six months ago have not been brought up charges? Oh.
Kobe's widow hopped on social media to check the deputy for coming for LeBron. She reposted screenshots of tweets who slammed Villanueva for his reward money challenge.
"He shouldn't be challenging LeBron James to match a reward or 'to step up to the plate.' He couldn't even 'step up to the plate' and hold his deputies accountable for photographing dead children," the tweet she reposted wrote. Vanessa also tagged LeBron's IG account.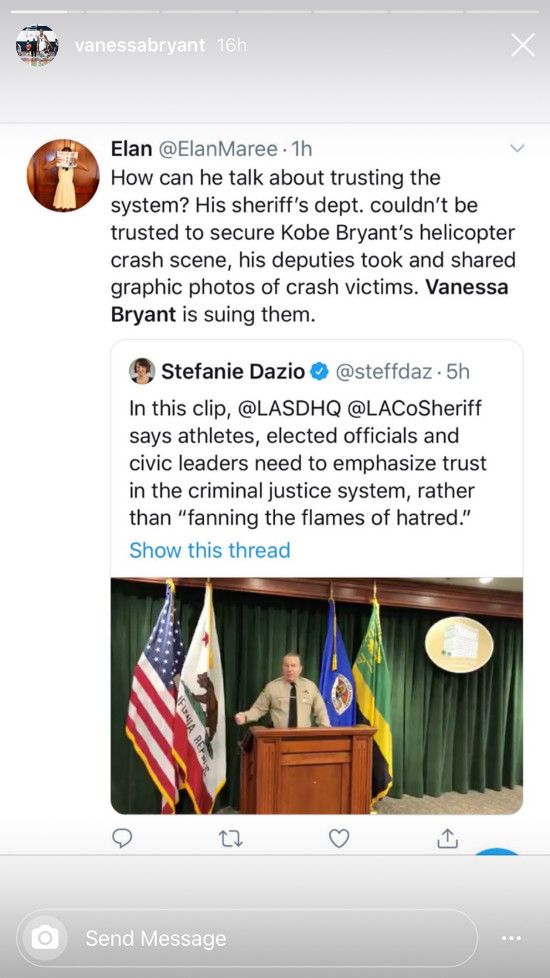 "How can he talk about trusting the system? His sheriff's dept. couldn't be trusted to secure Kobe Bryant's helicopter crash scene, his deputies took and shared graphic photos of crash victims," another tweet said.
In May, Vanessa filed a claim against the Los Angeles County police department after eight deputies came under fire for allegedly sharing graphic photos from the January 26th helicopter crash that claimed the lives of Kobe Bryant, Kobe & Vanessa's 13-year-old daughter Gianna Bryant and seven others. In the paperwork, the filings said the "department's mishandling of this egregious misconduct" only worsened Bryant's "emotional distress."
Can't even deny that.
As for the shooting situation…
According to reports, a lone gunman approached two deputies and shot them while they were in their patrol car on Saturday in Compton, California. The unidentified officers – a 31-year-old woman and a 24-year-old man – were hospitalized. They are in stable condition. It's reported the shooting was captured on surveillance video and the police department are still on the hunt for the unidentified gunman.
Before the Lakers game against the Houston Rockets last Saturday, protesters gathered outside of the NBA bubble. Carrying signs and shouting in megaphones, the small group blocked at least two buses charted by the NBA from entering the Walt Disney World campus in Orlando. The group chanted "Black Lives Matter" and "LeBron can you help us?"
As for sports, the Lakers entered the Western Conference finals against the Denver Nuggets. Game 1 is set to go down Friday, September 18th at 9pm EST.
Photos: AP Photo/Mark J. Terrill/AP Photo/Tim Reynolds/Ovidiu Hrubaru/Shutterstock.com
​ ​
​ ​ ​