Jamie Foxx & Garcelle Beauvais Dish On Their Complicated - Almost 'Secret Lovers' - Situationship + 'Fancy' Confirms Jamie Is 'Hung Like A Horse' – OH?
​
Sep 25 | by _YBF
​ ​ ​ ​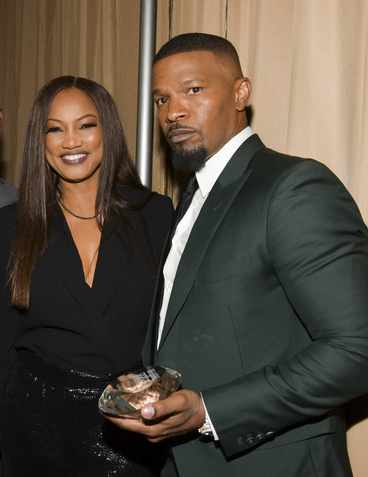 Jamie Foxx and Garcelle Beauvais? In real life? We wouldn't be mad at it. The chemistry seems to still be there, so maybe it can become a thing. More inside…
So why hasn't Jamie Foxx and Garcelle Beauvais ever taken their own-screen chemistry into real life? Well, it kind of did, but in a different way.
While they never made it official, official, Jamie and Garcelle had a lil' something, something happening behind-the-scenes. However, their friendship and work relationship seemingly got in the way.
During a recent episode of Garcelle's sex & relationship podcast, "Going to Bed with Garcelle," she caught up with her former co-star and shared some juicy deets about their situationship behind-the-scenes that dates back to their time on "The Jamie Foxx Show" from 1996 to 2001. They also starred in White House Down in 2013.
So, why didn't Jamie & Fancy become a couple in REAL life? Well, they made a pact that they wouldn't date until after they wrapped up filming. Once production wrapped, Garcelle was in a relationship and Jamie wasn't exactly feeling it.
Peep their banter below:
"I seen you with the dude, you introduced me — 'This is my man,' and it was all uncomfortable," Jamie said as Garcelle laughed.

"By the way, you never really give any guy that I'm with any real attention," she responded.

"Ever. I hate them all," Foxx joked. "I think me and you should have been together. So every time I see them, I'm like, 'Damn. I f*cked up.' So every dude, I give them a really sh*tty look," Jamie revealed.

"I feel it and they feel it," Garcelle said.

"Listen, we are in a relationship forever," Jamie said.
Mmhmm…
Then, Garcelle shared some secrets about Jamie's manhood that we're not mad about.
"Forever, no matter what," Beauvais agreed. "You know what I always say? Kandi Burruss was on the podcast and she goes, 'You know, I don't get it. Why aren't you and Jamie together?' And I said, 'Well, you know, we have a really great relationship now.' And then I said, 'He's also hung like a horse. What would I do with all of that?!'"
OH?!? Chile...
"You take it one step at a time," Jamie responded. "What you can't eat, just put in a doggie bag and save it for later," Foxx said as the two cracked up.

"I don't know, it's a tough thing when it comes to relationships, because you've got find something, I think, that's someone that you can really understand and be yourself with, especially in our business because it's an up and down thing."

"And there's a lot of emotions that people don't understand," he added. "Somehow, being a celebrity, they feel like you're not human, and we do have things that are afforded to us or rewarded to us because we are [celebrities]. But on the inside, we're still the same people from Texas or from Haiti. We're still the same people. And that's so hard, but it has to be a person that really understands. And that's been tough."
Take a listen below:
We honestly wouldn't be mad at a Jamie x Garcelle coupledom situation.
Photo: Rodin Eckenroth/Getty
​ ​
​ ​ ​