LisaRaye Was NOT Here For Her Sister Da Brat's B'Day Pop Up…And This Is Why She's Mad!
​
Sep 29 | by _YBF
​ ​ ​ ​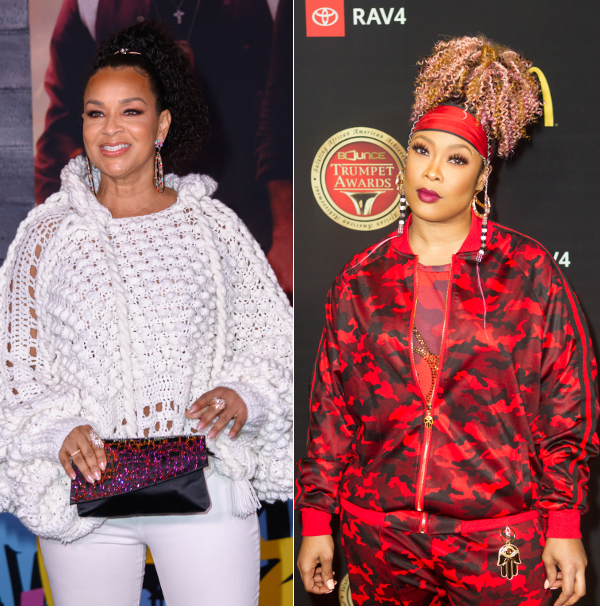 When Da Brat popped up on her sister LisaRaye McCoy for her birthday -- let's just say Lisa was NOT feeling it and she made sure to make it known. Watch the drama sibling drama go down when the raptress surprised her sister on her birthday inside...
LisaRaye McCoy let be known she was NOT feeling her sister Da Brat poppin' in on her for her birthday. The reason? Well, apparently the actress and rapper have been beefin' and hadn't spoke to one another in MONTHS.
On the latest episode of Fox Soul's "Cocktails with Queens," LisaRaye's co-hosts Vivica A. Fox, Syleena Johnson, and Claudia Jordan thought it was a good idea to surprise LisaRaye with a pop up appearance from her sister, Da Brat, to celebrate her 53rd birthday.
However, they quickly learned that wasn't the best idea.
Turns out, LisaRaye and Da Brat have been beefing all 2020 and their recent encounter was the first time they really had a chat since the COVID-19 pandemic hit the United States. Oh?
Soon as Brat popped up on the screen during the show, LisaRaye was in shock. Like, utter shock where she was even brought to tears. However, they weren't happy tears. The "Player's Club" actress was PISSED. Apparently, the actress felt a way when she learned Da Brat got engaged via social media – like the rest of us! The icing on the cake was the fact that the media was asking LisaRaye about her sister's engagement to Jessica "Judy" Dupart and she didn't have a clue what was going on.
In fact, we even asked her about the engagement on an episode on The YBF Podcast during quarantine recently. Check it:
During the episode of "Cocktails with Queens," Brat apologized to her big sister for not keeping her up to date on her love life and explained she didn't tell her because she can be very judgmental. LisaRaye explained she was "hurt" that Brat didn't tell her she was in love and getting engaged. LisaRaye's co-hosts chimed in with their opinions and sis went OFF on them, telling them to "I don't give a f*ck what y'all saying" because they don't know what's really going on behind-the-scenes. Oh wow.
Peep that clip below:
My life motto: "I don't give a fuck what y'all sayin... at all. Y'all don't know shit." - Lisa Raye pic.twitter.com/qZNqwBLQvJ

— Hey Ellyot (@KnownAsEllyot) September 29, 2020
Watch the full interview below:
Oop!
Photos: Silvia Elizabeth Pangaro/ By Jamie Lamor Thompson/Shutterstock.com
​ ​
​ ​ ​