Trump Says He Will Not 'Waste' His Time With A Virtual Debate Against Joe Biden + All The 'Fly-Worthy' Memes & Reactions To VP Debate
​
Oct 08 | by _YBF
​ ​ ​ ​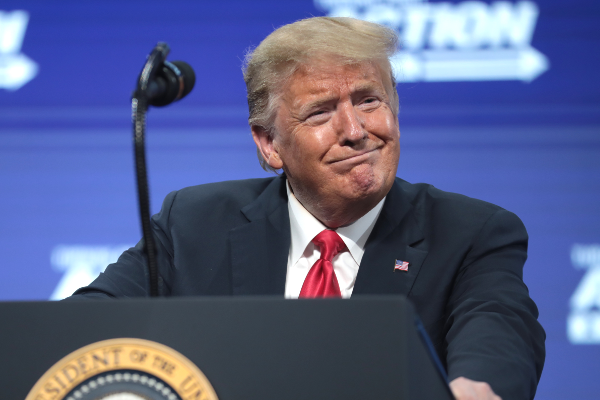 Shortly after the CPD announced the second presidential debate would go virtual, Trump announced he will NOT be participating. Meanwhile, the rest of the world is kiki'n at the undefeated Internet with these fly memes that sparked from the Vice Presidential debate between Kamala Harris and Mike Pence. Get it all inside…
Early this morning, it was breaking news that the Commission on Presidential Debates would be changing the format of the 2nd presidential debate between Trump and former Vice President Joe Biden.
Since Trump tested positive for COVID-19, the CPD announced the "debate will take the form of a town meeting, in which the candidates would participate from separate or remote locations."
During his first interview since testing positive, Trump told Fox Business that he will NOT participate in the next debate, which is slated to go down virtually October 15th. C-SPAN's Steve Scully will reportedly moderate the second presidential debate.
"The commission changed the debate style and that's not acceptable to us," Trump said on "Mornings with Maria." "I beat him in the first debate. I beat him easily."
This guy…
"I'm not going to do a virtual debate," he continued. "I'm not going to waste my time at a virtual debate," he said.
The Republican mayor of Miami didn't want Trump in his city for the October 15th debate with Joe Biden. He said if he's still testing positive, he doesn't think its safe for Trump to come.
The Republican mayor of Miami said Donald Trump shouldn't come to his city for the Oct. 15 debate with Joe Biden if the president is still testing positive with Covid-19.
"I don't think it's safe, not for him and anybody else, anywhere or anyone he interacts with," Miami Mayor Francis Suarez told POLITICO.

"Remember, this thing is highly contagious," he continued. "How many people are infected in his inner circle, in the White House, senators, et cetera?"
Trump was released from Walter Reed hospital Monday and is reportedly still battling the Coronavirus. However, he claims he's cured. He made a video taped outside of the White House, making claims that he feels "perfect" and that contracting the virus was "a blessing from God" after taking experimental drugs, Regeneron and Remdesivir.
"Then, [in] addition to that, you have various other drugs that help a lot," Trump said. "I know they call them therapeutic. To me it wasn't therapeutic, it just made me better. I call that a cure." A cure, you say? Like a miracle cure? Tell me more. "For me, I walked in I didn't feel good; a short 24 hours later I was feeling great," Trump enthused. "That's what I want for everybody. I want everybody to be given the same treatment as your president. Because I feel great. I feel, like, perfect. So I think this was a blessing from God that I caught it." The "it" being the coronavirus.
Check it:
A MESSAGE FROM THE PRESIDENT! pic.twitter.com/uhLIcknAjT

— Donald J. Trump (@realDonaldTrump) October 7, 2020
Something looks....off.
Regeneron reportedly petitioned the FDA for emergency approval to bring tens of thousands of doses to market.
If you haven't heard the White House still has not publicly revealed when the last time Trump tested negative for COVID-19. According to reports, keeping his diagnosis results under wraps is making it nearly impossible to trace his contacts. As of the time of this post, at least 34 people at the White House have been infected.
Thankfully, plexiglass was on deck for last night's vice presidential debate between Sen. Kamala Harris and Vice President Mike Pence in Salt Lake City, Utah. Too bad that glass couldn't save Pence from being the laughingstock of the Internet this morning.
During the 90-minute debate, a fly landed on Pence's hair, standing out against his bright white hair. According to one local news reporter, the fly sat on Pence's head for 2 minutes and 3 seconds before flying away.
Check it:
i really did that pic.twitter.com/p5mTvt4gSz

— Mike Pence's Fly (@MikePenceFly___) October 8, 2020
Ha! By the way, the fly has several Twitter accounts already.
Joe Biden didn't waste any time to take advantage of the viral moment, posting a picture of himself holding a fly swatter while asking supporters to pitch in to his campaign:
Pitch in $5 to help this campaign fly. https://t.co/CqHAId0j8t pic.twitter.com/NbkPl0a8HV

— Joe Biden (@JoeBiden) October 8, 2020
Sen. Harris didn't waste any time to slam the Trump administration's of the handling of the Coronavirus pandemic, rightfully so. The United States has the worst outbreak in the world compared to other countries.
"The American people have witnessed what is the greatest failure of any presidential administration in the history of our country," she said.
Pence kept deflecting and purposely NOT answering questions moderator Susan Page asked him. He kept going over his time and would interrupt Kamala while she was speaking. She made sure to CHECK him when he did, sharply reminding him that she was speaking. Hmph. According to NBC data, Pence interrupted Kamala 16 times during the debate.
Sen. Kamala Harris to VP Pence: "Mr. Vice President, I'm speaking. I'm speaking." #VPDebate pic.twitter.com/PgOUhAu6ZS

— The Hill (@thehill) October 8, 2020
We've NEVER seen such flawless projection and deflection. It really should be studied. Pence did not answer one question this entire debate, then had the audacity to accuse Kamala of not answering a question he - WHO IS NOT THE MODERATOR - asked.
Sen. Harris served up history lessons for Pence:
"Abraham Lincoln was up for re-election and it was 27 days before the election and a seat became open on the United States Supreme Court," Sen. Harris says at #vpdebate. "But, Honest Abe said, it's not the right thing to do. The American people deserve to make the decision." pic.twitter.com/MDx1nyYu2X

— MSNBC (@MSNBC) October 8, 2020
With at least 34 people in the White House testing positive for COVID-19, Pence's wife, Karen Pence, still isn't following safety guidelines to keep the spread of the virus down:
Watch: Karen Pence, the wife of Vice President Mike Pence, appeared to flout safety rules for the #VPDebate by appearing onstage without a face mask.

Read more. https://t.co/cZeclzXYZb pic.twitter.com/2rncmtA0Qo

— The New York Times (@nytimes) October 8, 2020
Sighs…
When asked about the handling of the Breonna Taylor case, Pence said he's confident our judicial system will make sure justice is served.
"Well, our heart breaks for the loss of any innocent American life and the family of Breonna Taylor has our sympathies, but I trust our justice system," Mike Pence says when asked if justice was served in the Breonna Taylor case. https://t.co/rJxLDwoEis#VPDebate pic.twitter.com/fF8JDKj98l

— ABC News (@ABC) October 8, 2020
We're 26 days away from the presidential election folks. VOTE ACCORDINGLY.
Also...
Members of the Divine Nine shared some BOMB flicks as they strolled to the polls early. We love to see it.
In the meantime, check out our round up of hilarious memes from the VP debate that will surely have you laughing out loud…literally.
Photos: Nuno21/Shutterstock.com
​ ​
​ ​ ​