WHAT WAS SAID? Kentucky AG Daniel Cameron Calls Meg Thee Stallion's 'SNL' Performance 'Disgusting'
​
Oct 08 | by _YBF
​ ​ ​ ​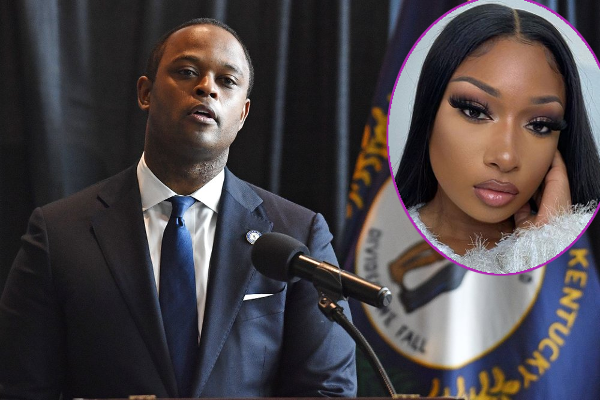 Kentucky Attorney General Daniel Cameron has responded to Megan Thee Stallion's "Saturday Night Live" performance, calling it "disgusting." He also recently filed a motion to silence the grand juror from speaking publicly about the grand jury proceedings in the Breonna Taylor case. More inside…
Megan Thee Stallion made sure to make a bold statement during her "Saturday Night Live" debut performance, specifically calling out Kentucky Attorney General Daniel Cameron.
During her performance, the "Savage" rapper made a call to action to protect black women, following Cameron's decision to not charge any police officers in the death of EMT Breonna Taylor.
"We need to protect our Black women and love our Black women, 'cause at the end of the day, we need our Black women," she said.
The backdrop displayed words spoken by activist Tamika Mallory last month:
"Daniel Cameron is no different than the sellout Negroes that sold our people into slavery."
Cameron reacted to the Houston Hottie calling him out on "Fox & Friends," dubbing it "disgusting."
"Let me just say that I agree that we need to love and protect our Black women," he said. "There's no question about that. But the fact that someone would get on national television and make disparaging comments about me because I'm simply trying to do my job is disgusting."
He continued:
"The fact that a celebrity that I never met before wants to make those sorts of statements ... they don't hurt me, but what it does is it exposed the type of intolerance and the hypocrisy because obviously, people preach about being intolerant," he said. "You hear a lot of that from the left about being tolerant. But what you saw there is inconsistent with tolerance. In fact, it's her disposing intolerance because I've decided to stand up for truth and justice."
No response from Meg (yet), but we'll respond for her:
Cameron decided against indicting the three officers who raided Breonna's Louisville apartment for murder. On March 13th, three police officers dressed in plain clothes raided the 26-year-old's apartment with a "no-knock" warrant. Her boyfriend, Kenneth Walker, fired the first shot at police after they didn't announce themselves, according to him. The police claim they did announce themselves. After Kenneth let off the shot, cops let off 20-30 rounds. Eight bullets struck Breonna and killed her.
Only one officer – former detective Brett Hankison – was indicted. He was charged with wanton endangerment for allegedly firing bullets that risked injury to persons in an adjacent apartment. None of the three officers involved have been charged in the death of Breonna Taylor. The FBI believes LMPD detective Myles Cosgrove is the officer who fired the shot that took Breonna's life.
Last week, a judge forced Cameron to release over 15 hours of audio recordings of the grand jury proceedings in the case of Breonna's murder. Get those deets HERE.
Now, Cameron is working hard to keep someone quiet about the case. Last month, an anonymous grand juror filed a motion, accusing Cameron of "using the grand jurors as a shield to deflect accountability and responsibility for these decisions." The filing asked the court to release a recording of the full grand jury proceedings and to allow members of the grand jury to speak about some parts of the case.
Cameron doesn't want anyone speaking publicly about the case. He recently filed a motion to keep a grand juror in the case from speaking publicly about the proceedings
"As I've stated prior, I have no concerns with a grand juror sharing their thoughts or opinions about me and my office's involvement in the matter involving the death of Ms. Breonna Taylor," Cameron said in a statement after filing the motion. "However, I have concerns with a grand juror seeking to make anonymous and unlimited disclosures about the grand jury proceedings."
"The grand jury process is secretive for a reason, to protect the safety and anonymity of all the grand jurors, witnesses, and innocent persons involved in the proceedings," he continued. "Allowing this disclosure would irreversibly alter Kentucky's legal system by making it difficult for prosecutors and the public to have confidence in the secrecy of the grand jury process going forward."
Grand jury proceedings are aren't usually made public. However, Breonna's family and their attorneys pushed to have the grand jury's proceedings released because they believe Cameron left out significant information about what the evidence was shown and what charges were recommended.
Also…
Cops release photos that show Breonna Taylor holding the gun her boyfriend used to 'fire at police' https://t.co/fX9rZJLM6m pic.twitter.com/c65rCCDgFG

— Daily Mail US (@DailyMail) October 8, 2020
The police are digging up old photos of Breonna and her boyfriend Kenneth. They found pictures of them posing on SnapChat with guns. White people post pictures of them holding their guns all the time. It doesn't mean they deserve to die. PERIOD.
Photos: AP Photo/Timothy D. Easley/Meg's IG
​ ​
​ ​ ​