Joe Biden Admits Supporting The '94 Crime Bill Was A 'Mistake,' Then Properly Breaks Down Why During Town Hall
​
Oct 16 | by _YBF
​ ​ ​ ​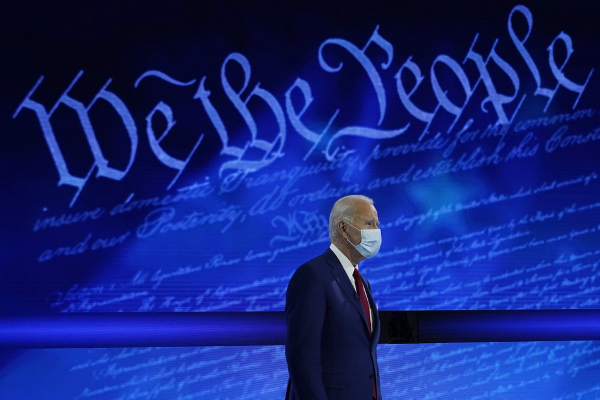 Joe Biden addresses the controversial topic surrounding his support of the 1994 Crime Bill and explains why it was a "mistake." However, he also defended part of the bill. More about his town hall meeting inside…
Instead of the virtual presidential debate that had been scheduled to go down yesterday (after Trump tested positive for COVID-19), Trump and former Vice President Joe Biden participated in dueling town hall meetings last night to share their plans with the American people if they are chosen to be our next leader.
Trump chopped it up with Savannah Guthrie of the "TODAY" show in Miami, which aired on NBC News. Meanwhile, Democratic presidential hopeful Joe Biden sat down with ABC News chief anchor George Stephanopoulos for 90-minutes in Philadelphia and their conversation aired on ABC. Never has a presidential debate been split like this, forcing viewers to choose which event to watch (since they were going down at the same time), but it's 2020. Nothing shocks us at this point.
During this election season, one of the hot topics surrounding Biden was his backing of the 1994 Crime Bill, which became a tool that fueled the mass incarceration of people of color. He gave his support of the bill during his tenure as chairman of the Senate Judiciary Committee.
Biden said backing the bill was a "mistake," but he defended some aspects of the bill.
When asked if supporting the 1994 Violent Crime Control and Law Enforcement Act was a mistake, Biden replied, "Yes, it was."
While he called it a mistake, he did defend parts of the bill.
"The mistake came in terms of what the states did locally," he said. "What we did federally — you remember George, it was all about the same time for the same crime," Biden continued.
It's important to note that virtually all of the black Congressmen at that time, the Congressional Black Caucus, also supported the bill overall. It was not - at that time - seen as an outright attack on the black community.
He noted there was plenty of support from prominent Black leaders at the time and that things have drastically changed since then.
VP Biden was talking about the '86 crime bill - that's the one that included mandatory minimums for drug offenses (in fact, the 1994 crime bill did not), which was what VP and George were discussing. https://t.co/Me7UOcQ1wR

— Stef Feldman (@StefFeldman) October 16, 2020
According to a member of Biden's campaign, she said Biden was talking about the 1986 crime bill that included mandatory minimum sentences for drug offenses and not the 1994 Crime Bill.
Check it:
If you're looking for a perfect candidate, you won't find one. What we do appreciate is course correction and transparency, both of which Biden provides.
It seems America appreciated his full transparecy as well - in all parts of his Town Hall. His ratings topped the ratings of Trump's dueling Town Hall held at the same time by NBC. Deadline reports:
The ex-Veep's 8 – 9:30 PM ET The Vice-President and the People snagged 12.2 million viewers and a 2.6 rating among adults 18-49 last night. Over on the Comcast-owned net, a petulant Trump was grilled by [Savannah] Guthrie and voters in Miami from 8 – 9 PM ET as 10.3 million Americans tuned in, with a 1.7 rating among the key demo.

You can do the math, but the numbers speak loud and clear.

Now, those numbers will all change as more results come in and the Trump town hall has the baked in advantage of being simulcast on MSNBC and CNBC too. However, right now in the fast affiliates, we are calling it a solid win for Joe Biden.
After the town hall, Biden stayed after to take questions from the audience:
BTW, Symone D. Sanders – senior advisor of the Biden/Harris campaign – breaks down how the Biden/Harris administration plans to help the black community in our newest episode of The YBF Podcast. You can watch her and Natasha chop it up below:
Or, you can listen here:
Vote early. Vote NOW. Election DEADLINE is Nov. 3rd. Election DAY is now. IWillVote.com has everything you need to vote in your state.
Photo: AP Photo/Carolyn Kaster
​ ​
​ ​ ​