BILLION $ BATTLE: Dr. Dre's Estranged Wife Wants To Subpoena 3 Of His Alleged Former Mistresses To Testify In Divorce Battle
​
Oct 30 | by _YBF
​ ​ ​ ​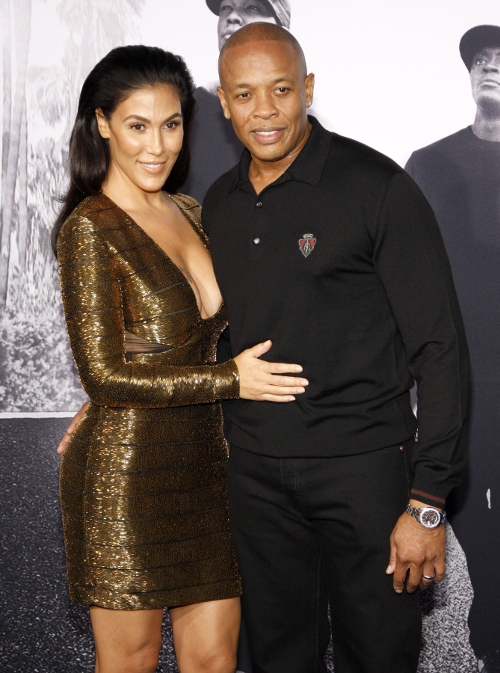 Dr. Dre's estranged wife Nicole Young wants to call on three women (that she alleges are former lovers of his) to testify against him in their messy divorce battle. Deets inside…
The drama continues in the uncoupling of music mogul Dr. Dre (real name Andre Young) and his wife of the last 24 years, Nicole Young. We have the pre-nup drama, alleged domestic violence claims and embezzlement allegations. It's a mess!
And the controversial saga continues.
Now, Nicole wants to subpoena three of Dre's alleged former mistresses to testify against him in the divorce proceedings. Savage! That humongous settlement she wants makes more sense now.
DailyMail reports the three women she wants to speak are singer Jillian Speer, model-turned-skin care entrepreneur Kili Anderson and Crystal Sierra (Crystal Rogers) - who is known as the 'Queen of Latin Hip-Hop.'
The publication reports:
Dre, 55, says the agreement still exists, while Nicole, 50, insists he tore it up in front of her after they married in a romantic gesture.

Dre - real name Andre Young - wants a Los Angeles Superior judge to determine whether the prenup is valid and enforceable.

And until that ruling is made, he maintains that his business records - which Nicole has filed subpoenas to obtain - are none of her business.
It was rumored and speculated Dre fathered a daughter with Kili Anderson, who was allegedly born in January 2015. Word on the curb is that Dre had his team scrub the baby story from the site that broke the story.
The three ladies have hired attorney Kris LeFan to stay out of the divorce drama. Their attorney filed a motion this week "to squash the subpoenas...none of the women has 'information relevant to the enforceability' of the pre-marital agreement."
All of the divorce drama over Dre's $1 billion empire stems from a pre-nuptial agreement they signed in 1996. Nicole filed documents claiming she was forced to sign the prenup under duress on their wedding day. Two years later, Dre supposedly told her he was ashamed he made her sign the prenup and allegedly tore it up in front of her.
It was previously reported that their prenuptial agreement could possibly mean Nicole will NOT be entitled to half of her husband's $1 billion fortune. Yikes! However, some courts will deem a prenup stale or invalid after 10 years if it isn't updated.
According to reports, Dr. Dre wants a Los Angeles Superior judge to decide if the prenup is still valid and enforceable. He said until that decision is made, his business records are none of her business. Earlier this month, a judged rejected Nicole's request for the superproducer to pay her $1.5 million to cover the cost of personal security.
Photo: Tinseltown/Shutterstock.com
​ ​
​ ​ ​