Lil Wayne Ripped To Shreds After Posting Photo-Op With Trump Days Before The Election
​
Oct 30 | by _YBF
​ ​ ​ ​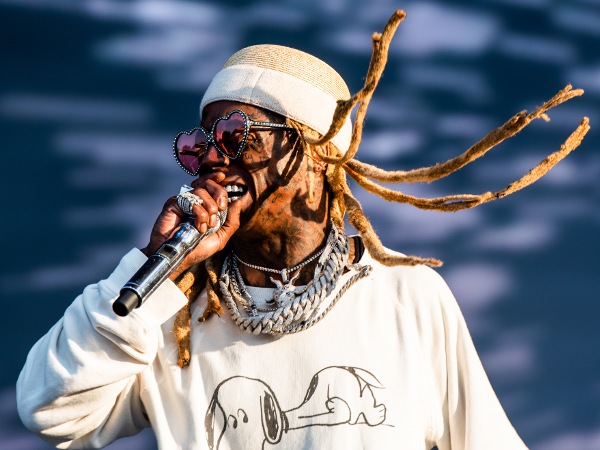 Lil Wayne has been getting dragged on social media after posting his Trump photo-op, endorsing the former reality star for the upcoming presidential election. More inside…
Rap and politics!
We're less than a week away from Election Day 2020 and candidates Trump and Joe Biden are down to the wire with their campaign efforts. They're speaking at swing states and the campaign ads are everywhere in an effort to nab votes from undecided voters.
In comes Lil Wayne…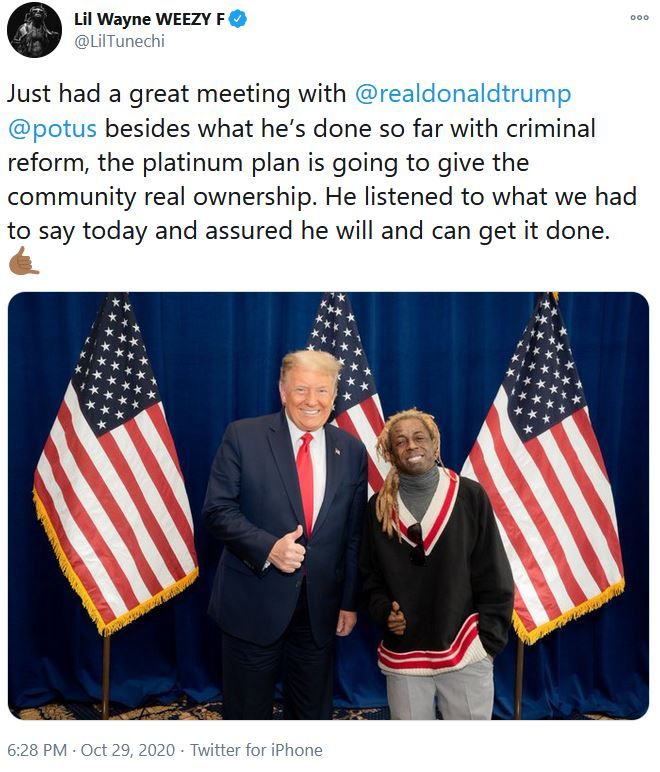 The Young Money rapper - who can't even vote - met with Trump yesterday to discuss his proposed "Platinum Plan" for black economic empowerment. The New Orleans native posted a picture of himself all smiles standing next to Trump, calling the plan "great."
The gag is, no one is surprised, esp. not a rapper and father of a black woman who says "exotic women" are "better than black women". And especially not when the okie doke is offered out of desperation 5 days before an election when dude has been in office for 4 years. The same dude who was in this same position when Wayne was searched, seized and arrested for gun and drug possession - wrongfully according to him - multiple times. But yes, that same guy who was President during all those arrests will magically NOW create criminal justice reform with something more than words.
You'll recall, Wayne was kiki'n with 50 Cent about exotic women being better than black women. After recanting his Trump endorsement a few days ago, 50 Cent (who admitted earlier this week he was "trolling" for s**ts and giggles when he posted support of Trump and is backing Biden - so he says) hopped on Twitter to blast Weezy for posting the Trump picture.
oh no WAYNE, I WOULD HAVE NEVER TOOK THIS PICTURE. #bransoncognac #lecheminduroi pic.twitter.com/SZAQ0Zm7Ks

— 50cent (@50cent) October 30, 2020
And he wasn't the only one:
You're a fucking idiot, dude.

— Keith Andrew (@tweeting_keith) October 29, 2020
.@blackwomenviews on Lil Wayne endorsing Trump: "I'm really sick of you gremlin degenerates who come out here and push Donald Trump's propaganda because you want your fucking tax cuts." pic.twitter.com/EWKsYSi6Go

— chris evans (@notcapnamerica) October 30, 2020
Lil Wayne said Black Lives Matter has nothing to do with him because he's rich. Now I understand why he supports Donald Trump instead of supporting the Black community.

— Keith Boykin (@keithboykin) October 29, 2020
50 Cent, Ice Cube, Kanye West, Lil Wayne (Weezy) and all the others endorsing Trump.

Malcolm : pic.twitter.com/yREaJkszPe

— Maiestas (@Ebenezer_Peegah) October 30, 2020
5 days to an election and someone in the Trump orbit thought meeting with Lil Wayne would be a game changer. pic.twitter.com/zijmvswOjC

— Alvin aqua Blanco (@Aqua174) October 30, 2020
Hmph.
You can watch the full Dateline interview Lil Wayne did a few years ago where he said he doesn't feel connected to the Black Lives Matter movement and that he hardly experiences racism below:
So his blind support and ability to be easily persuaded by a con artist should come as no surprise.
Also....
Lil Wayne was one of 274 celebrities vetted for a botched $265 million Trump campaign ad — Demographic: Black Americans, 'Super Spreaders,' and General population.

Ludacris, Betty White, and Britney Spears are among the celebs that turned them down. https://t.co/R9Mwkfhy6I pic.twitter.com/e92teCyqhz

— UberFacts (@UberFacts) October 30, 2020
Lil Wayne was 1 of 274 celebrities the Trump administration vetted for their political views as part of a $265 million public service campaign on the Coronavirus, according to House lawmakers. Interesting, since the Trump Administration loves to say celebrties' opinions are meaningless.
According to CNBC, the ad campaign was designed to advance Trump's "partisan political agenda" ahead of the Nov. 3rd presidential election. The new documents indicate that HHS officials may have violated federal contracting law, the lawmakers said.
Celebs like Viola Davis, Trevor Noah, Zoe Saldana, Samira Wiley and more declined his offer. You can see the full list here.
Meanwhile, Wayne's daughter Reginae Carter has been chopping it up with young voters who are backing former Vice President Joe Biden:
It's #NationalVoterRegistrationDay and @BidenHbcu and @BidenHbcu had their second On the Yard conversation on IG Live with @reginae_carter1. Let's just say @rickhart_ was blushing a bit after this discussion on Black #youthvote! #BidenHarris pic.twitter.com/MoJDcwFbc6

— Lubna Sebastian (@LubnaSebastian) September 22, 2020
Thoughts?
Photo: Ted Alexander Somerville/Shutterstock.com
​ ​
​ ​ ​