'Queen Sugar' Star Dondré Whitfield Goes In On Black Artists Who Fell For Trump's Okie Doke, Exposes Administration For Offering Celebs Private Jet Rides To 'Come Meet Trump'
​
Nov 03 | by _YBF
​ ​ ​ ​
"Queen Sugar" actor Dondré Whitfield has something super important to tell you about how the Trump administration is using Hip Hop artists for photo-ops. No surprise there. Deets inside...
Dondré Whitfield is spilling some political tea – if you want to call it that because a lot of us already see through this crap.
The "Queen Sugar" star was in the middle of making dinner for his kids when he realized he had to make this video because it was on his heart. And in these days, who can blame him. Multi-tasking at its best.
The motivational author said he found out the Trump administration is calling up prominent Hip Hop artists inviting them to come out to speak with him. When the artists agree to meet, they are met with cameras to grab the photo-op and have it shared on social media.
"They are trying to create photo-ops," Dondre said in the video.
Dondre said he's not going to name names because he's "not attacking the person," he's "addressing the position." And he said the positions these artists are stepping into are dangerous to our community.
Dondre slammed the Hip Hop artists who fell for "okie doke" – and y'all already know who they are. However, he said he's not canceling his "brothers," but he's holding them accountable. He said he's going to unfollow them and make sure none of his money goes into "those" pockets.
"We ain't canceling nobody. But check this out. If you do what's not good for black people we still have to follow you? We still have to follow you? We still have to support you? Helh naw!," he said.
Peep his full video below:
Further backing Dondre's claim...
Rapper Rich the Kid shared on social media Trump tried to put him on a jet to Michigan ahead of today's presidential election. He made the revelation on his IG Stories, confirming he declined the offer: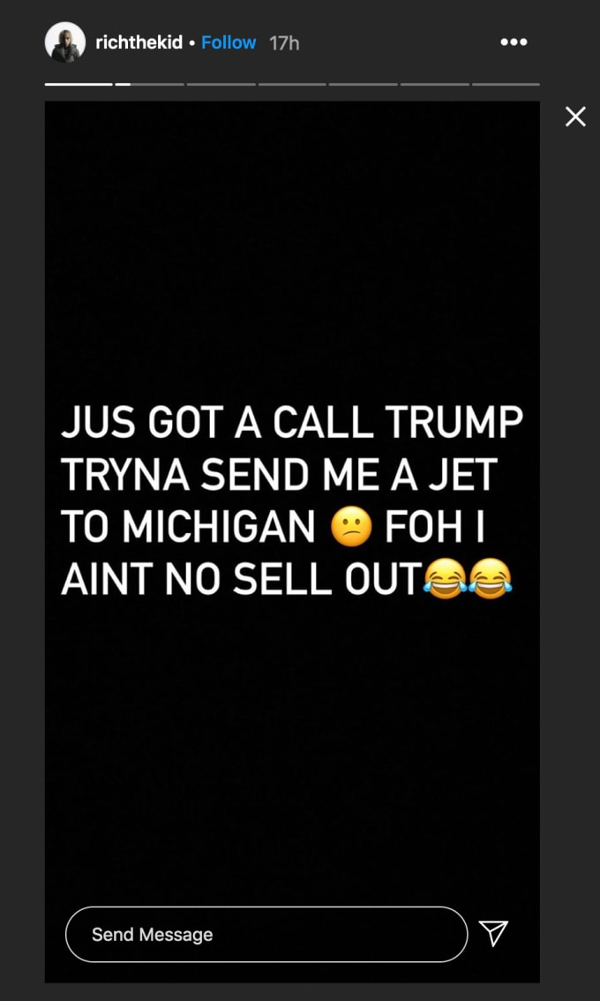 "Jus got a call Trump tryna send me a jet to Michigan FOH," he said. "I ain't no sellout."
Then, he shared screenshots of the texts he received: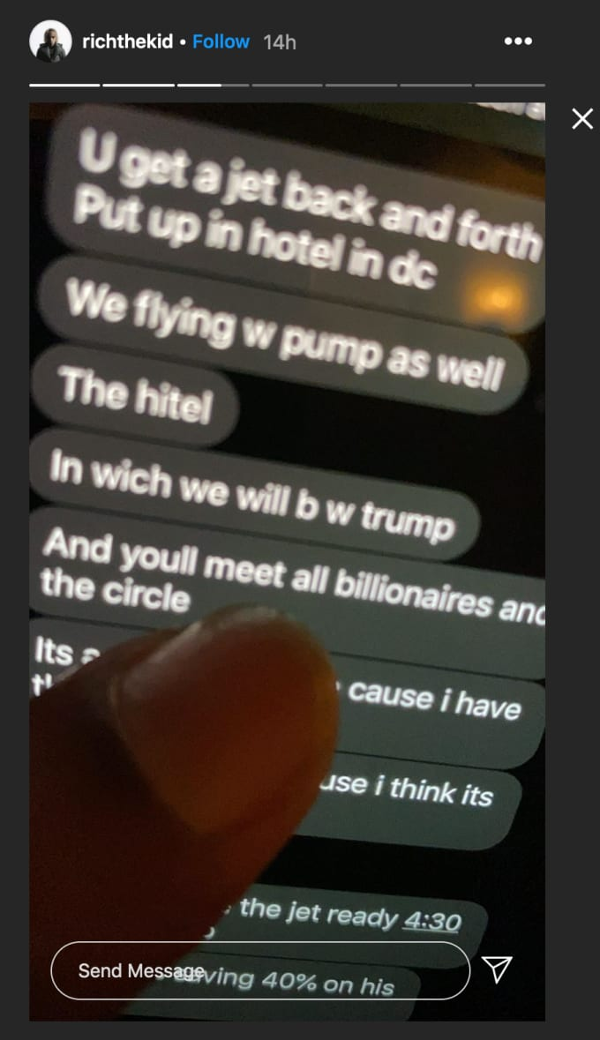 Maybe this explains why rappers haven't hesitated to publicly back Trump, including Lil Wayne & Lil Pump.
Speaking Wayne...
Rich the Kid posted pics of himself with Wayne at a skate park in Miami amid Weezy's political drama.
So, yeah...
Photos: Dondre's IG
​ ​
​ ​ ​