Nation Braces For Unrest: Beverly Hills, NYC & More Police Departments Put On MASSIVE Show Of Force For Possible Post-Election Rioting
​
Nov 03 | by _YBF
​ ​ ​ ​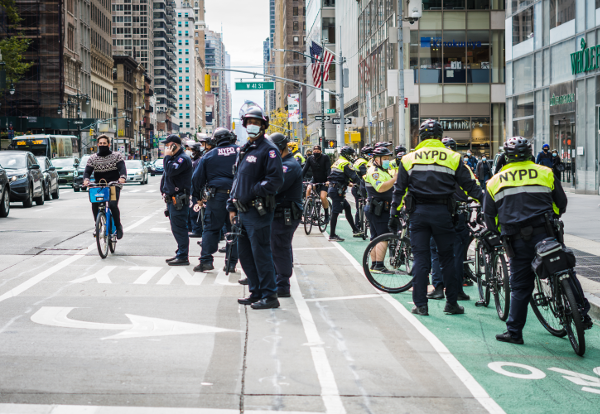 ELECTION Day is finally here. And while we're preparing our liquor and snacks to calm our anxiety (keep your judgment), police departments across the nation are gearing up for possible post-election rioting. Here's what some cities have in store amid the 2020 presidential election…
This election will likely be one of the most elections of our lifetimes. And whether Trump or Joe Biden wins the job as commander-in-chief, social unrest is being predicted as we wait to find out who will claim victory.
Political tensions have been rising across the country. Trump supporters allegedly tried to run a Biden-Harris campaign bus off the road in Texas over the weekend. The FBI is now investigating the incident.
Police departments across the country are bracing for possible post-election, unrest, violence, and rioting. Businesses are preparing for the worst, boarding up their stores to keep rioters and looters away.
A "non-scalable" fence surrounding the White House went up last night as authorities are taking precautions for any worst-case scenarios that could come up tonight.
Check it:
Fence is going up around the entire White House complex, not just Lafayette Square, in preparation for tomorrow. pic.twitter.com/P3NdOxp16B

— Abdallah Fayyad (@abdallah_fayyad) November 3, 2020
JUST IN: White House Building 'Non-Scalable' Fence, Increasing Security Ahead of Election.
Right now in downtown Washington DC, workers board up dozens of businesses. @nbcwashington #ElectionEve #Election2020 pic.twitter.com/22OmzEphB9

— Shomari Stone (@shomaristone) November 3, 2020
On the west coast…
Beverly Hills Police Show of Force Alarms Neighboring Police Depts. https://t.co/piUOAYPmDg

— TMZ (@TMZ) November 3, 2020
According to TMZ, the Beverly Hills Police Department is going all out with massive force to combat any unrest. It's reported the department is mobilizing its entire force to "keep the peace," which includes SWAT members from Santa Paula to join them.
The site reports:
The Beverly Hills City Council voted to pour $4.8 million into security around the election. They have hired SWAT members from Santa Paula, armed private security companies, and additional equipment to protect the city and its 35,000 residence from violence.

There is lots of equipment too, including armored SWAT vehicles, guns and plenty of them.

The City Council authorized the police to initiate "the full deployment of sworn and non-sworn staff to work rotating 12-hour shifts" beginning last Saturday and the Police Chief and the Mayor have said the show of force will continue through this week. The idea, presumably, is to make sure everyone sees Bev Hills means business, so people gunning for violence should stay clear of the City. As TMZ reported, there was a massive presence on the streets this weekend, with armored vehicles and armed cops everywhere.
Surrounding police departments feel like Beverly Hills is essentially INVITING violence, which is understandable.
Here's the problem. High up sources from LAPD and other law enforcement agencies tell TMZ they are shocked BHPD is out on the streets with a show of force ahead of the election. As one very high up law enforcement source told us, "This is like waving a red flag in front of a bull. The City is essentially challenging people to come to the City to confront authority." That source said the City Council may have had good intentions, but the show of force will actually make the City unsafe if looting or rioting occurs.
Businesses in Washington D.C., Chicago, Miami, Atlanta and more are all boarded up:
A picture I took yesterday showing #WashingtonDC being boarded up in anticipation of violent acts after the #USPresidentialElections2020. Let's pray this is not the case. But is Democracy in crisis in the #USAElections2020? pic.twitter.com/Tn3eG7h8Qe

— Roselyn Lemus-Martin (@roslemusmartin) November 3, 2020
This is downtown of my beautiful #chicago
Boarded. Fear of violence.

Not right and should make everyone sad.

NO VIOLENCE PLEASE for the million times. No matter who wins, NO VIOLENCE pic.twitter.com/NP5HzWM5Ws

— chadi nabhan MD, MBA, FACP (@chadinabhan) November 3, 2020
A few stores in midtown Miami and the design district appear to have boarded up their windows ahead of Election Day. @MiamiHerald pic.twitter.com/YsV79F9PU1

— Martin Vassolo (@martindvassolo) November 3, 2020
RIGHT NOW: Some high-end stores in Miami's Design District are being boarded up ahead of tomorrow's election #Election2020 #Miami #Florida #Fendi #rightnow @WPLGLocal10 pic.twitter.com/W8t0wMFzC8

— Christian De La Rosa (@delarosaWPLG) November 3, 2020
Lenox Square is all boarded up, outside near the Nike store, ahead of the elections. (IG: jeffrey_hullinger) pic.twitter.com/LZgjZAL5KE

— Chenue Her (@ChenueHer) November 3, 2020
stores across america boarded up ahead of potential unrest today #ElectionDay —

states at high risk:

- Georgia
- Michigan
- Pennsylvania
- Wisconsin
- Oregon

states at moderate risk:

- North Carolina
- Texas
- Virginia
- California
- New Mexico

stay safe pic.twitter.com/iHg1mgayRN

— malick mercier in a (@ClassyMalick) November 3, 2020
The aftermath of the election. What can we expect ahead? Will there be demonstrations? Violence? We just don't know. These Broad Street windows are being boarded up in Richmond in case any unrest unfolds. Some storefronts have been boarded up since summer riots. (Thread) @8NEWS pic.twitter.com/EwWjkn2q4i

— Ben Dennis 8News (@broadcastben_) November 2, 2020
The National Guard has reportedly touched down in Chicago and Philadelphia.
Illinois Gov. JB Pritzker has mobilized the National Guard in Chicago to be on standby for any unrest and asked residents to be patient with election result "that could take days." Armed troops are in Philly after dealing with social unrest following the shooting of Walter Wallace Jr. Also, Texas will reportedly mobilize the National Guard in cities if there is unrest as businesses board up their windows in anticipation of violence.
Also...
Trump supporters attacked a Black Lives Matter protester and police did nothing about it.
Insane!
Be careful O'Fab Ones & GO VOTE!
Photo: Steve Sanchez Photos/Shutterstock.com
​ ​
​ ​ ​