The OTHER Big Election News: 'The Squad' & First Two Openly Gay Black Congressman Elected, Georgia DA Who Handled Ahmaud Arbery Case OUSTED!
​
Nov 05 | by _YBF
​ ​ ​ ​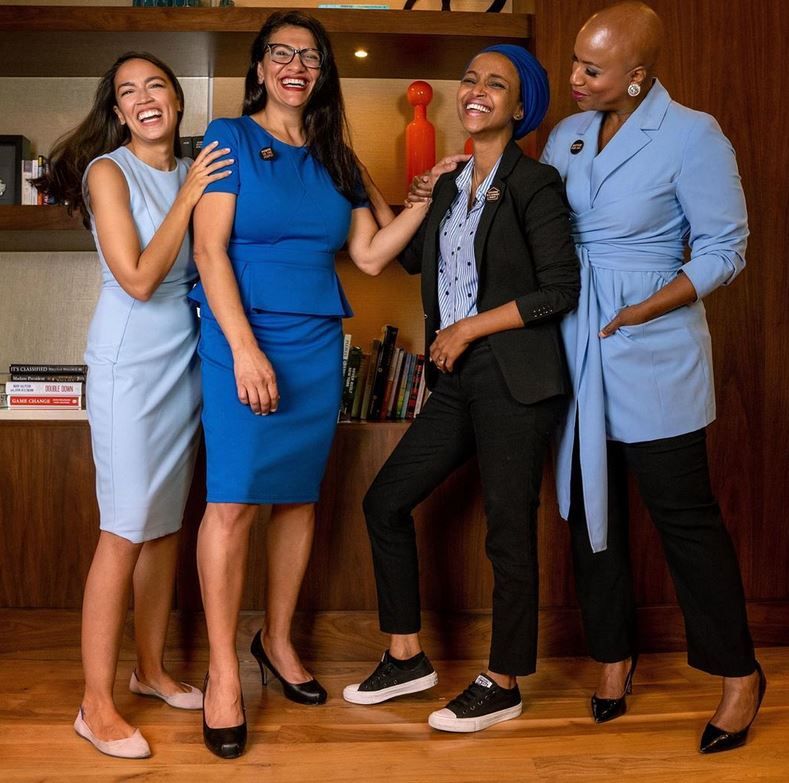 We're still waiting for official confirmation on who will become the president of the United States, however, there were several key election results that you should know. More inside…
"Our sisterhood is resilient," – Democratic Congresswoman Ilhan Omar tweeted.
Great to have you all back, thank you for your hard work and dedication pic.twitter.com/JwEjCIQzz6

— Koptic King (@kopticking) November 4, 2020
All four members of "The Squad" - Alexandria Ocasio-Cortez of New York, Rashida Tlaib of Michigan, Ilhan Omar of Minnesota, and Ayanna Pressley of Massachusetts – are back! All four Congresswomen – known as "The Squad" - have been re-elected to serve in the House of Representatives.
And Trump is MADT (no typo). Y'all know he can't tolerate women running ish.
After they were initially sworn in in 2018, they dubbed themselves "The Squad" and went to battle with Trump, who fired shots at them on Twitter last year. You'll recall, he falsely https://www.cbsnews.com/news/all-four-members-of-the-squad-win-reelectio... ">tweeted that they "originally came from countries whose governments are a complete and total catastrophe," and said they should "go back" to them. All four congresswomen, of course, are U.S. citizens and three were born here; Omar, a Somalian refugee, has been a citizen for two decades.
Congrats ladies!
Also…
The first two openly gay Black men have been elected to Congress after they were declared winners in the House races. Both are from New York.
Democratic Reps.-elect Ritchie Torres (who is a twin!) and Mondaire Jones will enter the House in January. Torres won the primary and replaced retiring Rep. José Serrano in the 15th Districtwhile Jones won the primary to replace retiring Rep. Nita Lowey in New York's 17th District.
I am humbled by the trust voters in Westchester and Rockland have placed in me, and grateful for the opportunity to serve the community that raised me — the community that just sent an openly gay, Black guy who grew up in Section 8 housing and on food stamps to Congress. https://t.co/O88nA5LN5q

— Mondaire Jones (@MondaireJones) November 4, 2020
Congrats!
Baltimore City Council President Brandon Scott is Baltimore's new hot leader, becoming the city's 52nd mayor!
"Being elected mayor is the honor of a lifetime, and I could not have done it without you," the 36-year-old wrote on IG. "Thank you to all the volunteers and supporters. Most of all, thank you to the voters of Baltimore. Tonight, we embark on a new way forward for our city together. In service, Mayor-Elect Brandon M. Scott."
Also…
Brunswick, Georgia has successfully voted District Attorney Jackie Johnson out of office.

Jackie Johnson is the woman who mishandled the deadly shooting of Ahmaud Arbery. pic.twitter.com/84WhpEIzU8

— Everything Georgia (@GAFollowers) November 4, 2020
The Georgia District Attorney who was criticized for her handling of the killing of 25-year-old Ahmaud Arbery was ousted! Jackie Johnson lost her re-election bid to challenger Keith Higgins.
The Hill reports:
Johnson lost the election to Higgins, an assistant district attorney of 23 years, by about 5,000 votes, according to The Brunswick News. Johnson had been criticized for her conduct surrounding Arbery's case in part for using her influence to undermine a police investigation. Johnson has insisted that she acted appropriately. According to The Washington Post, district attorneys are rarely voted out of their positions, but the rise in protests against the killing of unarmed Black people placed Johnson at a disadvantage from the beginning of her campaign.
Ahmaud Arbery was shot and killed while jogging in Brunswick on Feb. 23rd by former police officer Gregory McMichael and his son Travis McMichael, who chased Arbery in their truck. They claim they thought he was responsible for several break-ins in their area. They're currently awaiting trial.
We're bummed Dr. Cameron Webb lost against Republican Bob Good for Virginia's 5th District congressional seat. We're also sad Jamie Harrison lost against Lindsay Graham for South Carolina's U.S. Senate seat. But both made historic waves in their HEAVILY red district/state, which proves it's quite likely a flip is on the horizon.
On the bright side, black voter turnout was LIT across the nation! According to reports, more than one-third of eligible Black voters living in nine of the nation's most competitive states, standing to swing the vote in those battlegrounds from Arizona, Michigan, Georgia and Wisconsin.
We'll leave this here:
"The Black vote in Detroit is the highest it's ever been, and we will determine the outcome, because we've gone from picking cotton to picking presidents." https://t.co/I1CgDie6Aq

— Clint Smith (@ClintSmithIII) November 4, 2020
And this is how we get things done, folks!
Photos: Reginald Cunningham
​ ​
​ ​ ​