COME AGAIN? Trump's Spiritual Advisor Paula White Delivers Weird Prayer For His Re-Election – 'The Angels Have Been Dispatched From Africa'
​
Nov 05 | by _YBF
​ ​ ​ ​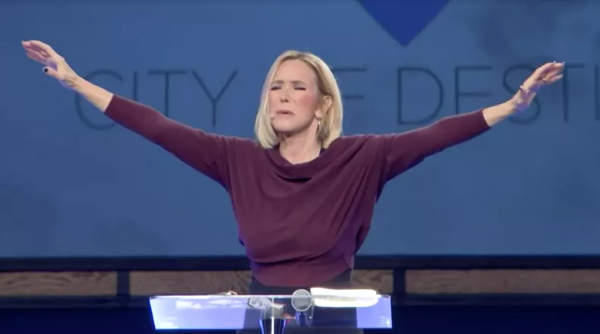 As we wait for all of the ballots in the 2020 presidential election be counted, Trump's spiritual advisor Paula White hosted a victory prayer for his re-election. And in her prayer, she told her congregation angels from Africa had been dispatched to secure a win for Trump. Come again? More inside…
The foolery is at an all time high as we wait for all of the ballots in the 2020 presidential election to be counted. Trump is slowly catching feelings of defeat, doing everything possible to delay the ballot counting process. He has already sued three states – Pennsylvania, Michigan and Georgia – to lay the groundwork for contesting battleground states that voted for Joe Biden. The Trump administration is also asking for a recount in Wisconsin.
As Trump wages war on the political process, his spiritual advisor is sending prayers up that he ultimately claims a victory to return to the White House.
Paula White led a prayer for Trump's victory that was streamed live on Facebook yesterday. The televangelist took aim at the "demonic confederacies that are attempting to steal the election from Trump" with chant-like prayer/speech where she called on angels from Africa to help Trump declare victory. Ma'am!
"I hear victory, victory, victory, victory, victory, victory, victory, victory right now in the corners of heaven," she said. "Angels are being dispatched right now. Angels have been dispatched from Africa right now. Africa right now. They're coming here, in the name of Jesus, from South America. From Africa, from South America. Angelic reinforcers."
Chile….
Check it:
Presidential spiritual adviser Paula White is currently leading an impassioned prayer service in an effort to secure Trump's reelection. pic.twitter.com/hCSRh84d6g

— Right Wing Watch (@RightWingWatch) November 5, 2020
This meme below perfectly describes our feelings about "African angels" being dispatched on behalf of Trump.
Meanwhile angels in Africa lookin at her like pic.twitter.com/bo3FmzxCP1

— Franchesca Ramsey (@chescaleigh) November 5, 2020
Exactly!
In case you care, you can watch her full prayer here.
As of the time of this post, Joe Biden has 253 electoral votes and Trump has 213. LET'S GO!
Photo: Screenshot
​ ​
​ ​ ​