ALL HAIL THE DEMOCRACY QUEEN! Stacey Abrams Gets ALL The Praise (Rightfully So) After Georgia Flips Blue!
​
Nov 06 | by _YBF
​ ​ ​ ​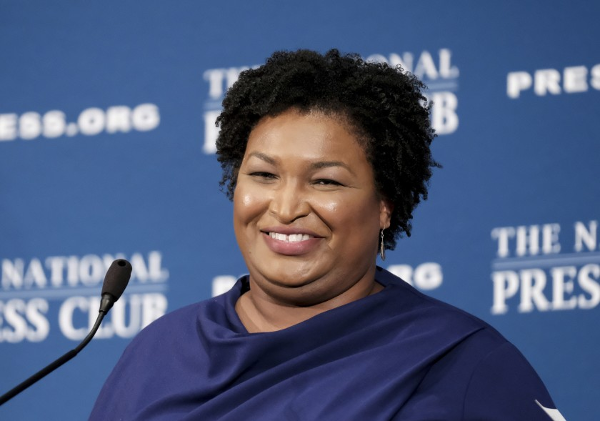 Stacey Abrams is receiving ALL the praise that she's rightfully due for her efforts to fight voter suppression in Georgia. Celebrate our democracy queen inside…
Bow down, Republicans!
The decades-long actions that intentionally suppress the democratic vote in Georgia have been handled. And we have Stacey Abrams to thank.
Stacey Abrams was the Democratic party's nominee in the 2018 Georgia gubernatorial election where she ended up losing against her opponent Brian Kemp. There were accusations that Kemp engaged in voter suppression. Guess what? Stacey wasn't about to let it happen again!
Following her lost, Stacey continued to "organize and work to ensure voting rights to the most disenfranchised people."
Reminder from Fair Count VP @JAbramsMcLean

If you voted by provisional or paper ballot on election day, you must follow up to ensure your vote is COUNTED
Contact the Elections Protections Hotline @ 866-OUR-VOTE to get help

Your vote is your voice#EveryVoteCounts pic.twitter.com/rLXhvtsXSa

— Fair Count (@faircount) November 5, 2020
And she didn't let up.
Stacey launched the Fair Fight initiative to wage war on controversial practice such as voter-roll purging, removal of polling locations and the restrictive "exact match" rule for ballot signatures, which happened during her gubernatorial campaign.
Stacey Abrams didn't quit and fought the good fight which helped flip the state of Georgia blue - for the first time since 1992 - in favor of Joe Biden and Kamala Harris. Woot!
Last night, Biden-Harris took the lead in Georgia – a battleground state – as ballots continued to be counted. She gave a shoutout to everyone who has been organizing and working in the "trenches" to fight voter suppression, including late Congressman John Lewis.
Georgia, let's shout out those who've been in the trenches and deserve the plaudits for change.

— Stacey Abrams (@staceyabrams) November 6, 2020
WOOT!
Peep the celebratory tweets below:
#StaceyAbrams #JamesClybourn all poll workers, those tallying the vote and to everyone who voted this is for you, https://t.co/mlIMxxfn5I
— octavia spencer (@octaviaspencer) November 6, 2020
Sen. Chris Coons tells @MSNBC that Stacey Abrams brought a plan to him 6 years ago to flip Georgia blue: "We've got a very strong ground game in Georgia because of the leadership of Stacey Abrams."

— Kyle Griffin (@kylegriffin1) November 6, 2020
— Gabrielle Union (@itsgabrielleu) November 6, 2020
A thread tribute to an amazing woman. @staceyabrams #StaceyAbramsAppreciationDay #Election2020 #TurnGeorgiaBlue pic.twitter.com/3iNIkn1ylW

— Anu Ravipati (@tres_organized) November 6, 2020
Hey, ATL, how much does a billboard cost? Say, on West Paces Ferry Rd.@ProjectLincoln#StaceyAbramsAppreciationDay pic.twitter.com/O0jXQLYa3p

— It's not me it's you (@just_shhhhhhh) November 6, 2020
In all seriousness, Stacey Abrams did an incredible thing in GA and across the country. After losing her election due in large part to voter suppression, she continued to organize and work to ensure voting rights to the most disenfranchised people.

— roxane gay (@rgay) November 4, 2020
Yes Stacey Abrams!!! Chin up! Like the democracy saving queen that you are! https://t.co/KKwROX7sBQ

— Shea Couleé (@SheaCoulee) November 6, 2020
Stacey Abrams!!!!!!! https://t.co/GMUaI909FQ

— Eva Longoria Baston (@EvaLongoria) November 6, 2020
Today, folks were on Twitter and black women started trending with people thanking black women for turning up at the polls.
For everyone who is thanking Black people and Black women specifically, I want y'all to please keep that same energy when it comes to policy as well as pay.

— Dr. Chaya Crowder (@ChayaCrowder) November 6, 2020
Let's be clear. Black women voted in our own best interest. Not soley to save others. If that happened to be what was best for the masses as well, then ...what does that say?
Trust black women. Listen to black women.
Black women want protections of their human rights, equal pay, justice in sexual assault and rape cases, unbiased lending practices in business and home ownership instead of just a "thank you" for saving America from itself.
Instead of "thanking" Black women, Black voters, and especially, Black organizers...

... give us the investments we need and deserve, redistribute wealth, ends police violence, abolish the carceral state, commit to building Black directed political power... and reparations.

— Summer Lee (@SummerForPA) November 6, 2020
This woman and many many other brilliant American women of color have led us to this place of hope. Let's all share the burden of justice going forward. THANK YOU. AND COME THE FUCK ON WHITE WOMEN. pic.twitter.com/habytZgldC

— Paula Pell (@perlapell) November 6, 2020
PSA: You can celebrate, support, champion, honor, protect, listen to and fight for black women year round not just quadrennially because, get this–– our value exists independent of what we do for white people.

— Natasha Rothwell (@natasharothwell) November 6, 2020
And that's on PERIOD.
Photo: Michael A. McCoy / Associated Press
​ ​
​ ​ ​