New NBA Season Reportedly Set To Start December 22nd, Fans Allowed In Suites?!
​
Nov 06 | by _YBF
​ ​ ​ ​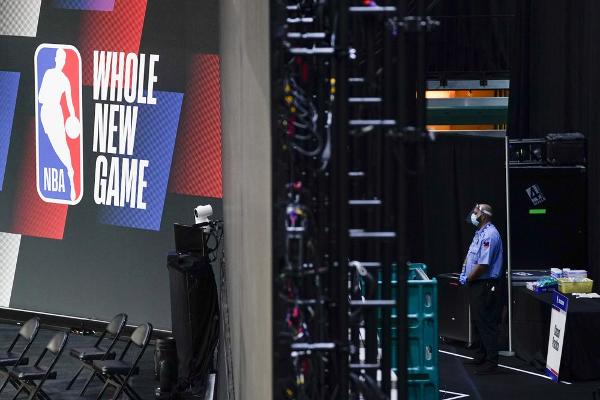 Yep, the NBA is already talking about its next comeback. And it'll be here sooner rather than later. More inside...
The Los Angeles Lakers won the 2020 NBA Championship in the Orlando Bubble back in October. And now, the next season is gearing up to start already. The reason? The COVID-19 pandemic.
When the pandemic hit the United States, it put a halt on everything, including the NBA. However, the National Basketball League was able to come up with the Orlando Bubble as a way to finish out the 2019-20 season in a controlled fashion to keep players and their families safe.
Now, the 2020-21 season is about to be underway.
NBPA STATEMENT ON THE 2020-2021 NBA SEASON START DATE AND SCHEDULE

: https://t.co/BmNtnYsm63 pic.twitter.com/AvCaVAOWK7

— NBPA (@TheNBPA) November 6, 2020
The National Basketball Players Association voted to support the notion of starting the 2020-21 season on Dec. 22nd, which would include a reduced 72-game schedule.
ESPN reports:
The NBPA's board of player representatives voted to approve the pre-Christmas start on a conference call with NBPA executive director Michele Roberts, sources said. The NBA and NBPA are planning to discuss the opening of free agency as quickly as possible after the Nov. 18 NBA draft to accommodate player movement with such a short window to the opening of training camps on Dec. 1, sources said.

In a statement, the NBPA said: "Additional details remain to be negotiated and the NBPA is confident that the parties will reach agreement on these remaining issues relevant to the upcoming season."

The league and players are still negotiating financial terms of an amended collective bargaining agreement, and those talks are expected to extend into next week, sources said. Once a formal agreement is reached, the league will lift a moratorium and reopen the league for business on trades prior to the draft.
If negotiations are finalized, NBA fans can expected televised Christmas Day games. The new season would wrap up right before the Summer Olympics in July, which is worth between $500 million and $1 billion in short- and long-term revenues to the league and the players, sources said.
As for fans - it looks like a small number might possibly be allowed in home arenas. But, in the suites.
The coronavirus pandemic has made life fluid, and a clinical vaccine will play a role in this too. NBA's goal is some amount of fans to start the season, depending on each market's restrictions. Courtside fans, for instance, would be about 10-to-12 feet away, sources said. https://t.co/9I9cdN1gN3

— Shams Charania (@ShamsCharania) November 5, 2020
While we're still side eyeing this a bit without a Covid vaccine in sight, we KNOW NBA fans are excited!
Photo: AP Photo/Ashley Landis
​ ​
​ ​ ​