Trump FIRES Secretary of Defense Mark Esper + Trump's Former Lawyer Says He'll Likely Flee To Mar-a-Lago & Will Never Return To White House
​
Nov 09 | by _YBF
​ ​ ​ ​
Trump is having a post-election FIT! He just fired Secretary of Defense Mark Esper amid ongoing tensions. And he has been recklessly tweeting on Twitter, per usual. Get those deets, plus what Trump's former lawyer think he'll do next inside…
The post-election shakeup!
Trump is mad y'all! He can't take the fact he lost the 2020 presidential election, so he's causing drama before his exit. Of course.
Days after it was projected that Joe Biden & Kamala Harris will be the next President and Vice President of the United States, Trump went into overdrive on social media. He hopped on Twitter to announce he "won" the election "by a lot" even though the ballots and electoral votes said otherwise.
As the ballots were being counted, Trump hit the hit the golf course as the election as multiple people tested positive (again) for Coronavirus in HIS White House over the weekend. There was over 100K additional cases that popped up in the US in 24 hours. No sweat off Trump's back. He was busy golfing.
Today, he threw a fit and fired the Secretary of Defense Mark Esper. He announced Christopher Miller - who serves as director of the National Counterterrorism Center - will become acting secretary "effective immediately."
I am pleased to announce that Christopher C. Miller, the highly respected Director of the National Counterterrorism Center (unanimously confirmed by the Senate), will be Acting Secretary of Defense, effective immediately..

— Donald J. Trump (@realDonaldTrump) November 9, 2020
Apparently, there was tension brewing between Trump & Esper before the firing. CNN reports:
Esper's increasingly tense relationship with Trump led him to prepare a letter of resignation weeks ago, an attempt to fashion a graceful exit in the widely expected event that the President decided to fire him, several defense sources, including one senior defense official, told CNN.

Esper had been on shaky ground with the White House for months, a rift that deepened after he said in June that he did not support using active-duty troops to quell the large-scale protests across the United States triggered by the death of George Floyd at the hands of police. Esper also said military forces should be used in a law enforcement role only as a last resort.

His remarks from the Pentagon briefing room were seen by many as an effort to distance himself from Trump's threats to deploy the military to enforce order on American city streets and went over poorly at the White House, multiple people familiar with the matter said.

According to multiple administration officials, White House sentiment about Esper had been souring for some time, with both Trump and national security adviser Robert O'Brien viewing him as not entirely committed to the President's vision for the military.

For months, Trump and O'Brien had been frustrated by Esper's tendency to avoid offering a full-throated defense of the President or his policies, the administration officials said. One administration source told CNN that Trump had no respect for Esper, leaving the defense secretary with little influence and little choice but to take his lead from Secretary of State Mike Pompeo.
No surprise here Trump is using his power during his post-election meltdown. Trump's defense team has been hard at work trying to find a loophole that would get him to serve out a second term. Trump's legal team has already suffered losses in Michigan and Georgia courts this week, but Trump has pledged to keep moving forward with a legal strategy that he hopes will overturn state results that gave Democrat Joe Biden the win in Tuesday's vote.
Reuters reports:
The Trump campaign is fighting Philadelphia election officials over vote counting in the city, which continued on Saturday. A state court on Thursday granted the campaign closer access to the proceedings, a ruling that officials have appealed.

The City of Philadelphia Board of Elections has said its observation rules were needed for security reasons and to maintain social distancing protocols.

Trump's campaign on Wednesday filed a motion to intervene in a case pending before the U.S. Supreme Court challenging a decision from the state's highest court that allowed election officials to count mail-in ballots postmarked by Tuesday's Election Day that were delivered through Friday.
Trump's son, Donald Trump Jr., seemingly took a shot at the Black Lives Matter movement with a tweet about how Trump supporters aren't rioting:
70 million pissed off republicans and not one city burned to the ground.

— Donald Trump Jr. (@DonaldJTrumpJr) November 7, 2020
An innocent man was brutally murdered on camera either, but go OFF. Let's not compare apples to oranges.
So, what can American's expect from Trump during his final weeks as president?
According to Trump's former lawyer, Michael Cohen, the former reality star will likely flee to his headquarters at Mar-a-Lago, spend Christmas there and likely will NOT return to the White House for the transfer of power to Biden. He said Trump will likely fight the election results until January from his Florida property.
"I would not be shocked if there is no concession speech at all. My theory is that at Christmas time he goes to Mar-a-Lago. I think he will stay there through the inauguration. I would not be shocked if he will not show up to the inauguration either," Mr Cohen said on MSNBC.

"He cannot let the camera look at him and basically pull down the curtain and see the wizard standing beside. He is just a loser and it is killing him and, right now, what is going on in the White House is nothing but finger-pointing."
WOMP!
As of the time of this post, Trump isn't giving any signs of conceding.
After it was projected Biden would WIN the presidential election, people ALL over the nation - including Chrissy Teigen & John Legend - stepped outside to celebrate. And it was the perfect day to do so as temperatures were high in many parts of the country. Look at GOD.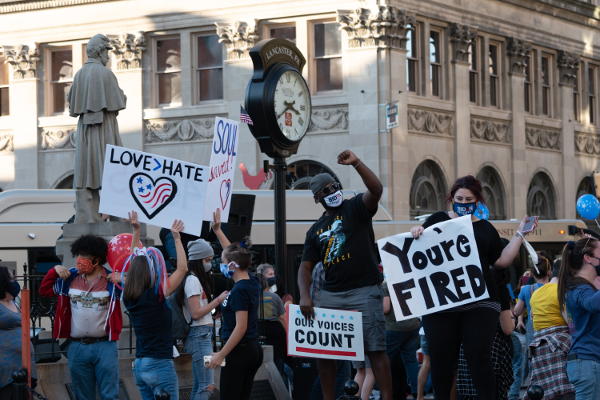 Peep the celebrations in Brookyln, L.A., Philly, Washington D.C. and more below:
@JoyAnnReid I just wanted to share these pictures from Saturday's celebration of Joe Biden's and Kamala Harris Celebration in Brooklyn pic.twitter.com/uZwdCzFvAF

— Jahlion (@Jahprince25) November 9, 2020
Brooklyn:

Postal workers getting the love they deserve.

Ok, this is awesome... pic.twitter.com/3mElStKMcb

— Rex Chapman(@RexChapman) November 7, 2020
WATCH LIVE: Crowds have gathered across SoCal, including in West Hollywood and DTLA, to celebrate Joe Biden being projected to win the presidential election. Here's video of a celebration in Venice. https://t.co/FdZ4isCUhq pic.twitter.com/xltK9LzQ0a

— NBC Los Angeles (@NBCLA) November 7, 2020
WATCH LIVE: Celebrations continue across SoCal after Joe Biden is projected to be the next president of the United States. This video captures celebrations in West Hollywood. https://t.co/IBG7rIWAow pic.twitter.com/rFOULufxhw

— NBC Los Angeles (@NBCLA) November 7, 2020
West Philly reacts to Biden's lead in Pennsylvania by dancing in the street, of course pic.twitter.com/WBuipfLydN

— Ellie Rushing (@EllieRushing) November 6, 2020
The Biden/Harris Philly dance party is on. Even Gritty is there.

Don't Stop 'til You Get Enough, Pennsylvania...pic.twitter.com/R4L1jWUo4x

— Rex Chapman (@RexChapman) November 7, 2020
lots of cheering and car horn beeps outside Philly city hall right now after news of Biden's win pic.twitter.com/vVqT8ZV6aJ

— Amber Jamieson (@ambiej) November 7, 2020
hundreds gathered at Philly gay bar Woody's lost it when Joe Biden referred to gay and trans Americans pic.twitter.com/gamnAWa68s

— Amber Jamieson (@ambiej) November 8, 2020
LIVE FROM BLACK LIVES MATTER PLAZA, WASHINGTON D.C. FOR BIDEN HARRIS pic.twitter.com/dd2cCYAzjW

— soft boi nat (@nat_meier) November 7, 2020
Washington, D.C. in front of White House as President-Elect Joe Biden set to take stage in Delaware: pic.twitter.com/8DwhxroW9a

— Molly O'Toole (@mollymotoole) November 8, 2020
Washington D.C. reacts to the news of Joe Biden being named President-Elect. Nonstop honking in downtown. @fox5dc pic.twitter.com/FymQkWeiLy

— Ama Arthur-Asmah (@Ama_A_Asmah) November 7, 2020
Dear Trump Supporters: He Rather Y'all Believe His Lie(Voter Fraud) & Continue To Divide This Country For His Own Self Ego. Before He Tell Y'all To Do The Right Thing & Support This New President & Administration. If He Was Smart He Would Know God Doesn't Like Ugly(Behavior)!

— Plies (@plies) November 9, 2020
This World Is Witnessing The Truth & Unveiling Of A "Fake Strong" (Trump) Man. He Was Never As Tough As He Wanted His Supporters To Believe. He Couldn't Handle Tough Questions(60min Interview), Nor Could He Handle Tough People (Kamala). He's A Insecure Child In A Mans Body!!

— Plies (@plies) November 8, 2020
Change is coming!
And let us find out Biden is letting his inner petty out now that he's our next president:
How it started How it's going pic.twitter.com/TiOluozUYk

— Dena Grayson, MD, PhD (@DrDenaGrayson) November 8, 2020
Photos: Stratos Brilakis/Drew William Anderson/Shutterstock.com/Amanda Edwards/Getty Images
​ ​
​ ​ ​