Future's BM Brittni Backtracks Abuse Allegations, Says She Doesn't Want To Paint Him As A 'Violent Hateful Man' + Future Jet Sets With New Boo Dess Dior
​
Dec 09 | by _YBF
​ ​ ​ ​
It seems the drama has finally settled, and now, Future's son's mother, Brittni Mealy, wants to clear the air. Some craziness went down during their son's birthday party, which caused Brittni to pop off on the ATL rapper. Now, she's rapping to a different beat. More inside…
It seems Future stays in a toxic, headline making situation. And its almost as if he craves being involved in some mess because he's always entangled in some drama.
Over the weekend, Future and his son's mother, Brittni Mealy, reunited to celebrate their son Prince's 8th birthday. The festivities featured an Iron Man-themed bash.
Brittni shared several photos from the b'day bash, wishing her son a Happy Birthday. We noticed in the 2nd photo below, she cropped Future out of the picture. She didn't fully crop him out though. She left just enough of his image (blonde dreads) in the photo to see she did the Diddy crop on the flick:
You can see the High Off Life rapper featured in his birthday video compilation below:
Looks like everyone had fun. So, what's tea?
Well, during the party (or as it was ending) Brittni hopped on social media sharing video of herself yelling and screaming at her son's father. Check it:
#Future babymama #Brittni arguing after their son #Prince birthday. Allegedly Brittni is mad because Future has been with another girl from Atl pic.twitter.com/CzJq6kkHh8

— WHATSPOPPINTEA (@whatspoppintea) December 5, 2020
On IG Stories, she wrote Future told his son "f*ck him" and that he threatened to SHOOT her. Peep the posts below: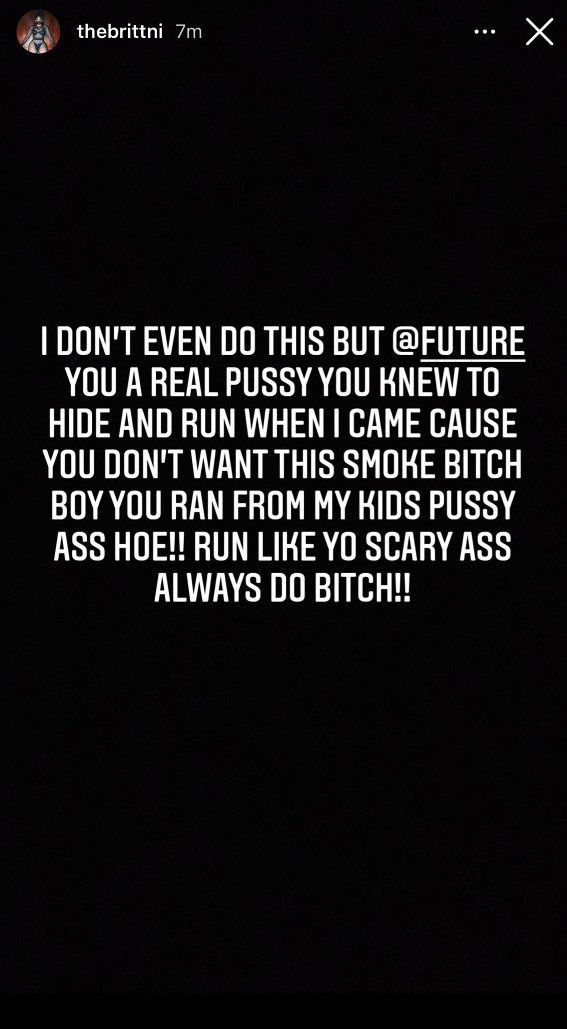 "I don't even do this but @Future you a real p*ssy. You knew to hide and run when I cam cause you don't want this smoke b*tch boy. You ran from my kids p*ssy a** h*e!! Run like yo scary a** always do b*tch!!," she wrote.
"Who TF tells a 8 year old fuck him and he will shoot up his mom n*gga a real b*tch" she continued.
Yikes. Sis was pissed.
Now that the dust has settled, Brittni is backtracking on what she said about her son's father. After dragging him on social media, she then went on to insist Future is a good father and not the man she's painting him to be when she goes off on her social media rants.
"With the disrespect of women being at all time high and the whole Meg [Thee Stallion] situation shooting a women is not being taken lightly," Brittni wrote. "With that being said I just wanna say when people are in a heated situation things can escalate quickly and we are all human we say things we don't mean."
She admitted she said some things she really didn't mean during a heated moment and didn't really mean it.
"I can say In 11 years I've knew my sons dad I haven't felt threaten by him nor has my son," she continued. "The other night was a isolated situation." She said it was important to her that she doesn't "paint a picture of him to the world like he is this violent hateful man and bad mean father."

"He make sure I'm good he make sure our son good we family we go through things and that's that," she explained.
Oh.
Read her full message below:
No surprise here. Brittni has been known to blast the rapper on social media and be wrapped up in his arms shortly after.
We doubt the 37-year-old rapper even gave it second thought now that he has a new woman in his life. He has been cupcakin' with 22-year-old Dess Dior - who is Lil Baby's girlfriend Jayda Cheaves' best friend.
His new BAE has been busy posting pictures of herself with Future's lyrics in the captions:
Fans have been accusing Brittni of starting ish because Future has a new boo, following his situationship with Lori Harvey:
Today...
Dess is helping Future pick out some threads.
Photos: ATLpics.net/IG
​ ​
​ ​ ​