Fraud Case 'Witness' Ari Is Being Accused Of 'Plotting' After Tweet About Ruining G Herbo's Life Surfaces + It's Confirmed Taina Is Pregnant, Herbo Pleads 'Not Guilty'
​
Dec 10 | by _YBF
​ ​ ​ ​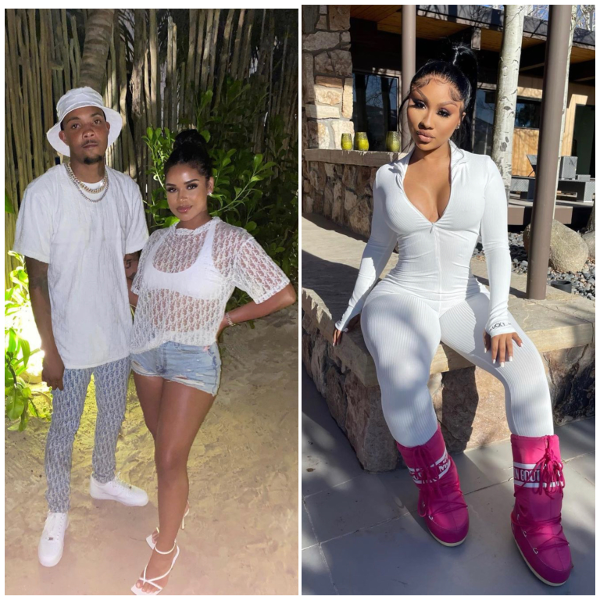 G Herbo appeared in virtual court for his federal fraud case, which unveiled and confirmed several things. Yes, his girlfriend (*ahem* fiancée) Taina Williams is four months pregnant. And his ex-girlfriend/son's mother Ari Fletcher was named a witness in the case. Now, Ari is getting the side-eye over a tweeted she posted about ruining Herbo's life after he gets Taina pregnant. Tea inside…
After surrendering to federal authorities in L.A. last week, rapper G Herbo appeared in court via video conference to face federal fraud charges in connection with an elaborate fraud scheme. The Chicago rapper, his manager/music promoter, and a few of his homies were indicted after being accused of using stolen IDs to cash in on designer dogs, private jets, lavish cars, trips and more!
The indictment was filed Wednesday (Dec. 2) in U.S. District Court in Springfield, Massachusetts.
The PTSD rapper (real name Herbert Wright III)and four of his associates are being accused of using fake IDs, driver's licenses and email account to scam and scheme people and businesses out of money. Herbo and his associates Antonio "T-Glo" Strong (Herbo's manager/music promoter), rapper Joseph "Joe Rodeo" Williams, Steven Hayes, and Demario Sorrells are named in the 14-count indictment. Also, the "Feelings" rapper's girlfriend (who was unnamed) was also mentioned in the indictment, but she was not brought up on any charges.
It was unclear if the girlfriend mentioned in the indictment was his ex/son's mother Ari Fletcher or his current girlfriend, Taina Williams, who is currently pregnant with Herbo's child.
According to the rapper's attorney, Taina is four months pregnant and apparently, they're engaged, according to Chicago Tribune journalist Jason Meisner.
"His lawyer says Herbo has a fiancé who is four months pregnant and lives in New Jersey," he tweeted live as the video conference was being held. 'He sees her frequently and needs to continue to see her.' Asks that Herbo be allowed to travel to and from Chicago and California to New Jersey."
There was speculation on whether Taina was pregnant with Herbo's baby before the hearing. You can catch up on that tea (and see her bump) HERE.
Now we know – she is! U.S. Magistrate Judge Katherine Robertson granted the travel request so he can visit Taina and their child when he/she is born. Any future requests to travel to perform would be dealt with on a case-by-case basis.
When asked how he pleaded to charges of conspiracy to commit wire fraud and aggravated identity theft, the 25-year-old rapper responded, "not guilty." He faces up to six years in prison.
Hayes, Bender, Sorrells, and Williams all pleaded "not guilty" in a video arraignment as well. G Herbo is out on an unsecured $75,000 bond, which means he did not have to cough up any money himself. Court records show Herbo's manager, Joseph "JB" Bowden, signed a $25,000 cash bond that he has to post before Herbo can travel out of California.
The court ordered Herbo to abstain from any substance abuse, which Herbo apparently admitted to.
The Chicago Tribune reports:
During Wednesday's hearing in Massachusetts, prosecutors said they were concerned about Wright's self-reported use of marijuana and a drink dubbed "lean," which is a mixture of cough syrup and soda. The judge ordered Wright to abstain from any substance abuse.
During the hearing, prosecutors also identified an Atlanta woman with whom Herbo has a child with is a witness in the case.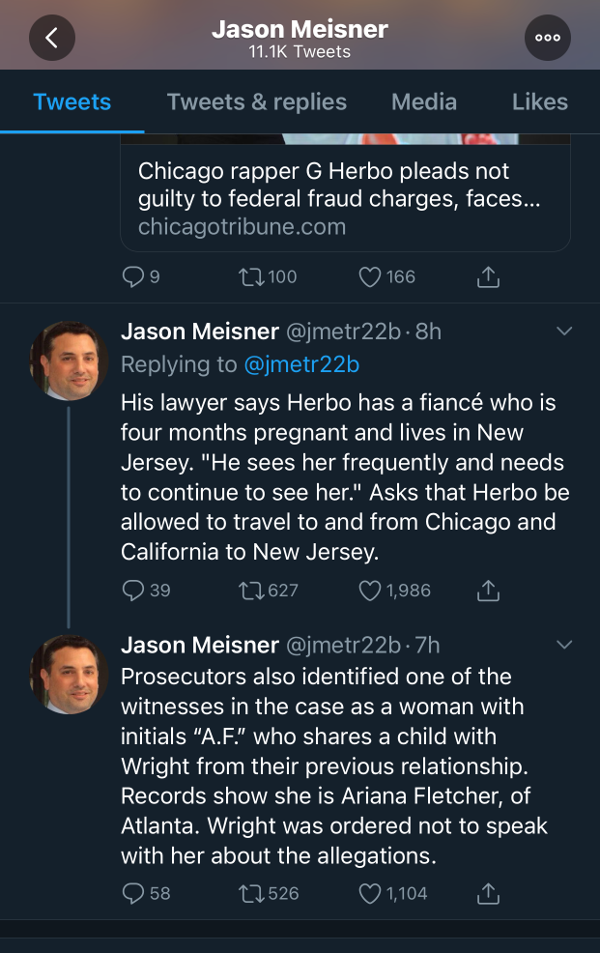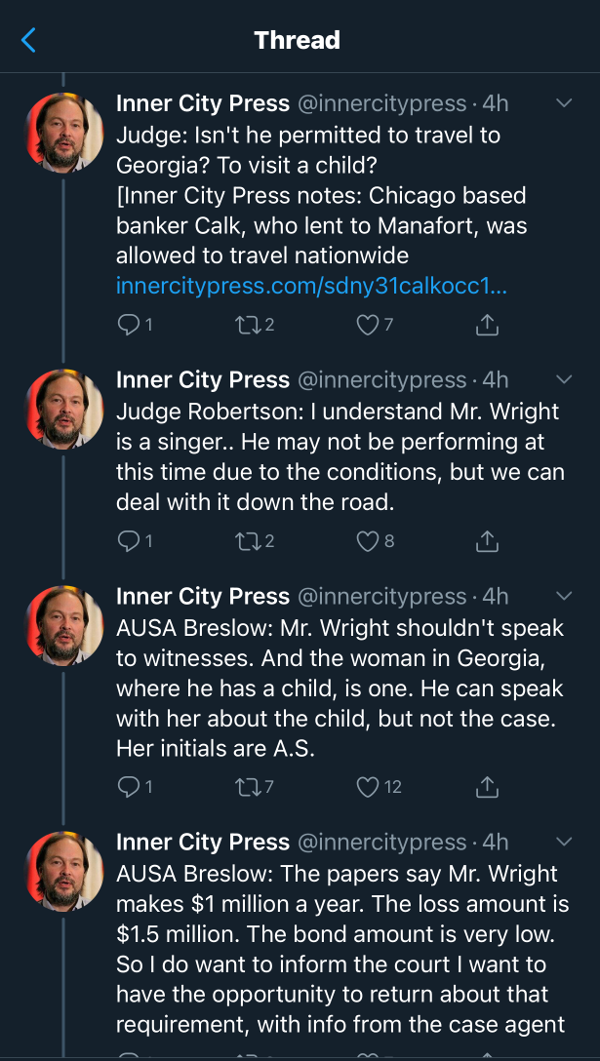 You'll notice in the Inner City Press thread of tweets, he said the witness' initials are A.S. That was likely a typo. The Chicago Tribune reporter has the correct initials for Ari Fletcher.
You can read the full thread below:
OK - now G Herbo / Herbert Wright has a court proceeding before Federal court - in Massachusetts. Inner City Press reported on co-defendants on Monday https://t.co/jSrsrBLNZ7 and will live tweet this proceeding - thread pic.twitter.com/xoRgcsEb3V

— Inner City Press (@innercitypress) December 9, 2020
You can read the transcript here.
After it was revealed Ari was a witness in the case, people were accusing her of "snitching" as it was not made clear if she was voluntarily a witness or if she was subpoenaed. She hopped on social media to clear it up.
"I was subpoenaed to court because of the timing of the relationship. I can't tell sh*t because I don't know shIt. Stop trying it," she tweeted. Before that, she posted a tweet addressing her boyfriend Moneybagg Yo's rap lyric about "kissing" a girl named Keisha.
Fans started combing through Ari's tweets and found a suspect tweet she posted last year - a few months after Herbo and Taina went public. A fan told Ari she should get back with G Herbo.
She responded, "Nah. I'm gone give him another 2-3 years, let him get her pregant and ruin her life first."
DAMN! And here we are....
Now, fans are accusing her of "plotting" on her baby daddy:
Not she been plotting https://t.co/iE9rPhOEkM

— .merriah. (@merriah__) December 9, 2020
You talk about premeditated. https://t.co/njLLi4goSZ

— ( Open) (@SWVNKDzn) December 9, 2020
We know that pig faced bitch is gonna try to too. https://t.co/7xjy9wZTsk

— curly gumbo jackson. (@_groovyk) December 9, 2020
She was hella bitter for this tweet smh https://t.co/PCzvUMG7uo

— che. (@Chelovexo) December 9, 2020
Look how life works, everybody finds out she's pregnant because of court documents ... 9/10 he's gonna do time and then he gonna miss his baby shower AGAIN. I just .. whew https://t.co/c9yqCrC3gW

— . (@bhrisbr0wn) December 9, 2020
Thoughts?
Speaking of old things resurfacing:
Video of G Herbo admitting he slept with Ari while he was with Taina has resurfaced. You'll recall, he said all of that in the backseat of a cop car after he was arrested in Atlanta for battery for allegedly assaulting Ari. Get those deets HERE.
Whew, chile.
Photos: Herbo's IG/Ari's IG
​ ​
​ ​ ​