Biden-Harris Inauguration Plans: Outside Ceremony, Top Notch Security Detail, Biden Team Urges Supporters NOT To Come To D.C.
​
Dec 16 | by _YBF
​ ​ ​ ​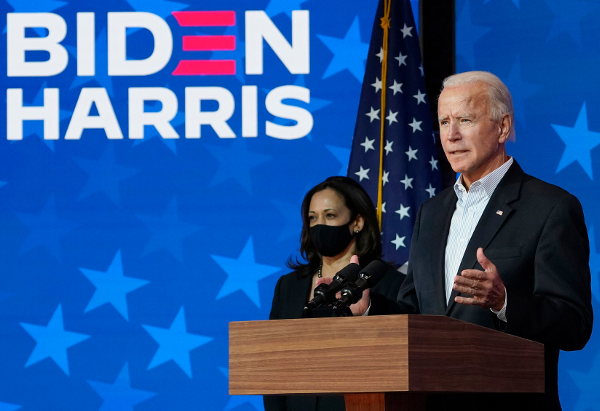 Plans for President-elect Joe Biden and Vice President-elect Kamala Harris to take their oath of office have been revealed.
The swearing in ceremony will take place outside before a limited amount of people with top-of-the-line security detail to make sure everyone is safe. Also, the Biden team is urging supporters to not come to Washington D.C. due to the pandemic. More inside…
We have 35 days until the inauguration of President-elect Joe Biden and Vice President-elect Kamala Harris! We can't wait to yell "BYE-DEN" to Trump on January 20th.
Biden and Harris will reportedly take their oaths of office outside the U.S. Capital building. While the event will be scaled down, planners are looking to craft an event that gives off the traditional grandeur vibes while also complying with COVID-19 protocols.
Tonight the Electoral College officially voted to make @JoeBiden and @KamalaHarris the next President and Vice President of the United States.

In just 37 days, they will take the oath of office. pic.twitter.com/b69YbWDACP

— Biden Inaugural Committee (@BidenInaugural) December 15, 2020
On Monday, the Electoral College officially put in their votes to make Joe Biden and Kamala Harris the next President and Vice President of the United States. Trump said he wasn't going to quit to have the election overturned.
Finally, Senate Majority Leader Mitch McConnell (R-KY) recognized Joe Biden as the President-elect for the first time yesterday (Dec. 15th).
At the time, it's unclear if Trump will attend the inauguration.
ABC 7 News reports:
The president, who continues to make unproven claims of widespread voter fraud, has not yet told current and former White House aides whether he will attend Biden's inauguration. While many had assumed he would skip the event after his loss, some now do expect him to make an appearance for the sake of tradition, even if he tries to overshadow the event by, perhaps, announcing the launch of his 2024 campaign just before.
Honestly, we wouldn't be mad if he didn't show up. Leave that negative energy (and germs) elsewhere.
We're inviting all Americans to be a part of this inauguration by watching from home, rather than traveling to Washington, DC, in accordance with public health guidelines. (4/5)

— Biden Inaugural Committee (@BidenInaugural) December 15, 2020
The 59th Presidential Inauguration will be a historic and exciting event that showcases the strength and diversity of our nation — and one that every American can enjoy from their home.

Stay tuned for more updates at https://t.co/6RkLHKhrQF. (5/5)

— Biden Inaugural Committee (@BidenInaugural) December 15, 2020
The Biden team is urging supporters to skip out on coming to Washington D.C. for the inauguration and to celebrate at home due to the pandemic.
"The ceremony's footprint will be extremely limited, and the parade that follows will be reimagined," Biden's inaugural committee said in a statement. Only Congress members will get tickets for themselves, plus one guest.
The Joint Congressional Committee on Inaugural Ceremonies said in a statement that the ceremony's attendee size will resemble that of a typical State of the Union address.

Instead of distributing 200,000 tickets for the swearing-in ceremony on January 20th, only members of the incoming Congress will be given tickets for themselves and one guest.
As of now, it's unclear whether some of the traditional inaugural events will go down. The inaugural balls, the luncheon with members of Congress, and a pre-ceremony tea with the outgoing president is all up in the air right now. Also, Washington's main convention center normally hosts multiple inauguration-related events, but the venue is now standing by as an emergency COVID-19 field hospital.
On the bright side, the Biden-Harris team plans to make the inauguration as traditional as possible given the circumstances.
"Our goal is to create an inauguration that keeps people safe, honors the grand traditions of the Presidency, and showcases the Biden-Harris Administration's renewed American vision for an inclusive, equitable, and unified citizenry," Tony Allen, CEO of Biden's inauguration committee, said in a statement.
Security will be EXTRA tight for the event. The Secret Service hired a company to help out during the ceremony to ensure everyone's safety.
TMZ reports:
TMZ obtained federal procurement docs that show the Secret Service has hired a company called Showcall Security Services to help out with the inauguration in January. The company scored a $7.5 million contract for the job ... and it sounds like they'll be worth every dime of taxpayer money.

Turns out, a division of Showcall, named Checkmate, is what'll be deployed here -- and a glance at their specialties shows why they cost a pretty penny. Checkmate boasts "temporary deployable security assets" that create "hardened perimeters," which can stop vehicle-borne threats and attempted weapons hand-offs of people who get past checkpoints.

Checkmate also notes they design and provide "robust access control programs and cutting edge surveillance and threat detection systems" that use data analytics -- so top-notch stuff.

Other services Checkmate offers for large-scale events include (but aren't limited to) ... anti-scale fencing, a mobile command post, all types of tactical barriers, golf carts and gators, light towers, traffic control, mobile power generation, tenting and perhaps most useful of all ... portable bathrooms!!
So yeah, no games will be played come Jan. 20th.
Before President-elect Biden, his wife Dr. Jill Biden and their family move in, the White House will undergo a deeper, more exhaustive cleaning, according to a White House official. It's going to be a challenge.
It's one of many changes expected around how the White House operates when President-elect Joe Biden takes over. His campaign has diligently modeled public health guidelines with mask wearing and social distancing even as he campaigned against outgoing President Donald Trump, who instead held large rallies packed with people, many of whom did not wear masks.
Since Trump followed his own guidelines for COVID-19 safety, including holding large events, allowing frequent travel and above all not requiring face masks, the Biden team wants to do the total opposite to make the White House a safe workable and livable environment.
And since Trump and his administration should start the packing process soon, we'd though we'd leave this hilarious video "Supermarket Sweep" host Leslie Jones shared:
BYE BITCH!! pic.twitter.com/ky4wLqvz59

— Leslie Jones (@Lesdoggg) December 15, 2020
Ooop!
Photo: Stratos Brilakis/Shutterstock.com
​ ​
​ ​ ​