[UPDATE] Fans Let Young Thug Know They Aren't Feeling Him Saying Jay-Z Doesn't Have 30 Songs They Know + Thugga Wants To Battle Lil Wayne In VERZUZ
​
Dec 29 | by _YBF
​ ​ ​ ​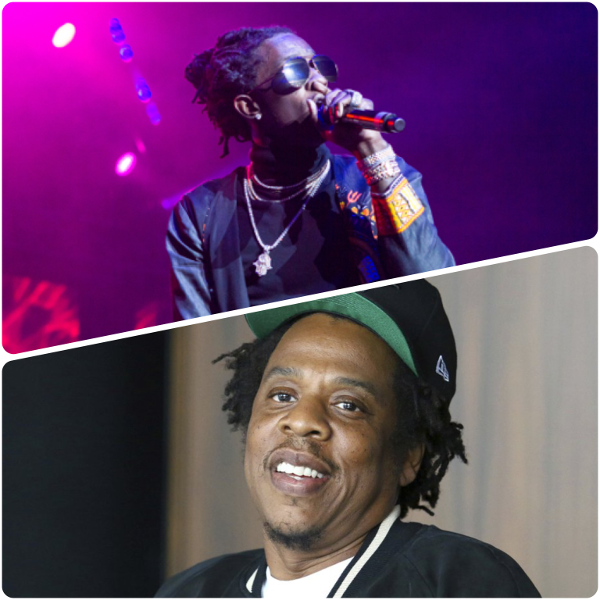 Social media users commenced a Twitter dragging of Young Thug after he made some comments about rap icon Jay-Z. Find out what he said, plus who Thugga would like to battle in VERZUZ inside…
UPDATE:
Young Thug clarifies his comments about Jay-Z.

"Don't have jay z on me cause of this internet shit, I was talking to fast but y'all know what I meant," he wrote.
--------------------------------------------
Some things are just not up for debate. Like, Jay-Z being one of the greatest Hip Hop legends…period. There's no arguing this.
However, people are entitled to their own opinions. Except these days when you share your opinions, you'll get strong reactions from folks who either agree or disagree with you.
Young Thug decided to enter the group chat about Hip Hop greats and how many hits they have. And dude really woke up and chose ignorance on that day.
The Atlanta rapper mentioned Jay-Z during Gillie Da King and Wallo267's "Million Dollaz Worth of Game" podcast, saying the Hip Hop pioneer didn't have a solid 30 tracks that his fans could recite word for word. HIS fans.....meaning Thugga's 12-year-old stans? Probably. But since when are a group of 12 year olds who think mumble rap is art the end-all, be-all definitive reresentation of "fans"?
In so many words, Thugga alluded to having more "stadium hits" than Jay-Z, but quickly rolled that back when the co-hosts began to react.
"Jay-Z hasn't got 30 songs like that," Thugga said before switching it up.

"I'm just saying like, I know he do, he probably got 50 of them bitches, I"m not literally saying him. I'm saying n***** who you thinking … I seen n***** like, 'Damn, they don't know this song?' I'm so scared to get boo'ed, I don't even perform songs they won't know."
Peep the clip below:
"Jay-Z don't got 30 songs like that"

We're dropping the video of episode 93 with Young Thug at 7:30 tonight.

Listen to the audio now: https://t.co/fSrVbeMjiX pic.twitter.com/gZbkHy7AYZ

— MILLION WORTH OF GAME (@mworthofgame) December 28, 2020
As you know, the Internet has zero chill. Folks made sure to gather Thugga for his comments about the rap GOAT.
Young Thug really think he has more hits than Jay Z.... pic.twitter.com/eMf7Eqp18G

— THIRDWARDTHRILLS (@thirdwardtrilll) December 29, 2020
25 years of rapping and Jay-Z don't have 30 songs that a stadium knows and Young Thug does?

Bruh.....cmon

— Keith Nelson Jr (@JusAire) December 29, 2020
young thug really said that he's better that jay-z? this 2020 is crazy pic.twitter.com/xJjenVtsHR

— (@FABIOTHEEBARB) December 29, 2020
Young Thug and Jay-Z have Stans. But folks need to understand the difference between having favorites and measuring overall skill/impact. As someone who has had Hov debates with homie's hardcore followers I also understand he is a top 5-3 MC. Some of y'all r doing too much.

— Keith Murphy (@murphdogg29) December 29, 2020
Lemme just place this here for Young Thug. pic.twitter.com/1lr7T3x6He

— Tony Baker (@TonyBakercomedy) December 29, 2020
Well Young Thug says that Jay Z doesn't have 30 songs everyone know but Humm I can count up to 40 with no features and he is a certified BILLIONAIRE so which would you rather be pic.twitter.com/vdcx9bIuil

— damon shields (@godjdamon) December 29, 2020
First it was Andre 3000 and now Thugger saying JAY Z doesn't have 30 songs people will know

Young Thug needs to just stop talking on legends and focus on releasing PUNK pic.twitter.com/kcI0z77m1Y

— King Wow (@wowthatshiphop) December 28, 2020
In the words of Rihanna during that EPIC beef with Ciara, "Good luck filling that stadium you speak of, Thugga."
Also…
Young Thug says the first time he met Lil Wayne, Wayne gave him the cold shoulder. pic.twitter.com/vYv7Ws4ry4

— Everything Georgia (@GAFollowers) December 29, 2020
"The London" rapper revealed who his dream VERZUZ opponent would be. And it would be none other than Lil Wayne!
"It would probably have to be like [Lil Wayne]," he said. "Because you got to think—we got to talk about influence. We got to talk about everything. We got to talk about everything. It's not just about no rap."

"You got to understand, as rapper, as hip-hop artists, you can only go so far," he added. "I always just focused on the next level."
Who would you bet your money on? As much as we can't stand the gremlin-in-chief, Thugga has Weezy's name tatt'd on him. So, it's clear who will win that one 20-0.
You can watch the full hour-long interview below:
As for his personal life...
Young Thug wants everyone to know...he's single. And has been supposedly separated from his longtime girlfriend, Jerrika Karlae.
"Been single for dam near 2 years now," he wrote on IG Stories. "Stop thinking everything about me."
Thugga put the post up right after Jerrika said she was bringing in the new year SINGLE. She also made accusations that Thugga was abusive towards her.
single 2021...

— IG : OKAYKARLAE (@OkayKarlae) December 27, 2020
"Why misuse and abuse something or someone, why not leave them be! That's some narcissistic shit," she tweeted and then deleted. "You behind the scenes painting pictures of me, like ima f*cked up individual…when you the devil."
It was all good earlier this year....
Photo: Jamie Lamor Thompson/Shutterstock.com/AP
​ ​
​ ​ ​