Lil Durk & Asian Doll Spend Time & Drop Stacks On King Von's Kids + Tekashi 6ix9ine Accuses Durk Of Exploiting Von's Death, 'Rest In Piss!'
​
Dec 29 | by _YBF
​ ​ ​ ​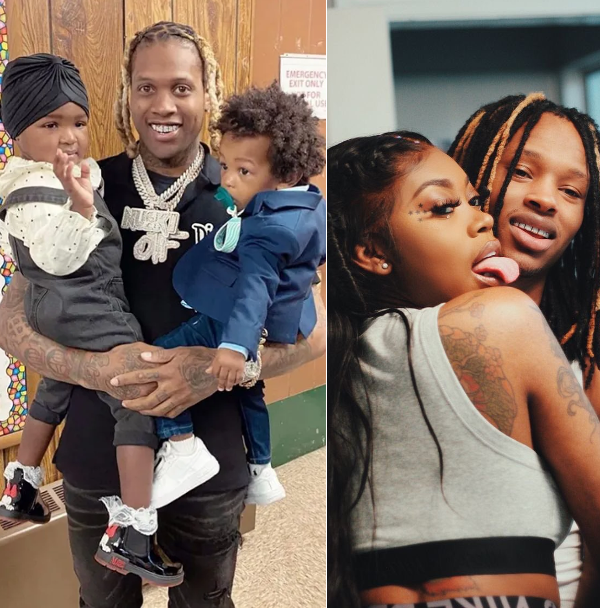 King Von's homie Lil Durk and his ex-girlfriend Asian Doll made sure his kids were straight for their first Christmas without him after he was gunned down in Atlanta last month. Meanwhile, Tekashi 6ix9ine is busy dissing and trolling Durk, accusing him of exploiting his late homie. More inside…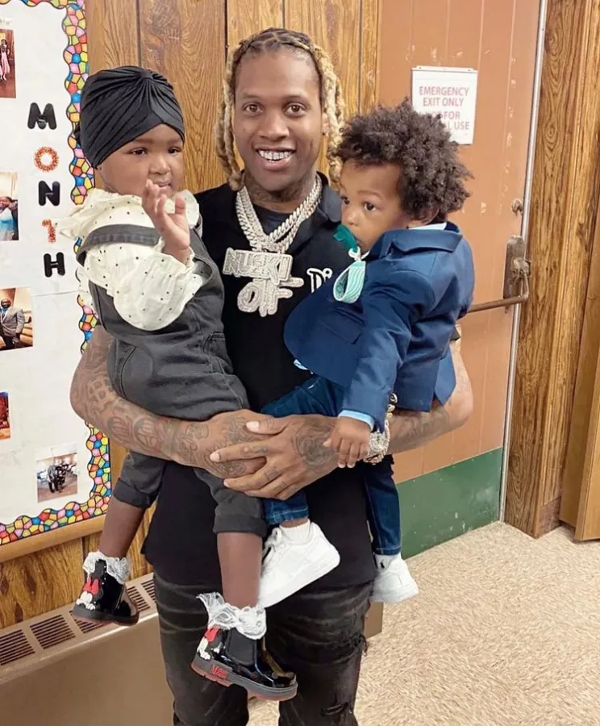 Sadly, rapper King Von was murdered before he could spend Christmas 2020 with his family and friends.
On November 6th, the Chi-town rapper was fatally shot outside of the Monaco Hookah Lounge in Atlanta after getting into a physical fight with rapper Quando Rondo. Von's death happened days after he dropped his debut album, Welcome To The O. In fact, on the night of his death, he was celebrating the release of his LP and also his cousin/friend's birthday before he was killed.
Since Von's passing, his family has been trying to make sense of it all and are adjusting to their new life without the "Took Her To The O" rapper. The 26-year-old late rapper was the father of two toddler children, a boy named Dayvon Jr, and a girl named True.
For Christmas, Lil Durk - who signed Von to his OTF label - paid a visit to Von's children, showing love to his late friend's family in his absence. Durkio was all smiles holding Von's kids, which he shared on IG Stories.
Von's ex-girlfriend Asian Doll also spent time with Von's children during the holidays. She shared a TikTok video she made with Von kids and their mothers, Kema & Mici.
Check it:
Kema talking bout I was dance Captain pic.twitter.com/u5jYgXtmmH

— Queen Von (@AsianDaBrattt) December 26, 2020
Before Von's death, Asian and Kema would sometimes feud on social media with one another. Now that Von is gone, the ladies have set their differences aside and have built a bond.
Go to Chicago 1day & look what they taught me pic.twitter.com/MQYmfDwdj8

— Queen Von (@AsianDaBrattt) December 26, 2020
Summer pic.twitter.com/wQERqXRMAs

— Queen Von (@AsianDaBrattt) December 27, 2020
Asian also gifted Von's children $7,000 for Christmas. She deleted her tweet after trolls started coming for her:
Asian Doll gave King Von's kids $7,000 for Christmaspic.twitter.com/aLE1bdTY21

— Kollege Kidd (@KollegeKidd) December 27, 2020
Honestly, this is exactly what Asian needs in her life right now. Some good times with good people as folks have been dragging her relentlessly online over the way she's grieving her ex-boyfriend.
Me & my baby daddy pic.twitter.com/48UOXrVoqw

— Queen Von (@AsianDaBrattt) December 28, 2020
Von's sister Kayla B – who was once friends with Kema & befriended Asian - was noticeably missing from the Christmas festivities. Something happened between them after Von's death and they haven't seemingly been on good terms.
After the family videos were posted, Kayla must have got in her feelings because she decided to stir the pot. (By the way, Von & Kayla have the same father, different mothers).
There have been rumors circulating that Von has a third child on the way and fans have been speculating who the woman could be. Kayla made sure to share a video of her friend Skyler Knight (Suge Knight's daughter) – GOOD and pregnant – which only fueled the third baby mama pregnancy rumors. Meanwhile, Von's cousin Baylo claims there aren't any babies, so time will tell.
Kayla also put up some subs aimed at Asian and Kema, but she deleted them. She alluded she hasn't been able to see her niece and nephew. When fans called her out about it, she tried to make it seem like she wasn't sneaking dissing Asian and Kema. OK, girl.
Oh, Kayla also caught a lot of heat over the Christmas holiday for gifting her son (Von's nephew) Antonio – nicknamed Grandbabii – a toy gun that looked realistic.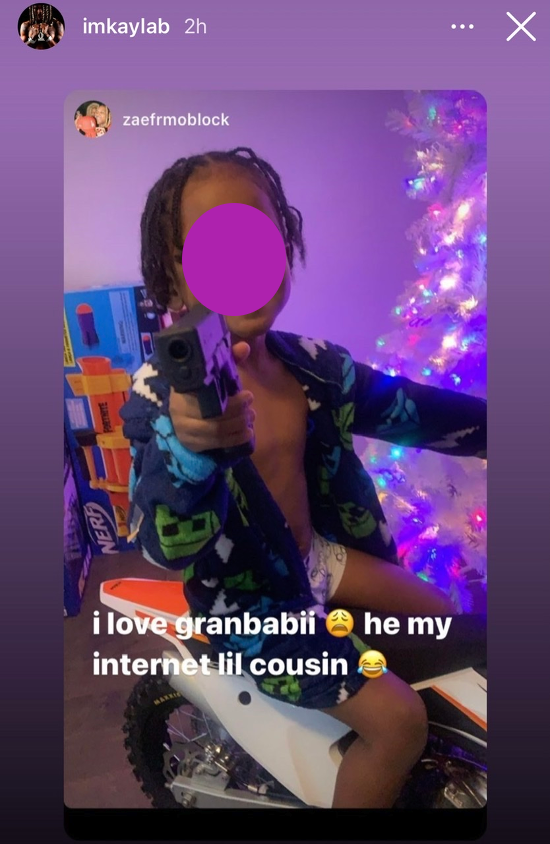 In her response she posted on IG Live, Kayla said people need to mind their own business because if he was wearing skirts and playing with dolls, no one would have a problem with it. Oh.
Let's hope Grandbabii doesn't get stuck in that Chicago street life and follow the same path as his uncle did.
Also…

Tekashi 6ix9ine hopped online to accuse Lil Durk of exploiting his homie King Von to boost album sales. Durk's new album, The Voice, is projected to rake in 55,000 equivalent album sales in his first week.
"Used Von name for sales," 6ix9ine wrote about Durk in the comments on an Instagram blog. "Is NOT blackballed has all industry support. 55k and his man was caught in 4K #KingVon REST IN PISS."
This man is sick.
Tekashi & Durk's beef started after Durk called 69 a snitch for testifying in federal court against his former associates who were members of the Nine Trey Gangsta Bloods gang.
Photo: Durk's IG/Asian's Twitter
​ ​
​ ​ ​