KAREN GETS SOCKED! Black Female Security Guard Says She Was Fired & Faces Charges For Defending Herself From Angry #MAGA Mob
​
Jan 10 | by _YBF
​ ​ ​ ​
A black female security guard says she lost her job and is now facing criminal charges after she was physically assaulted by a Trump supporter. Watch the video and find out how you can help inside…
Malcom X said it best when he said "The most neglected person in America is the black woman."
A video of a black female security guard punching a white woman in the face after the woman punched her has gone viral. Now, she's out of a job.
The night before the violent attack against the Capitol, Trump supporters gathered on Black Lives Matter Plaza in Washington D.C. near 16th and I streets after a long day of pro-Trump demonstrations. The #MAGA mob was out in full force, clashing with police as they spewed hate speech and "fake news."
During the demonstration, a 28-year-old black woman - who lives in the DMV area - was assaulted. The woman – named Ashanti – said she was "assaulted, attacked and harassed by a group of Trump supporters on Black Lives Matter Plaza in DC on January 5th, 2021." And it was also all caught on tape.
"They constantly harrassed me and all 3 jumped me," she explained. "Me hitting her was a reflex. I asked them constantly to stop touching me following me and bothering me they kept surrounding me trying to steal my keys out of my pocket and trying to take my phone as seen in the video. Yes I lost my job. Yes I'm good. I'll respond to everyone once I get my phones out of property," she wrote on Facebook.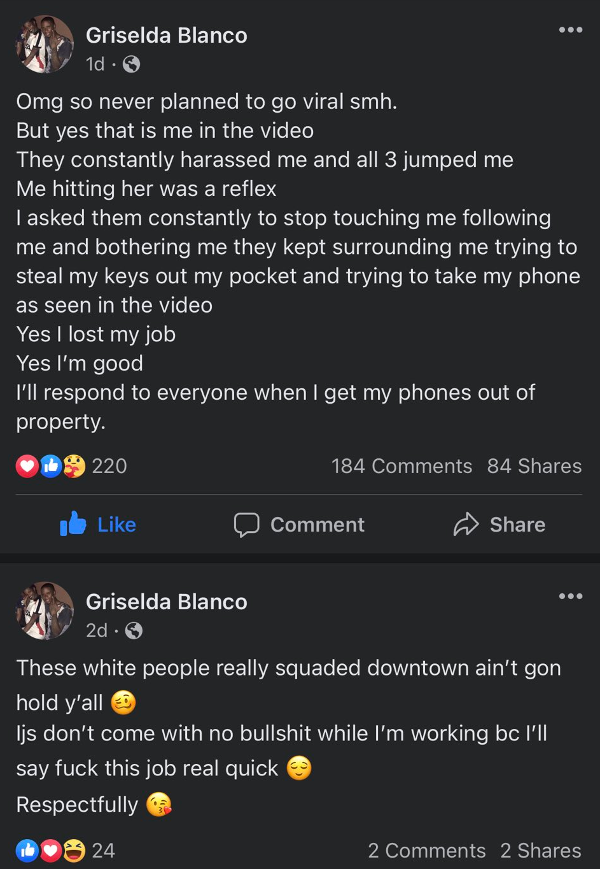 In the video, you clearly see a white woman put her hands in the security guard's face and sis was NOT playing with this KAREN.
Check it:
ON THE CODE SHE DID WHAT SHE HAD TO DO MINK MINK
pic.twitter.com/mljLbZN4ym

— Kid (@deep_dab) January 6, 2021
Sis gave Karen a bloody nose for playing in her face:
Heres the other part lol pic.twitter.com/daxdMgMEzO

— Dr.wh0res (@_sextapes_) January 7, 2021
That twisted tea knockout piece pic.twitter.com/d49reGoi3K

— Wendel Toliver (@ToliverZilla) January 6, 2021
Bet she won't do it again.
A social media user claiming to be the daughter of the woman who got punched in the face hopped online to TROLL the hell out of her:
— Butt Ghost (@sadie_burgess) January 9, 2021
She exposed her other relatives as well:
Should be coming. His niece ratted his ass out along with her mom and aunt pic.twitter.com/qLSu2x7kQp

— Philly Meets KC (@KChiver) January 8, 2021
Bloop! We're here for this type of petty!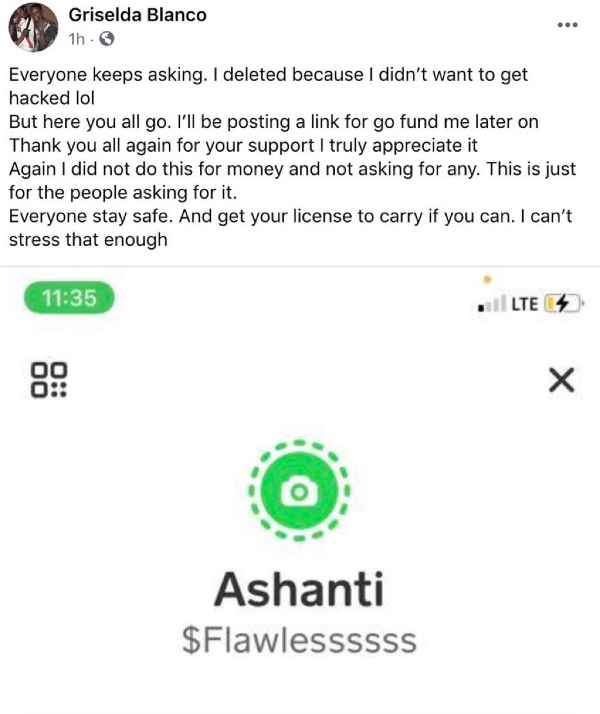 Since the video went viral, people have been reaching out to find out how they can help Ashanti. She first shared her Cash App account (above) and then she made a GoFundMe account.
Ashanti described how she felt being surrounded by the angry mob of Trump supporters, revealing she feared for her life. And rightfully so.
"A video has surfaced where I was surrounded by a group of Trump extremists, and I honestly feared for my life," she wrote. "The video makes me look like I am the aggressor, but it does not show what happened prior to my defending myself. People shoved me, tried to take my phone and keys, yelled racial epithets at me, and tried to remove my mask. I asked them to social distance and stay out of my personal space due to COVID. They refused, and I was afraid of being hurt and harmed. After being assaulted, I defended myself. I am now facing criminal charges. I have also been relieved from my employment pending an investigation, which places me in a hardship."
While the investigation is pending, Ashanti isn't getting paid, so she needs financial help, especially now since she has legal fees for defending herself.
"I am asking for support and help with funds for my legal fees and to maintain the essential things that I need to survive during this time. Any amount of help is truly appreciated."
As of the time of this post, people have donated over $36,500 to help this woman who didn't deserve any of this. She was simply there to do her job before she defended herself once someone VIOLATED her. We also want the several men of the Maga mob who picked her up and dragged her over to the other police to be held accountable as well. No one touched them so they had no right to touch HER.
You can donate here.
Keep your head up, Ashanti!
Photos: vasilis asvestas/Shutterstock.com
​ ​
​ ​ ​